A few days ago we brought you news that Aston Martin and Mercedes-AMG will be sharing F1 Safety Car duties in 2021 (you can read that story here). It seems that the British carmaker is eager to capitalise on its links to Formula One as it unveiled the Vantage F1 Edition earlier today. The latest Aston will be available in coupe and roadster body styles.
Follow Double Apex on Instagram and Facebook where we share more car content.
---
Order from our online store and take advantage of free delivery in South Africa on orders over R349.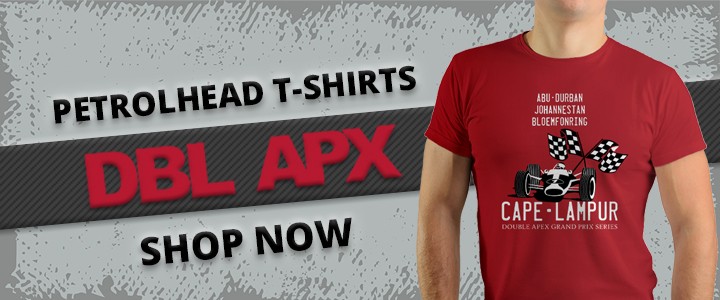 ---
Range-leading
The Aston Martin Vantage F1 Edition will take up its place as the range-topper of the existing Vantage line-up. This new derivative takes lessons learned from Aston Martin's development of the F1 Safety Car. Fittingly this new addition is the most powerful of the line-up as well.
Check out all the 2021 Formula One cars in one convenient gallery here.
The AMG-sourced 4,0-litre twin-turbo V8 engine has an additional 18 kW of power, rising to 394 kW overall. Peak torque remains unchanged at 685 N.m, but that peak is sustained for longer to further increase tractability and in-gear urgency. The eight-speed automatic transmission now features a torque cut feature during upshifts that reduces shift times. 
Other changes
Aston Martin's engineers have revised the suspension and steering for better feel and response. Underbody modifications increase front structural stiffness. The Vantage F1 Edition rides on 21-inch alloys as standard, an inch more than a standard Vantage. The new alloys are wrapped with low-profile Pirelli rubber.
The most obvious of the upgrades take the shape of the aero kit. Revisions, front and rear, have helped produce a total of 200 kg more downforce than a Vantage at top speed. The aero addenda includes a full-width front splitter, front dive planes, underbody turning vanes and a fixed rear wing. 
Read about and listen to the track-only Pagani Huayra R in this link.
In his own words
Aston Martin CEO, Tobias Moers said: "Performance is at the heart of every Aston Martin, but when it wears an F1 badge it has to be a truly exceptional car. Vantage was already the most focused sportscar in our range but in the development of our Official Safety Car of Formula 1, it had to be a true athlete: more powerful; more agile; more immediate and more exciting to drive. And – of course – quicker and more capable in a race-track environment. I set the engineering team a tough target, as I was insistent that gains in performance came via genuine improvements in the car's dynamics, and not by fitting track-optimised tyres. The results speak for themselves. A Vantage to appeal to the most discerning drivers and a new model that marks an exciting moment in Aston Martin's history".