We have mentioned before that Audi South Africa has gone on the performance car sales offensive over the last few months (as you can read here). As a result, over the last few months we've been able to sample many new or revised models from its fleet. Most recently we got to try out the Audi RS5 Sportback, which we report on here.
The performance coupe space has long been dominated by BMW's M3. Since the introduction of the E30 M3 it has been the benchmark in the segment. BMW's main rivals have really come to the party of late with the rip-snorting Merc-AMG C63 and Audi RS5. The latter offers slightly more variety than its rivals as it is available in two-door coupe and five-door Sportback shapes, which neither of the other two brands do. We've often wondered why BMW has never bothered with an M4 Gran Coupe.
Follow Double Apex on Instagram and Facebook where we share more car content
Nip and tuck
The Audi RS5 Sport, like many other recent performance Audis, has undergone a mild revision to its appearance. At the very end of 2019 Audi designers unveiled a new look for the RS5 Sportback and Coupe.
We recently drove the Audi RS6 Avant and shared our thoughts here.
Both RS5 body shapes now feature a wider and flatter grille. A trio of thin vents above the grille are a nod to the Audi Sport quattro from 1984. Strongly contoured air inlets on the edges of the front bumper have been given a new, pentagonal shape. The front wheel arches are 40 mm wider than before. The side sills and diffuser insert at the rear have also been redesigned.
The changes are subtle and would most likely be noticed by the casual observer when the pre-facelift and newer version are parked alongside each other. Having said that, the RS5 Sportback boasts a sleek shape, which in some ways reminds us of the E-tron GT, that gets gentle nods of appreciation from onlookers.
Read about the E-tron GT and other Audi pure EV models that will be introduced locally next year by clicking here.
Deluxe cabin
Audi does some of the most expensive-feeling/looking cabin treatments in the industry. This Audi RS5 Sportback is no different. The overall design aesthetic and materials used are sumptuous. It may not shout its performance credentials, but that may be exactly how Audi buyers prefer their sporting coupes.
Smooth and subdued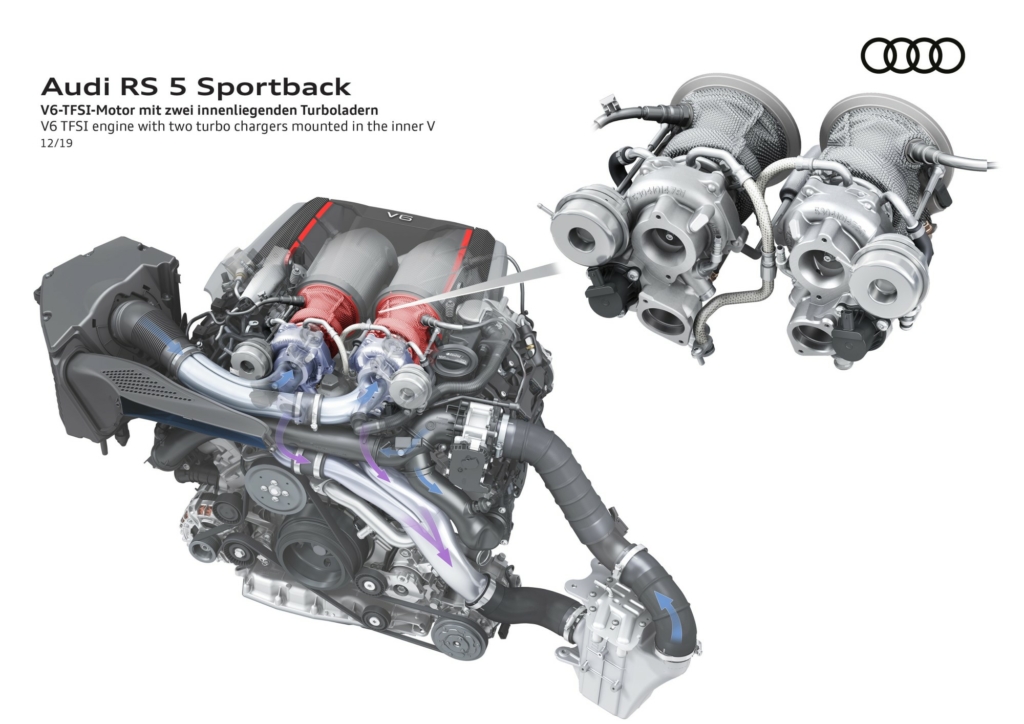 From a mechanical perspective the RS5 twins remain virtually unchanged. Under the ribbed bonnet is the same 2,9-litre twin-turbocharged motor that we know from other RS siblings such as the RS4. The V6 is a smooth operator. It produces 331 kW of power and peak torque of 600 N.m in a completely fuss-free manner. There are no theatrics or aural assaults from the engine in the same manner as the rivals from BMW and Merc.
Silent but fast
Audi's V6 produces its full torque complement in a plateau from 1 900 to 5 000 r/min. This means that the pace on tap from barely over idle is relentless. The power delivery almost mimics that of an electric car in this respect.  Even when short-shifting the sensation of acceleration doesn't abate. 
However, if you do grab the next gear early it would rob you of the noise and rush that the final 2 000 r/min of the rev-range brings. Although subdued in its output the V6 still makes a wonderfully woofly noise as it reaches its crescendo, it just doesn't dominate proceedings in the same way as Merc's rambunctious V8's do.
Ruthless pace
Audi says the RS5 Sportback can sprint from standstill to 100 km/h in 3,9 seconds. We believe that it'll do that, and in most conditions. Audi's latest quattro system provides surefootedness and allows you to use the loud pedal judiciously without requiring the skills of a racing driver. The pace it can generate and maintain, quite effortlessly at that, is really impressive especially as it does it require high levels of concentration.
Our test unit was fitted with Audi's optional sport differential between the rear wheels. Adding this to the RS5 brings the rear axle into play a bit more, which is great for enthusiastic drivers. The diff' allows you to apply the gas early out of corners for a slight rear-wheel-driven sensation. There's no dedicated 'drift' mode so it's not as lairy as a C63 or M4. Though, we wonder how many, if any, owners of these cars engage such systems after day one of ownership.
Summary
We like to think of ourselves at petrolheads here at DoubleApex. We enjoy dynamic cars that feedback, are engaging and can be steered from the rear axle. However, the RS5 isn't as far along the scale in these facets as its main competitors from AMG and M, and to a lesser degree Alfa Romeo, are. 
We think that most buyers in this segment, family men with a penchant for speed, aren't as concerned with the same level of driver engagement as we are. With that in mind we feel that the Audi RS5 Sportback fulfills its brief ideally. It looks good, has a sumptuous interior and oodles of effortless pace… what more could one ask for?
Model: Audi RS5 Sportback
Price: R1 437 500 (R1 655 350 as tested)
Engine: 2,9-litre V6, twin-turbocharged
Transmission: eight-speed automatic, AWD
Max power: 331 kW
Max torque: 600 N.m
Top speed: 250 km/h
0-100 km/h: 3,9 sec
Fuel consumption: 8,8 L/100 km