An evil-looking Audi RS6 Avant was recently offered to us for a driving review, it didn't take us long to agree to a loan period. We share our thoughts on the performance estate car with you here.
A few weeks ago we attended an event in Gauteng where we learned about Audi South Africa's ambitious expansion plans (you can read that story here) that includes several high performance models. Among these are the swoopy Audi RS7 and its more practical sibling, the Audi RS6 Avant. The latter was recently placed in our care for a few days.
Follow Double Apex on Instagram and Facebook where we share more car content.
Superhero appearance
The Audi RS Avant looked menacing as it came to a halt outside of our 'office'. We heard the motor burble from the nearest junction and headed for the front door and our first impression was a positive one. The low-slung all-black wagon looks as though it drove straight off the designers drawing board with no interference from any bean counters. Check out the video at the bottom of this post for more insight on the design process.

A wide, flat nose features a bumper that has angular vents and a pronounced front splitter and Audi's signature drop-down grille. In SA the RS6 (and RS7) comes standard with the company's HD Matrix LED headlights with laser light technology. The wheelarches are conspicuously flared and just as well as they house 22-inch (yes, twenty two) inch alloys that would look at home on a concept car. The sinister appearance is elevated by blacked out front and rear 'four rings' and RS6 badges
Audi is planning a return to Le Mans and to race at the Dakar Rally, more here.
This latest-gen Audi RS6 looks wider, lower and meaner than any before it. Petrolheads and non-petrolheads clocked they were looking at something special. Other Audi drivers, in particular, threw many nods and signs of appreciation. More than one onlooker commented that it could've been Batman's daily driver.
Racy inside
Audi has produced some of the finest interiors of the last decade or so and the RS6 Avant continues this proud tradition. Soft leather covers the body-hugging sports seats. Two screens handle all major (non-driving) controls. The touch-activated displays have haptic feedback. The upper serves as the infotainment interface and the lower as the HVAC control panel.

There are plenty of touches to remind you that you are seated in a performance halo. These include RS badging, contrast stitching on the seats, perforated leather on the flat-bottomed steering wheel, exposed (non lacquered) carbon-fibre adorns the facia and the door trim and a bespoke display for the instrument cluster with a bar-graph rev-counter. If we have one gripe about the interior it's that the steering-wheel mounted paddle shifters are small and rather weedy for a car with such a large personality.
Behind the wheel
We hear you wondering: yeah, we can see how good it looks, but how does it go? In a word: bonkers. The Audi RS6 is every bit as good as we'd hoped it'd be, in fact, it's a bit better than that.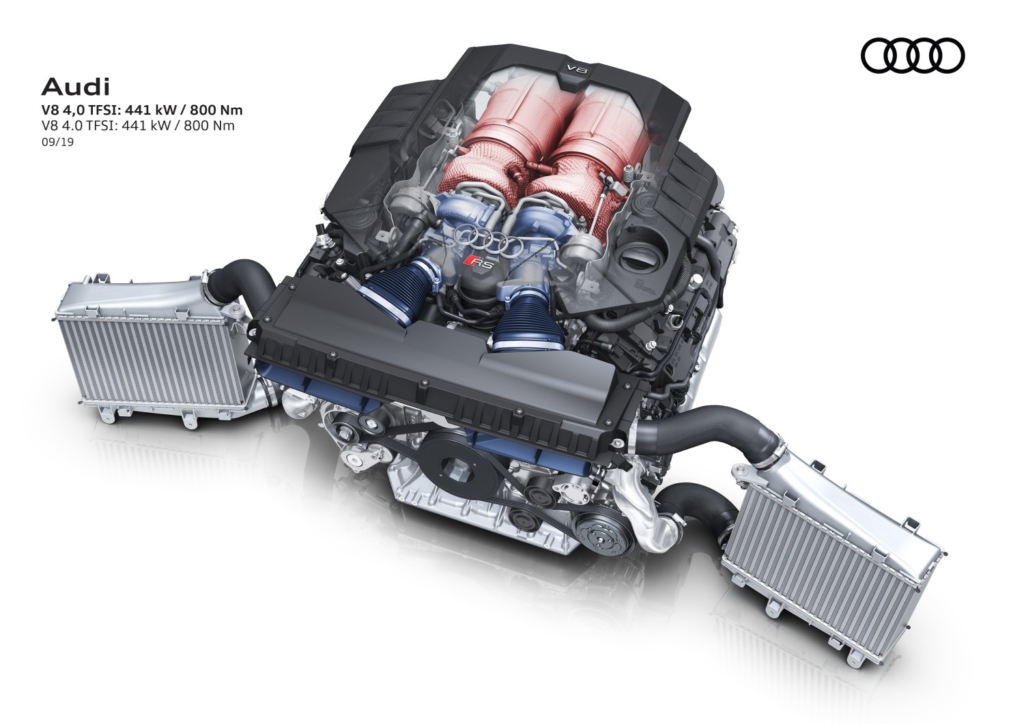 The ingredients are great to start with. Under the ribbed bonnet is a 4,0-litre V8. Twin-turbochargers help lift power to 441 kW (600 hp) with a mammoth 800 N.m of torque available in a plateau from 2 050 to 4 500 r/min. As with performance Audis drive is sent to all four corners through its famed quattro all-wheel-drive system. An eight-speed automatic transmission, with a lock-up clutch, sends power from the motor to the wheels. 
Audi's press material claims the large estate will blast from standstill to 100 km/h in 3,6 seconds with a launch control function and we have no reason to dispute their claim as it feels subjectively quick from take off. Top speed is rated as 250 km/h or 280 if you tick that option box. When you need to haul up from high speeds you can lean heavily on the ventilated and perforated discs. These measure 420 mm on the front wheels and 370 mm at the rear; carbon-ceramics are an option.
While the numbers are impressive, the power delivery is so refined that the RS6 doesn't feel as fast as it is once on the move. However, looking down at the speedo reminds you that pace is well and truly one of the RS6's dominant traits. Mash the throttle at just about any speed and the digital speedo dials up numbers quicker than a cryptocurrency with a celebrity endorsement. The swell of mid-range torque helps hide the wagon's circa-two ton mass.
Check out the world's very first RS2JZ, built right here in SA, at this link.
The baritone soundtrack from the fat oval tailpipes isn't intrusive and the RS6 never quite shouts with the histrionics of the creations from AMG. Even the burbles of the engine on downshifts are rather subdued. In the higher end of the rev range the motor takes on a more racy note. 
Party trick
Fast Audis of old were panned for being one-trick ponies, quick in a straight line but somewhat lacking or inert in the twisties with a tendency towards nose-ploughing understeer when pushed, but the Audi RS6 Avant has banished all of that from its dynamic repertoire. 
Firstly, drive is split 40:60 (front:rear) via a mechanical centre differential under normal circumstances. Up to 70 per cent can be directed to the front wheels and up to 85 percent to the rear axle, depending on which end has more grip. This means that under hard acceleration out of corners power is sent to the rear axle to push you forward. The local test unit also has Audi's sport differential, which sends more power to the outer wheel to help turn the car on a tighter radius, making it feel rear-driven, which is rewarding from a driver's perspective.
Click here to read our Audi RS4 driving review.
The electrically assisted helm isn't particularly communicative, but it is linear in response and has a quick action to help point the large wagon. From off-centre the RS6 rotates with athleticism that belies its size and mass. This sense of sharpness makes the RS6s feel more compact and dynamic than even an RS4. Massive, 285 mm-wide Pirelli P-Zeros provide an abundance of mid-corner grip, almost all of which is also available in greasy conditions as well; handy as the first rains of winter just arrived in the Cape during our loan period.
Read about a modern-day Audi Quattro rally car that could be going to the WRC.
Aside from being dynamically adept, the Audi RS6 Avant is also an accomplished cruiser. With all settings knocked back to their most relaxed on the drive select system the large vehicle eats up the miles with pure disdain and in absolute comfort. Even the massive alloys on skinny profile tyres provide a ride that is commendable. We can imagine an RS6 being the ideal companion for a long road trip for a family of four across a continent… with no speed limits. 
Summary
We'd heard, seen and read plenty about the Audi RS6 Avant before it landed in our driveway. All indications were that it was an extremely capable machine. But just how capable it is was a complete surprise. It has to be the most entertaining four-door Audi we've ever laid our hands on. The turn of speed, handling prowess and ability to demolish distances fill the brief of a fast wagon to perfection. With no BMW M5 Touring available or Mercedes-AMG E63S imported to SA the Audi RS6 Avant really is peerless.
Model: Audi RS6 Avant
Price: R2 070 000 (base price)
Engine: 4,0-litre, twin-turbocharged V8
Transmission: eight-speed automatic, AWD
Max power: 441 kW
Max torque: 800 N.m
Top speed: 250 km/h (280 km/h optional)
0-100 km/h: 3,6 sec
Fuel consumption: 11,5 L/100 km