Earlier this year, Audi South Africa introduced the latest Audi S3 Sportback into the local market. We recently experienced the performance halo (for now) and share our thoughts on the hot hatch.
Early in 2021, Audi SA announced that it would be introducing several high-performance models and derivatives into the local market. We've had the pleasure of experiencing many of these over the last few months (see links further down in this post). Most recently, it was the turn of the Audi S3 Sportback. This A3 variant serves as the performance halo until the RS3 is introduced in four- and five-door body styles next year. You may visit this site to check your options for car delivery services once you've found your next vehicle.
Follow Double Apex on Instagram and Facebook where we share more car content
Subtly stylish
Audi models are oft criticised for being too similar in appearance. However, the latest-gen A3 is a stylish little prospect. Both sedan and Sportback versions of the S3 have a slight degree of bespoke styling that is subtle but clear to those in the know. Our loan unit was finished in an eye-catching shade of red with dual-tone alloys, that drew compliments from many.
Bespoke touches that earmark the S3 are Audi's signature Singleframe grille with rhombus-pattern, larger air inlets that are sculpted on the front bumper, signature aluminium finish mirror caps and beefier wheel arches that cover 18-inch alloys as standard (19s are optional). Viewed from behind, a diffuser insert and a quarter of real exhaust outlets give the game away. And the S3 rides 15 mm lower than an A3.
Check out the spiritual precursor of the S3 by clicking here.
Modern look
In the cabin, we are greeted by Audi's typical polished, if somewhat serious, styling and use of materials. A new, stubby shifter has been adopted for the transmission. Aluminium or carbon inlays are applied to the console and facia. Our test unit even had contrasting red and grey stitching in the dashboard, which caught the eye of front-seat passengers.
Audi's 10,25-inch digital instrument cluster is standard fitment on the S3. Interestingly, the figure-hugging sport seats are covered in a material that is made from recycled PET bottles. In the middle of the dashboard is a 10,1-inch touchscreen that is the infotainment interface; the system also offers voice control. Thankfully, the infotainment set-up has a row of quick access buttons on a ledge just below and isn't nearly as finicky as the latest GTI's system to operate.
Read our Audi RS5 Sportback driving review at this link.
Turbocharged (reduced) power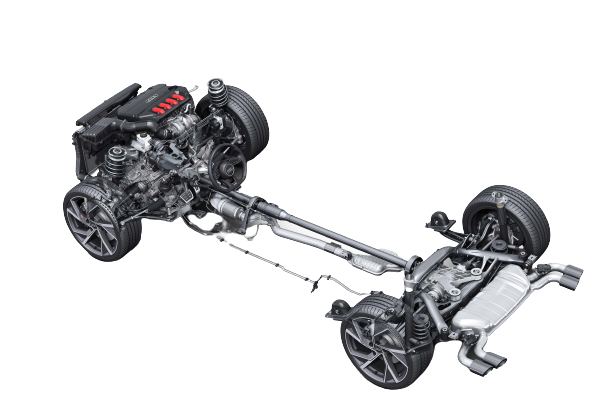 Under the bonnet is a VW Group staple in the form of a 2,0-litre turbocharged engine. For some reason, Audi SA sells the car locally with less power than the same variant in other markets (213 kW vs 228) , especially odd seeing as how the Audi TTS has 228 kW. The powerplant is, as with many performance Audis, mated solely with a dual-clutch transmission with seven forward ratios.
Learn what it's like behind the wheel of the sexy R8 Spyder here.
Thanks to years of development and honing its power delivery the Audi S3 Sportback's engine feels completely naturally aspirated. There's no turbocharged boostiness, just a constant surge of torque from low down in the engine speed range. Subsequently, with the launch control function enabled Audi says the S3 Sportback will shoot to 100 km/h from rest in 4,9 seconds.
On the move
Our test unit Audi S3 Sportback was fitted with a set of optional, 19-inch alloys. We expected the ride quality to suffer as a result but our subjective, seat-of-the-pants test did not agree with our initial thoughts. The S3 rides with a high level of comfort in its comfort setting.
Audi's drive selector has various options for drivers to choose from. Notably, this helps alter the drivetrain, steering, suspension and sound settings. Yes, the noise from the engine is amplified through the car's sound system. Each setting brings with it a more controlled ride, heft from the steering and more vocal engine note. 
In 'dynamic' mode the latter sounds almost like the off-beat five-pot that we know from other Audi performance models. Additionally, there is also a well-timed pop or bang from the engine when you suddenly shut the gas. In fact, if you don't prefer Audi's presets you can mix and match and save your preferred options in an 'individual' mode.
Surefooted
As with all performance Audi's torque is handled by a Quattro system that sends power to all four wheels. In the case of the newest Audi S3 Sportback, this is handled by an electronically controlled multi-plate clutch. Furthermore, the system handles power delivery fore and aft while individual wheel braking helps turn the car around its central vertical axis.
In practical terms, it means that the S3 Sportback is a very quick car over just about any shape of tar. Additionally, carefully meted out power delivery and high levels of corner grip bring with it plenty of driver confidence. Likewise, the levels of confidence will allow you to take liberties with the S3 at speeds you may not dare in other cars. It is very difficult to 'overcook' it in the S3 unless you are very silly.
Audi S3 Sportback Summary
The Audi S3 has typically been an overlooked proposition in the local market. It's near-twin, the Golf R (due for SA introduction in 2022) has a far more loyal and enthusiastic following in comparison. More overt and powerful hatches, not least of all the RS3, have taken the limelight away from what is a well polished and capable machine. 
One of the tricks of the Audi S3 has always been its ability to perform multiple roles. It can be an executive hatch with polite manners in the urban grind and really turn up the pace with bucket-loads of grip and searing point-to-point pace when called on. Consequently, the S3 just goes about its business with minimal fuss and drama. A quite Teutonic one could say. Finally, it is ideal for those who prefer the pace, if not the drama of fast driving. 
Model: Audi S3 Sportback
Price: R795 000
Engine: 2,0-litre inline four, turbocharged
Transmission: seven-speed automatic, AWD
Max power: 213 kW
Max torque: 400 N.m
Top speed: 250 km/h
0-100 km/h: 4,9 sec
Fuel consumption: 8,0 L/100 km