Toyota South Africa was kind enough to loan us a Corolla Cross 1,8 Xs Hybrid to use over the recent summer break. We drove the car extensively and share our thoughts here.
Toyota SA introduced what is, quite possibly, the most important new model into the local new car market towards the closing stages of 2021. Not only is the Corolla Cross locally produced, but nearly half the range consists of hybrid-powered derivatives. Even more importantly, the newcomer is positioned at an extremely competitive price point.
Follow Double Apex on Instagram and Facebook where we share more car content.
Summer lovin'
A Corolla Cross 1,8 Xs Hybrid arrived at our "offices" at the start of the summer break. The test unit was finished in a smart shade of solid black, which looked good but proved hard to keep clean. The body colour helped to show off the silver alloys (standard fitment), but interestingly hides the size of the mid-size SUV somewhat.
In Xs guise the Cross Corolla has, among others, keyless entry, auto-folding exterior mirrors, LED taillamps and headlamps, fog lamps, parking sensors and automatic wipers and headlamp activation. Occupants are housed on cushy black leather seats and cooled by dual-zone climate control. The latter was highly appreciated as temps started to escalate in the Mother City.
From a tech perspective, the Xs has a touchscreen infotainment screen, which doubles as the display for a standard rear-facing camera. The interface features Apple CarPlay/Android Auto functionality and a total of three USB ports. We found it was quick to pair with our Android mobile phones – which isn't true of all cars. In addition, it is quick to reconnect whenever we re-enter the cabin.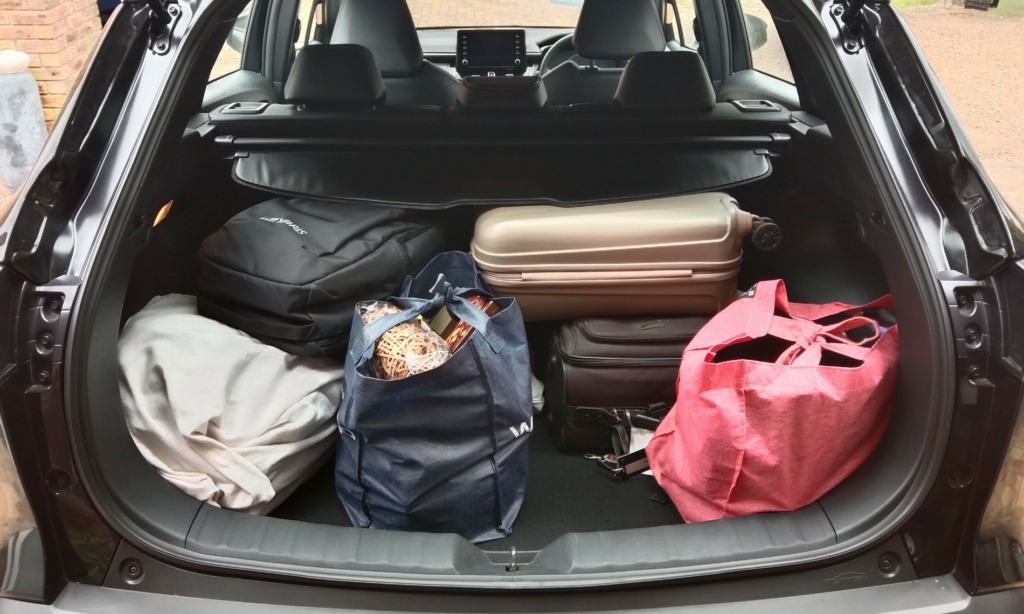 Spacious interior
One of the main drawcards of the Cross Corolla must be its size vs price comparison. Toyota has priced its new charge similar to that of smaller offerings from its main rivals. This means it has a large cabin, with enough space for the "out-laws" on the back seat and a large boot. The latter we tested quite well on a weekend away.
Soft on the bum
More impressive than the space in the cabin is the plush ride experienced by that inside. Toyota has set up the Cross' suspension with almost no sporting pretence (which is how all SUVs should be set up) and fitted it with high profile tyres. The net result is a cushy ride that isn't troubled by most imperfections short of a large speed bump. And that's even with a torsion beam rear arrangement.
From behind the wheel, there is not much feedback from the steering rack and little road noise. Accordingly, this makes light work for the driver and long journeys effortless. Speaking of effortless motoring…
Hybrid powertrain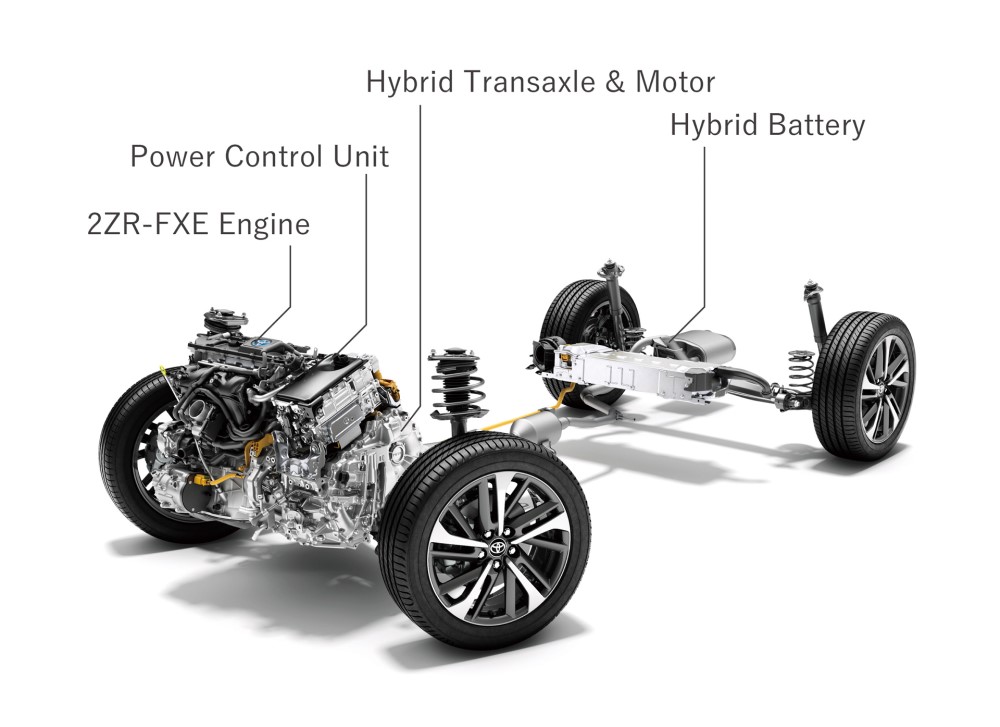 Under the bonnet of the Corolla Cross 1,8 Xs Hybrid is a, err… hybrid powertrain. As the name denotes there is an amalgamation of power sources. A 1,8-litre inline four-cylinder petrol engine is supplemented with added torque from an electric motor. Specifically, total system power is rated as 90 kW.
Drive is directed to the front wheels through a continuously variable transmission (CVT). The combination works well, particularly within the urban grid. Toyota claims the Corolla Cross Hybrid sips fuel at just 4,3 L/100 km in the mixed-cycle.
Check out other hybrid models that Toyota recently introduced to the local market.
As we used the Cross Corolla for an extended period, we truly received a good indication of its fuel consumption over different usage patterns. Specifically, the first tank, almost all of it used within the city, was consumed at a rate of 5,0 L/100 km. That's 16 per cent more than claimed.
The second tank we used for a weekend away, which meant long stretches of motorway cruising speeds and many overtakes. We recorded a final figure of 5,5 L/100 km for the trip, also pretty decent. However, it must be noted that hybrids have a smaller fuel tank than that of the non-hybrid versions (36 vs 47 litres).
Summary
Usually, test units are placed within our care for about a week. This allows us to get a decent overview of a new vehicle. Specifically, obtaining a test car for longer presents us with more of an 'ownership' experience such as a decent overview of fuel consumption and boot space for time away.
Many other brands must have let off a collective groan when they saw the pricing of the Corolla Cross range. How does one compete with such a massive brand that has the option to produce on local soil? Anecdotally, their resignation may be well-founded. We have seen countless new Cross units through December and January.
Interestingly, the numbers show the model's popularity with nearly 1 800 units sold in the first full month of sales. Therefore, we expect the numbers to rise significantly for January as dealers take on new stock.
Finally, as a product, the Corolla Cross is very difficult to fault. It does exactly as it says on the can, and consequently, that is all some people expect from their mode of transport.
Corolla Cross 1,8 Xs Hybrid by the numbers:
Model: Corolla Cross 1,8 Xs Hybrid
Price: R413 000
Engine: 1,8-litre inline-four, hybrid
Transmission: CVT, FWD
Max power: 90 kW
Max torque: n/a
Top speed: 170 km/h