The term 'hybrid' may be part and parcel of the modern motoring lexicon today, but it was Toyota that popularised it in the automotive world, more specifically with the Prius. Any vehicle badged 'hybrid' is powered by a dual-source powertrain combining a traditional internal combustion engine with a high-current electric motor. Now Toyota brings hybrids to the masses with the addition of two derivatives to its South African line-up.
Going back
This revolutionary powertrain technology debuted in 1997 in the Toyota Prius. While the Prius has undoubtedly been the poster child for Hybrid, Toyota has recognised the need to expand this new energy technology to other mainstream model ranges – in pursuit of greater hybrid adoption and wider market appeal.
Recent developments in the global motoring arena have placed a far greater emphasis on New Energy Vehicles (NEV) and alternative propulsion technologies. With the continued development of new energy alternatives and further advancements of battery technology, customers are seeking more advanced drivetrain options and greater levels of efficiency without compromising on their core vehicle requirements.
Follow Double Apex on Facebook and Instagram, where we share more car content.
A greener future
This is where Toyota's NEV roadmap kicks In. Branded "Towards Carbon Neutral", this all-encompassing environmental strategy has as its ultimate goal, to get to zero emissions by 2050, but with a number of intermediate milestones in-between. 
And here we're not just talking about emissions produced by a vehicle, Toyota plans to be emission-free throughout the production process (not just for Toyota but our suppliers as well). 
To this end Toyota South Africa has an initial plan to roll out hybrid variants on most of its mainstream model ranges. The big news will be the introduction of the locally-produced Corolla Cross (in petrol and hybrid) as from November this year. This, however, is just the start of the electrification programme – the full spectrum of NEVs will be launched when there Is sufficient demand and when the infrastructure can support their introduction. 
Click here to read about the Corolla Cross range and learn about its pricing.
Making Hybrid Mainstream
With this change in customer behaviour, we are excited to introduce hybrid variants of two of our most popular passenger cars: Corolla and RAV4. Both Corolla and RAV4 Hybrid are a first for South Africa, and combine all the virtues of their conventional namesakes with the added performance and fuel efficiency of Toyota's proven Hybrid system. 
The Corolla Hybrid
Based on the stylish 11th-generation Corolla sedan, the Corolla Hybrid features Toyota's latest generation 2ZR-FXE engine (shared with the Prius). This 1,8-litre, four-cylinder mill employs Atkinson-cycle technology to deliver outstanding thermal efficiency, helping to deliver low fuel consumption and CO2 emissions.
As efficiency is the aim of the game, the petrol engine utilises many friction-reducing technologies under the skin, such as lightweight and coated connecting rods, low-friction timing chain and conical valve springs. Special attention has also been paid to heat recovery using an improved Exhaust Gas Recirculation (EGR) system. 
It is boosted by the latest-generation electric motor and battery pairing – which deliver a more compact package that is lighter in weight and lower in cost, and reflects significant advances in battery, electric motor and petrol engine technologies. The hybrid battery has a higher energy density, which means that even though its size was reduced by 10 per cent, its power output remained the same. It can absorb 28 per cent more energy in the same amount of time, for more rapid self-charging. 
The electric motors themselves are smaller, but also have an improved power-to-weight ratio. The electric motor provides a supplementary 53 kW and 163 N.m (at full capacity) – to boost overall system output to 90 kW (the combined figure is not an aggregate of the two power sources, due to transmission reduction losses). 
The hybrid powertrain also employs a Continuously Variable Transmission (CVT) gearbox – which seamlessly integrates the two drive sources, feeding power to the front wheels. Toyota's latest generation hybrid models utilise a 'starting reduction gear' to improve acceleration from standstill and provide a more direct-drive feeling when taking off. Drivers thus get the comfort and convenience of a 'two-pedal' arrangement while not sacrificing on driveability, performance or fuel economy.  
Fuel Efficiency
The Corolla Hybrid offers buyers outstanding fuel efficiency, with an impressively low average fuel consumption figure of 3,5 L/100 km. CO2 emissions are equally low, registering 81 g/km. Combined with a 43-litre fuel tank, the Corolla Hybrid has a theoretical range of over 1 200 km on a single tank. 
One Grade, One Spec
The Corolla Hybrid is offered in the valued-minded Xs spec level. This mid-tier grade combines all the key comfort and convenience features while keeping with the hybrid's more pragmatic bias. 
Standard specification includes LED head and taillamps with Daytime Running Lights (DRL) and automatic control, keyless entry, power-adjustable and heated side mirrors and full colour coding. Other cabin niceties Include cruise control, climate control, a reverse camera, power windows all-round, multi-Information display (MID) and three-spoke leather steering wheel with steering switches. 
The audio system comprises a touchscreen audio with bluetooth, USB and Apple CarPlay/Android Auto functionality, playing through six speakers. The Corolla Hybrid rides on bespoke 15-inch alloy wheels, shod with energy-saving 195-65-R15 tyres which boast a low coefficient of friction.
More below the advert…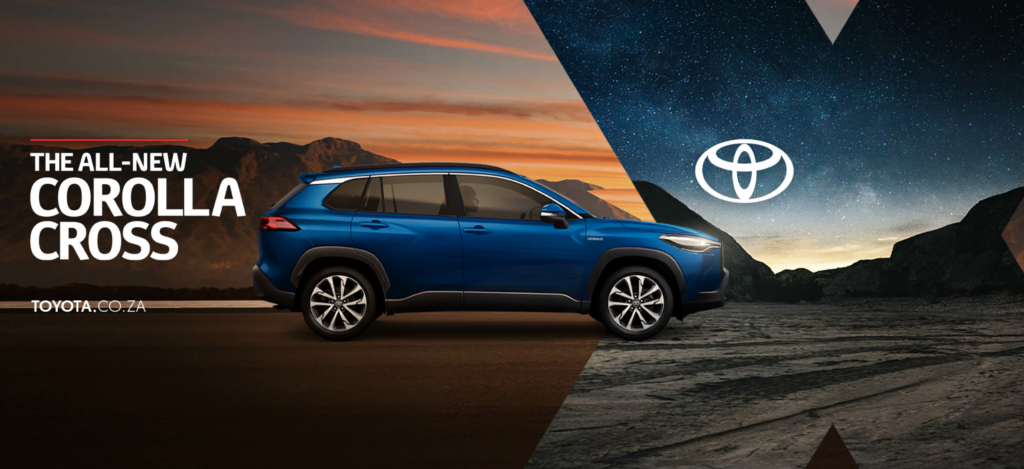 The RAV4 Hybrid
Based on Toyota's angular 5th-generation sport utility, the RAV4 Hybrid combines a punchy 2,5-litre hybrid powertrain with the popular TNGA-based 5-seater SUV. The A25A-FXS engine is shared with other global Toyota and Lexus stablemates, such as the Lexus ES and NX300h and the acclaimed Camry Hybrid.
It boasts many of the same technologies shared by the Corolla Hybrid, in a larger displacement four cylinder offering. Featuring an 'undersquare' design with Toyota D-4S port and direct-injection, the Atkinson cycle engine generates 131 kW and 221 N.m in 'ICE' state.
The electric motor punches out 88 kW and 202 N.m (at maximum state of charge) to deliver a total output of 160 kW. Power is transmitted to the front wheels via a CVT transmission, which seamlessly integrates the two drive sources – and delivers an ultra-refined drive. Smooth punchy acceleration, low NVH levels and superb refinement, are some of the standout features of the RAV4 Hybrid.
The Hybrid pays dividends at the fuel pump too, as the model's fuel consumption index is listed at mere 4,7 L/100 km with CO2 emissions registering 107 g/km. A remarkable consumption figure for a 5-seater SUV.
One Grade, One Spec
The RAV4 Hybrid is offered in tweaked GX trim – which strikes a balance between core convenience spec, value for money and luxury convenience.
The RAV4 Hybrid boasts LED head and taillamps complete with DRL's up front, rain-sensing wipers, heated and power-operated side mirrors and keyless entry. Occupants are well catered for with dual-zone climate control, three 12-volt power outlets and multiple cupholders. Driver convenience is boosted by the fitment of Cruise Control, an auto-dimming rear-view mirror, multi-information display and a tilt & telescopic steering wheel finished in leather and incorporating steering switches.  
The infotainment system centres around Toyota's touchscreen interface, delivering sound output through six speakers while interfacing via 3 x USB inputs, Bluetooth and Apple CarPlay/Android Auto mediums.
Driver support systems include Park Distance Control (PDC), ABS, EBD, VSC, Trailer Sway Control (TSC), Hill Assist Control (HAC) and Drive Mode Select (Eco/Normal/Power). A full complement of airbags is present, including side and curtain variants, as well as an anti-theft system. The RAV4 Hybrid rides on 17-inch alloy wheels with 225-65-R17 rubber joined by a full-size spare wheel. Roof rails, a rear spoiler, blue Toyota insignia, Hybrid badging and mud guards also form part of the standard repertoire.
Pricing below the gallery…
Pricing
Corolla Xs Hybrid CVT – R419 900 
RAV4 GX Hybrid CVT – R555 300
The pricing has been set at a very competitive level in anticipation of future government support on New Energy Vehicles (NEV). Toyota South Africa Motors' strategy is to make Hybrid models attainable and offer customers an attractive product package – leveraging the benefits of Hybrid technology – without paying significant premiums in order to experience it.
Peace of Mind
Both new hybrid models come with a six-services or 90 000 km service plan as standard. Service intervals are pegged at 15 000 km/12 months. Toyota's standard 3-year/100 000 km warranty is included and customers have the additional peace of mind of an 8-year/195 000 km hybrid battery warranty. Service and warranty plan extensions can also be purchased from any Toyota dealer (220 outlets).