Hyundai SA seems to roll out new models at a higher frequency than just about any other locally based automaker. We've attended several Hyundai launch events over the last few years and this week we found ourselves at the introduction of the new Hyundai i20. 
Follow Double Apex on Facebook and Instagram, where we share more car content.
---
Order from our online store and take advantage of free delivery in South Africa on orders over R349.

---
All-new 
The Hyundai i20 is not an unknown product to the SA car-buying public as the nameplate has been in SA since 2009. The car you see here is an all new Hyundai i20 that has been reengineered from the ground up. It's no secret that Hyundai has VW set firmly in its sights and the i20 takes aim squarely at the VW Polo, and to other small hatches such as the Kia Rio, Ford Fiesta, Mazda2 and Suzuki Swift.
Read our review of the Golf GTI-hunting Hyundai i30N by clicking here.
The new Hyundai i20 is a stylish proposition with a bold front grille (that echoes the upcoming Tucson), angular lines and sharply detailed head- as well as taillamps. There is even the option of a two-tone colour scheme to help differentiate the i20 even further from its rivals. And these are just the 'cooking' variety i20s. A hot i20N (read more here) has been released in Europe, something we hope Hyundai SA manages to secure for the local market as well.
Variations
There are essentially five variants in the new Hyundai i20 range. The entry level derivative is labelled 1,2 Motion. It is powered by a naturally aspirated four-cylinder engine that is mated solely with a five-speed manual transmission. The engine delivers 61 kW of power and 115 N.m of peak torque. This engine is also available in the higher-spec Fluid level. A step up from the 1,2-litre versions is the 1,4 Motion. A four-cylinder motor produces 74 kW and 133 N.m of twist action. This unit is available exclusively with six-speed automatic transmission.
At the top of the line-up (unless the i20N is introduced locally, we asked at the launch the decision is yet to be finalised) is the 1,0 TGDI Fluid. Powering this version is a three cylinder engine that is fed by a turbocharger. The blower helps lift power to 90 kW and and healthy 172 N.m of torque. Power can be sent to the front wheels through a six-speed manual or a seven-speed automatic (dual-clutch) transmission. All engines in the line-up are petrol-fed.
Standard kit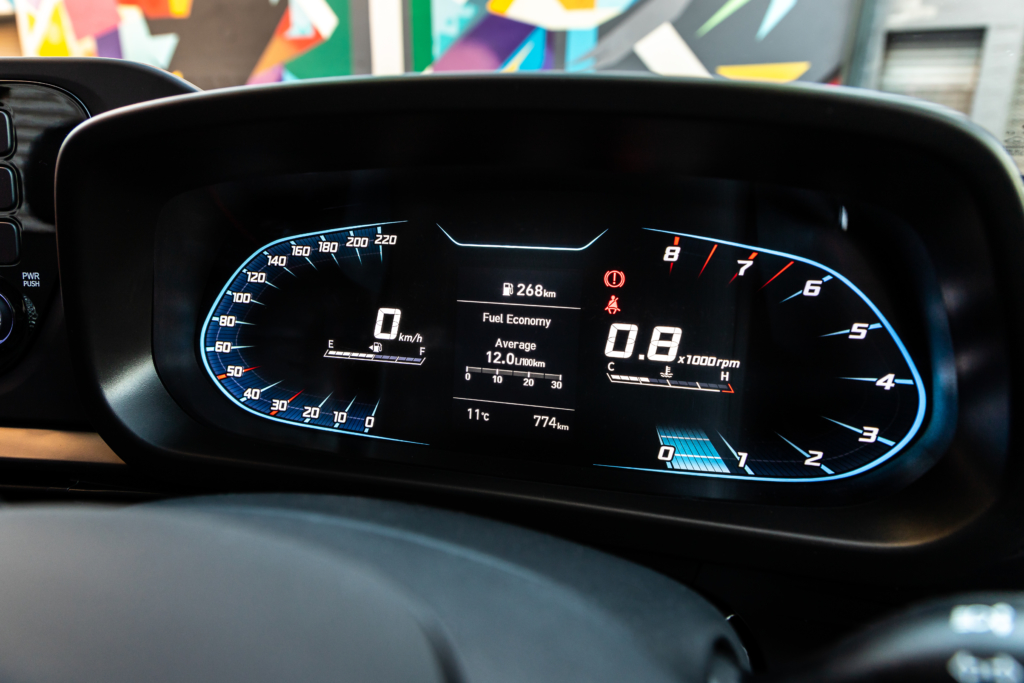 All derivatives in the range are kitted with air conditioning, a touchscreen infotainment system that features Apple CarPlay/Android Auto, a rear facing camera and parking sensors and Hyundai's 3,5-inch 'supervision cluster'. Fluid versions add cruise control, USB ports front and rear, wireless mobile phone recharging and electrically operated folding side mirrors.
The cabin feels like a massive step-up from the model it replaces. Material quality feels more upmarket and the two digital screens (instrument cluster and infotainment) brings a level of tech that makes the i20 feel like the most modern of all its rivals and will undoubtedly appeal to the young target audience.
A quick drive
On the national ride and drive event held in the Western Cape we sampled the two versions sporting the turbocharged powertrain. Rainy conditions didn't really allow us to delve into form of dynamic exploration. We did find a decent level of power and torque on tap from the three-cylinder motor, which as a rorty soundtrack when revved hard. The ride quality seemed pliant though we were, admittedly, on some of the finest roads in the Cape.
The automatic transmission was quite keen to shuffle up to high ratios as quickly as possible and on more than one occasion we reached for non-existent paddles on the back of the steering wheel. The six-speed manual allowed us to exploit the 90 kW of the engine much more effectively. Having said that we suspect that most buyers will opt for the auto' transmission.
Summary
The new Hyundai i20 is aiming to take a large chunk of the lucrative small hatchback segment. Its biggest problem is the popularity of the VW Polo. Ford, Mazda and Kia have all realised that SA is well and truly Polo country, as seen in the monthly sales tallies, and beating VW in this segment is not easy. Hyundai SA knows this full well and has countered with attractive pricing and high levels of standard equipment that outdoes all the competition. If you're in the market for a small hatch we highly recommend you sample the i20, we promise you won't be disappointed.
Pricing
i20 1,2 Motion R275 900
i20 1,2 Fluid R289 900
i20 1,4 Motion AT R305 900
i20 1,0 TGDI Fluid R330 900
i20 1,0 TGDI Fluid DCT R355 900
Prices include a seven-year/200 000 km warranty and four-year/60 000 km service plan.