We really enjoy a good restomod here at Double Apex. The idea behind making a car more user friendly, safer, more comfortable and modernising it is exactly what drove the creation of the Moto Technique Ferrari 388 GTBi; that's not a typo by the way. Check out this cool restomod Porsche 959.
Follow Double Apex on Instagram and Facebook where we share more car content.
---
Order from our online store and take advantage of free delivery in South Africa on orders over R349.

---
The Magnum car
The Ferrari 308 inspired an entire generation of budding petrolheads as it was one of the stars of the hit TV series, Magnum PI. As Thomas Magnum's loan car (it belonged to the owner of the estate on which Magnum lived) the 308 featured heavily on the small screen every week. Although, (presumably) fast for its day, the 308 is not quite a rip-snorting model by modern standards.
Track record
Moto Technique is a UK-based outfit with a 40-year history of working on exotic cars. Over the last four decades the team have rebuilt everything from Gullwing Mercedes to Ferrari F40s and Lamborghini Miuras. The chaps there have an enviable track record and their work is much sought-after on both sides of the Atlantic. Moto Technique was asked to cast their magic on a 308 after creating a few Dino restomod examples.
Cyan Racing recently debuted a Volvo P1800 restomod.
Modernisation
A client offered up a neat example of a 308 as a starting point. It may have been in good nick to start with but Moto Technique stripped the car back to bare metal. They had the rear wheel arches subtly flared by 50 mm. After treating the metal surfaces the bodywork was covered in a non-standard shade of metallic green. The standard engine cover has been replaced by a carbon-fibre item with a Perspex window that allows one to look directly at the engine.
Click here to check out a V12-powered Ferrari 308.
Under the skin the suspension was replaced with adjustable Wilbers units. The new suspension controls larger, 18-inch alloys that the client opted for. The new wheels cover Brembo brakes sourced from a Ferrari F360 Modena. All suspension bushes, bearings and seals were replaced with original Ferrari parts and a quick-acting electric power steering system was added.
Naturally aspirated V8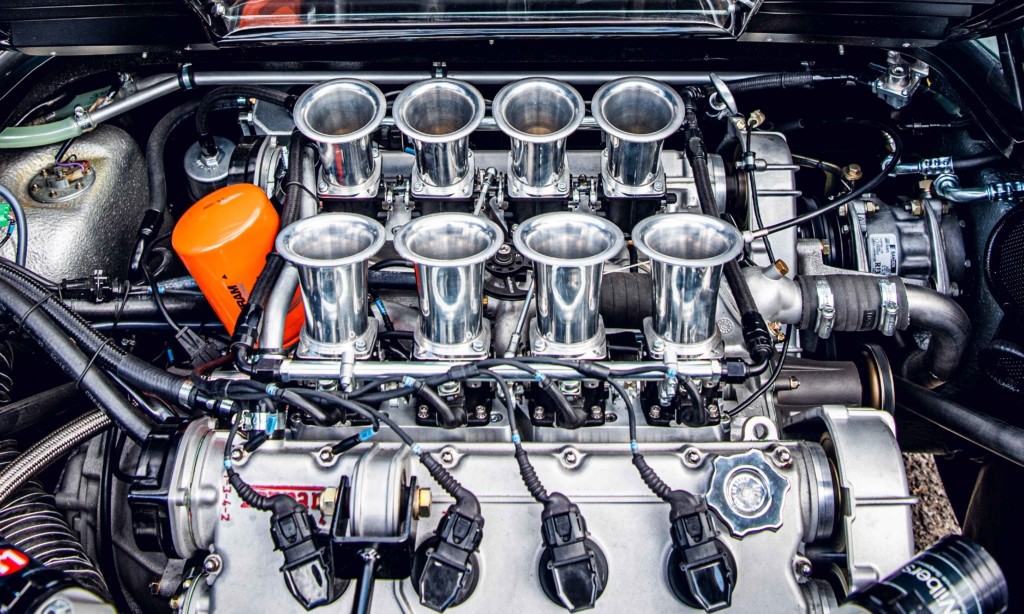 The standard car's 3,0-litre V8 (where it derives its name) was removed and completely rebuilt from the ground up. It now features a bespoke crankshaft and titanium conrods coupled with purpose-designed pistons. Cubic capacity in this car is now 3,6-litres, though the company can build a 3,8-litre version on request (hence the 388).
The motor is fed by a set of individual throttle bodies. A Motec ECU controls the eight individual coils and fuelling parameters. Exhaust gasses exit through a bespoke Capristo exhaust system. Moto Technique has an NDA with the owner of the car to not divulge its power output, and try as we may we could not get even an estimate out of company owner Kevin O'Rourke. We think end result of all their efforts in quite special. You can see and listen to the Moto Technique Ferrari 388 GTBi in the video below.
Special thanks to Moto Technique for the images.