Automobili Lamborghini's history has produced many firsts and records. Here are four quirky Lamborghini facts that you might not have heard about before, including one very interesting show car.
Follow Double Apex on Facebook and Instagram, where we share more car content.
---
Order from our online store and take advantage of free delivery in South Africa on orders over R349.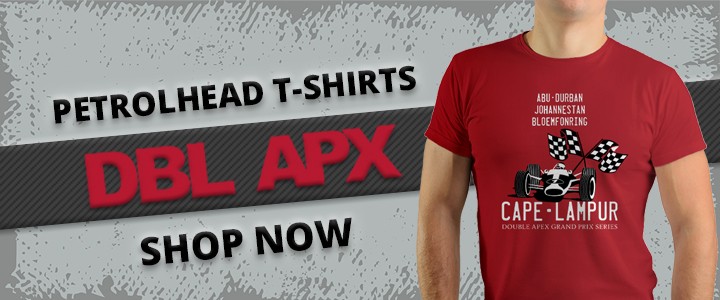 ---
Countach: the first car with scissor doors
The Countach must be one of the most recognisable supercars of all time. Part of its wow factor are the vertically opening doors, also known as "scissor doors".
Marcello Gandini penned the revolutionary Countach in 1971 and gave the design something the world had never seen on a road car. Aside from the aesthetics, the upward opening doors allowed the driver to lean out to better see the area behind the car when reversing and allowed the Countach to be parked in tight spaces, where a long door could not otherwise be opened. This signature trait has since been used on all V12-powered Lambos starting from the Diablo, heir to the Countach, and moving through the Murciélago, Reventón, Veneno, Centenario and finally through the Aventador.
Check out the modern-day remake of the Countach at this link.
Miura: the lowest production road car
Lamborghini's Miura is considered one of the most evocative shapes to ever grace the roads. It's low height and sinuous shape are instantly recognisable to car enthusiasts the world over. At just 105,5 cm in height, the Lamborghini Miura was the lowest mass-produced car ever. The bar set by the Miura is a styling feature that has carried over through all Lamborghini cars since.
Lamborghini LM002: the first Super SUV in history
The Lamborghini Urus (read our driving review at this link) is not the Italian carmaker's first-ever SUV. That title goes to the LM002. LM stood for Lamborghini Militaria as the project was intended for military use. Part of the Rambo Lambo's appeal, and Super SUV title, was thanks to the 5,2-litre V12 that produced north of 330 kW. The engine was mated with all-wheel drive system, two-speed transfer-case with central locking differential and able to tackle slopes up to 120 per cent. A total of 300 units were produced between 1986 and 1992. 
Marzal: the car with the most glass surface area
The Marzal was designed by Marcello Gandini for Carrozzeria Bertone. Among the features that make the Marzal's design special are the interior, entirely upholstered in silver-colored leather and the hexagon, the central theme of its design which we see in modern-day Lambos. But the Marzal's most striking feature was the extensive glass surface that covers a massive 4,5 square metres, from the gull-wing doors to the roof. This means that the Marzal, a fully operational show car, has the largest glass surface in car history. Check out the Marzal in the video below.