While the midst of a Cape winter is not an ideal time to drive a drop-top car, we weren't going to turn down the chance to get acquainted with the latest Ford Mustang Convertible when offered one by Ford SA to drive for a few days.
The Ford Mustang is one of those iconic cars. The kind of car that just about everyone knows about, regardless of their level of interest in automotive things. It's odd then to consider that the Pony Car was only offered officially for the very first time in SA as late as 2015. Ford SA recently sent us a convertible version to sample. This is heavily upgraded version of the car launched locally a few years ago.
See more pics of the Mustang Convertible on our Instagram account.
Styling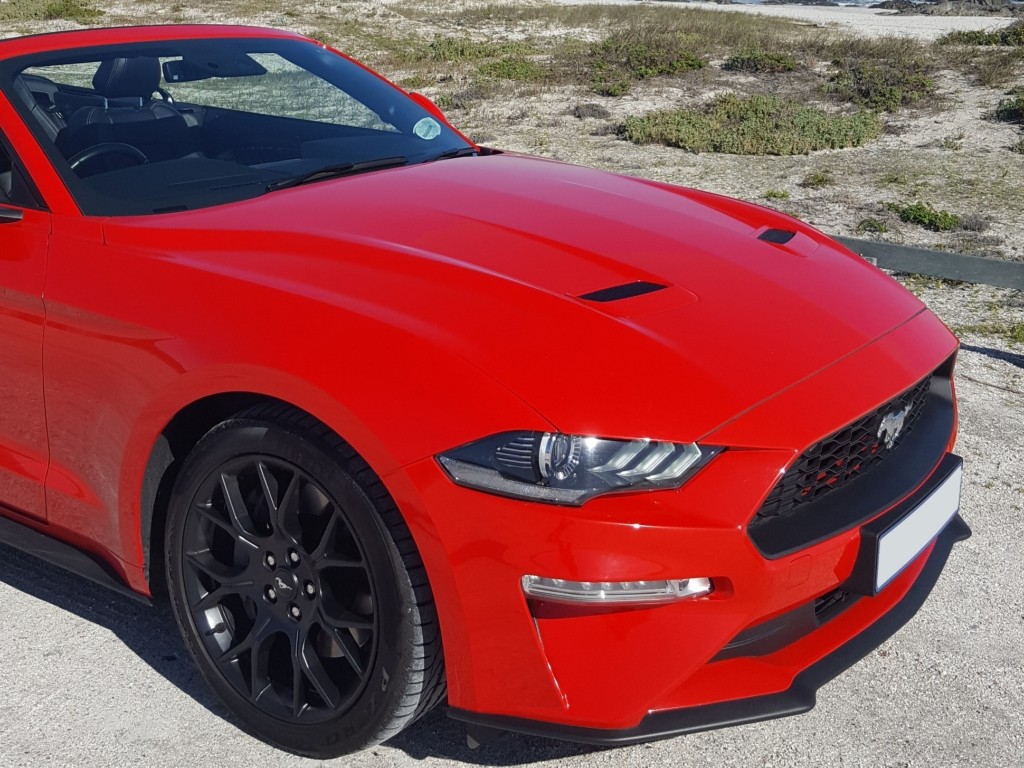 A revised appearance is just part of the changes on the revised model. The styling remains familiar but it has been sharpened. New, slimmer LED headlamps and taillights, a new bonnet with prominent air vents, a new front splitter, and a re-profiled rear bumper with diffuser insert are some of the styling upgrades. 19-inch alloys in a matte black finish look quite racy and worked a treat against the orangey-red of our test unit.
Click here to read about the most expensive Ford Mustang ever sold.
Despite its relative newness in the SA context the Ford Mustang seems instantly recognisable to just about all onlookers, especially little kids and other Ford drivers who were quick to snap pics with their mobile phones. Incidentally, for a halo product, the car carries no Ford logos, which is testament to the strength of the Mustang brand.
New tech inside
Ford has brought the interior of the Mustang into the new era with a host of new technology. A completely digital instrument cluster is configurable in a multitude of ways. Drivers can set the colour and layout of the cluster such as displaying a racecar-like rev-counter as well as what info they wish to see displayed. There are even some modes that we found quite hilarious for a four-seater convertible, such as the line-lock (ie burnout option), and drag race mode.
Learn more about the upcoming, battery powered Mustang SUV here.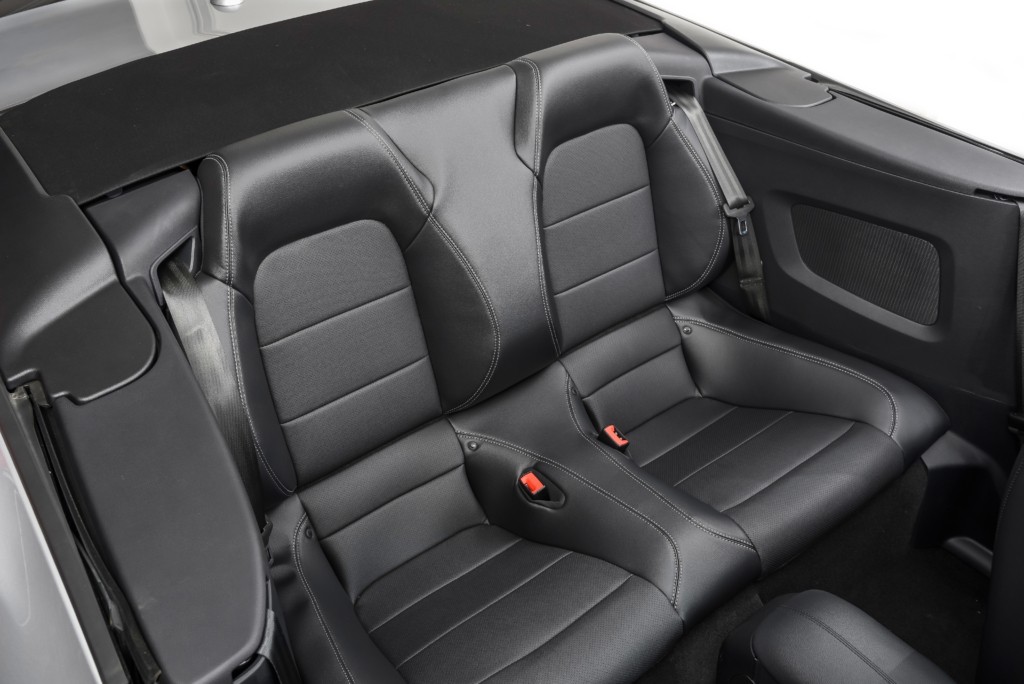 The infotainment system features Ford's Sync 3 operating system. This latest version has Apple CarPlay and Android Auto connectivity. Smart phones can be controlled by voice commands or by using remote buttons on the steering wheel. Standard navigation also offers pinch and swipe gestures on the touch screen. Other items included in the list price are a booming 12-speaker audio system, dual-zone climate control, a rear-view camera, active cruise control and leather covering for the seats. While the front chairs, which feature heating and ventilation, are large comfy items the sculpted rear accommodation is not suited for anyone of average size or long of leg.
On the road
We were sent a Ford Mustang Convertible fitted with the company's 2,3-litre turbocharged inline four. Most people expect a 'Stang to be fitted with a big ol' lump of American V8 so the news and sounds of the inline four come as a surprise. Of course, there is still a V8 on offer should you desire.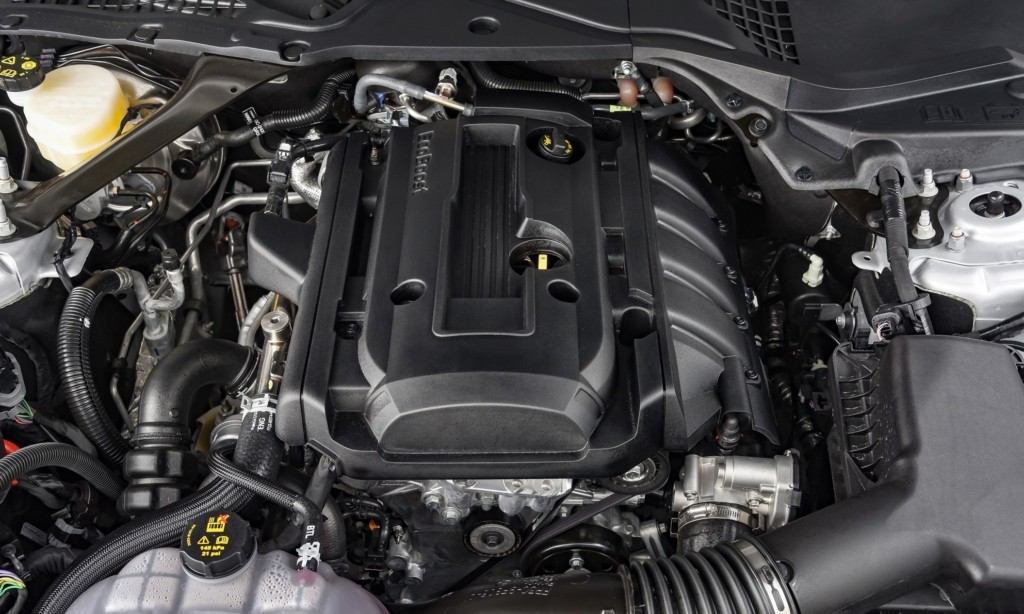 The EcoBoost engine is good for 213 kW and 441 N.m of torque. New for the latest iteration of the Mustang is the adoption of a ten-speed automatic transmission. The same transmission is fitted to V8 versions as well. If you ask us, ten gears feels like a few too many, especially with an engine that has a strong torque delivery, as the ECU is constantly shuffling between ratios. It feels bizarre to be in sixth gear before leaving one's neighbourhood. In a cruiser, that the convertible is supposed to be, the turbocharged motor has more power than most will require. The Ford Mustang Convertible is quite compromised as a dynamic package so more power is from the larger engine (V8 soundtrack aside) is probably not a great idea.
Check out the track-focused Mustang Mach 1 at this link.
With its roof lopped off the drop-top 'Stang shimmies and shakes if you ask too much of it, especially if you encounter a mid-corner bump at a decent pace. But the car was designed to be a boulevard cruiser and that's where it excels. The 19-inch wheels and stiff springing compromise the ride quality on all but the finest roads. But find a stretch of smooth tar, drop the top and life is good with sunshine pouring into the cabin. We were very lucky to find a few such days in middle of a sodden Cape winter.
Summary
The Ford Mustang Convertible is a feel-good kinda car. When you are happy to just enjoy the scenery on a relaxed Sunday drive or prefer to just look at your ride parked up alongside the ocean, then it's in its element. In the SA context that luxury does come at a price, a price that is the better part of a million rand. However, roughly 3 000 Mustangs have been sold to date locally, showing that it ticks all the right emotional boxes. It may have its foibles and flaws, but for some that isn't a problem.
Model: Mustang Convertible
Price: R901 600
Engine: 2,3-litre turbocharged, inline four
Transmission: ten-speed auto, RWD
Max power: 213 kW
Max torque: 441 N.m
Top speed: 233 km/h
0-100 km/h: 5,8 sec
Fuel consumption: 10,0 L/100 km