BMW pulled the wraps off an important new model today, called the BMW iX3. This is the very first battery powered SUV made by the automaker, and it most certainly won't be the last. BMW says this the first all-electric model produced under the core BMW brand, as opposed to the i3 an i8, which fell under a sub-division of the parent company. This means that the X3 line-up offers petrol, diesel, plug-in hybrid and full-electric powertrain options. Good news for SA fans is that the model is expected to be launched locally during the latter part of 2021.
Follow Double Apex on Instagram and on Facebook for more car content.
X3-based
Unlike the BMW i3 and i8, the BMW iX3 is more conventional in appearance. It is based on the same basic structure as other X3 models. There is no specialised platform, exotic materials or a composite outer shell. Key external differences to other X3 models are the closed front grille (as there is no radiator) blue detailing, aero-shaped wheels (that are said to add 10 km to the range) and a smoother front bumper.
The blue highlighting has been carried over into the cabin and is applied to various items, including the start button, gear shifter and digital instruments. In the BMW iX3 the navigation system provides info based on available charging networks and suggests the most energy efficient route for a journey.
Click here to read about the upcoming BMW i4 Coupe.
All-electric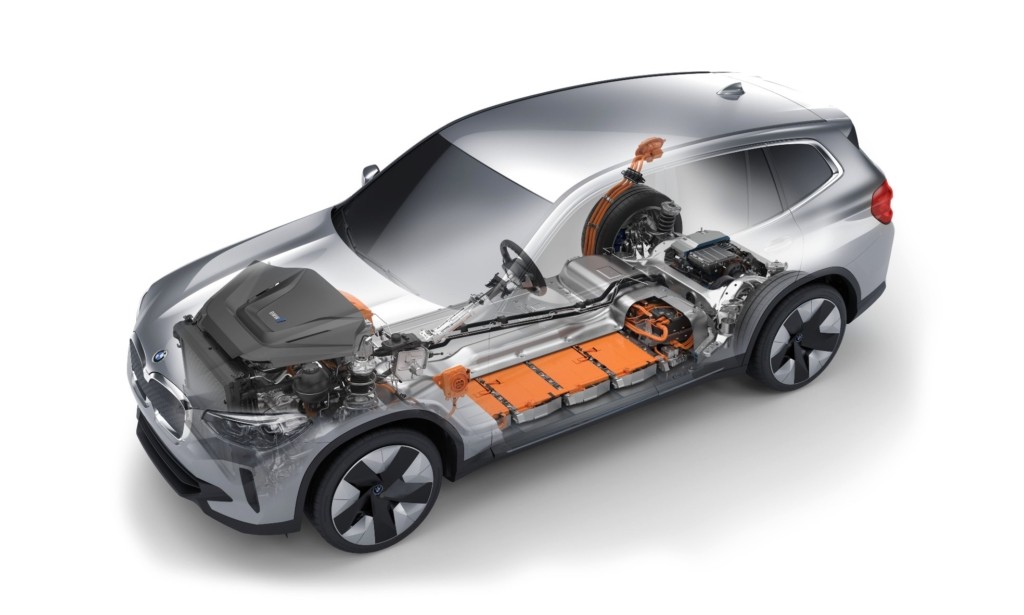 BMW's fifth-generation eDrive technology brings together the electric motor, transmission and power electronics into one compact design. This powertrain delivers 210 kW and 400 N.m of torque, the latter available from the moment the electric motor starts to turn. BMW's performance claims put the benchmark 0-100 km/h sprint at under seven seconds with a top speed limited to 180 km/h.
It is powered by an 80 kWh battery that offers over 500 km of driving range. The slim battery has been installed under the cabin, dropping the centre of gravity when compared to combustion siblings. Recharging from 0 to 80 per cent of the high-voltage battery's capacity takes 34 minutes, 10-minute charge adds 100 kilometres. The new power unit is designed in a way that reduces the need for rare earth materials thereby making it more eco-friendly from the very start of the battery production. Interestingly, the BMW iX3 is the first rear-wheel-drive-only X3 on offer.