Our regular F1 correspondent outlines the recent Mexican Formula One Grand Prix F1 Review Mexico 2021.
Mexico is no stranger to the world of Formula 1, having hosted its first event at Mexico City in 1962. Regular Grands Prix were held throughout the 1960s until its cancellation after 1970, when officials struggled to control 200 000 fans who had flocked to see their hero, Pedro Rodriguez. 
Follow Double Apex on Instagram and Facebook where we share more car content.
The race returned in 1986, a bumpy, dusty circuit, which saw Gerhard Berger and Benetton take their first victory. The circuit became notorious for its bumpiness and the F1 circus left Mexico City again after the 1992 season. Since Sergio Perez's rise to fame in the series, F1 was wooed back in 2015, with Mexico City producing a state-of-the-art facility – and 200 000 cheering fans.
---
Order from our online store and take advantage of free delivery in South Africa on orders over R349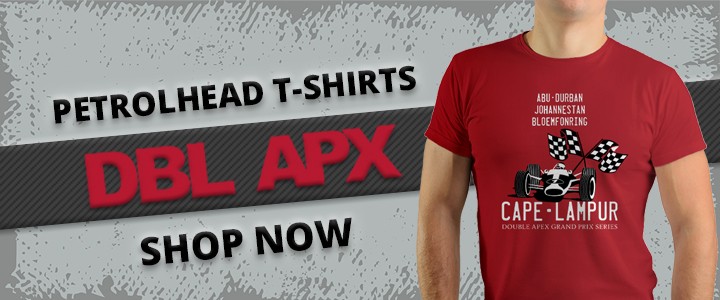 ---
On a knife edge
The 2021 world championship arrived at Mexico delicately poised, with Max Verstappen (Red Bull-Honda) 12 points clear of archrival Lewis Hamilton. The championship is a two-horse race, but its intensity is at fever pitch…
Both Mercedes drivers put in quick qualifying laps to lock out the front row of the grid, with Valtteri Bottas narrowly edging out his illustrious teammate to pole position, ahead of the two Red Bull drivers, Verstappen and Perez. The Red Bulls looked in ominous form in race trim and this was underlined on race day. Verstappen got a blinding start, swooping around the outside to take the lead from Bottas, with the Finn losing out to Hamilton on the brakes, too. Behind, Daniel Ricciardo (McLaren-Mercedes) ran out of road and ended up locking his brakes, sending Bottas into a pirouette…
Read our exclusive interview with the boss of Kyalami about the likelihood of a South African F1 GP, at this link.
Dominant performance
Verstappen dominated from the front, leaving Hamilton to chase and, eventually, fend off Perez to hold onto second position. The fans went wild when Perez crossed the finish line third, the first time a Mexican driver has ever stood on the podium at his home race.
Many will be criticising Bottas for his start, leaving the door open for Verstappen to scythe past into the lead. This fan sees it a bit differently. The Finn was the jam in the championship sandwich: he made space for teammate Hamilton to pass on the inside into Turn 1, while Verstappen made an early move around the outside.
Had Bottas kept pace with the Dutchman and prevented him from passing on the brakes, he would have compromised Hamilton and left him nowhere to go…similar to what happened with Bottas and Ricciardo. With the speed advantage of the Red Bull over the weekend, it was a matter of time before Verstappen would have taken the lead and waltzed to victory anyway.
Check out the 2022 Formula One calendar here.
Lacking pace
Lewis Hamilton was a frustrated man. It is clear his machine is no match for the Red Bull Racing-Honda and he stated such in the post-race interview. Stating that Sergio Perez being so close to him at the finish underlines the speed of the Red Bull is not the way to go about it, though.
Valtteri Bottas spent his afternoon chasing Ricciardo and being unable to do anything about the McLaren. While it is safe to say that his machine may have had some damage, it is also clear that Mercedes' rivals have taken a big step forward this season and the German marque is having to scrap it out for the first time since 2013. The question on everyone's lips is how will Mercedes respond to Red Bull's challenge for the remainder of the season?
Rock solid Pierre
Pierre Gasly (Alpha Tauri) had another storming race, finishing a fine, if anonymous, fourth, while the Ferraris of Charles Leclerc and Carlos Sainz finished fifth and sixth, respectively. This was an important result for the marque in its battle with McLaren for third place in the constructors' championship, particularly as McLaren only scored a single point through Lando Norris. Even Alfa Romeo outscored McLaren, with veteran Kimi Raikkonen finishing a fine eighth, behind neighbour and ex-teammate Sebastian Vettel (Aston Martin-Mercedes).
There are a mere four rounds remaining in the season, with Verstappen holding a 19-point lead over Hamilton. The next round is to be held at Interlagos, Brazil, on 12 to 14 November. It is expected benefit the Red Bull drivers again and Mercedes is psychologically on its back foot before the weekend has begun. We don't have long to wait to see the drama unfold…