We spent a few days behind the wheel of the Audi RS4 Avant and share our impressions in this review.
Wagons are cool.  Well, that's how most petrolheads feel. I am not sure why, but performance estate cars tend to have a level of street cred that is at odds with their utilitarian raison d'etre. Perhaps it's because of this juxtaposition that they are thought of as cool in the eyes of so many. Whatever the reason, there is no denying that Audi has been one of the strongest proponents of the performance wagon, or Avant (in Audi speak), sub-segment.
Click here to read our recent launch drive report on the Toyota GR Supra.
History lesson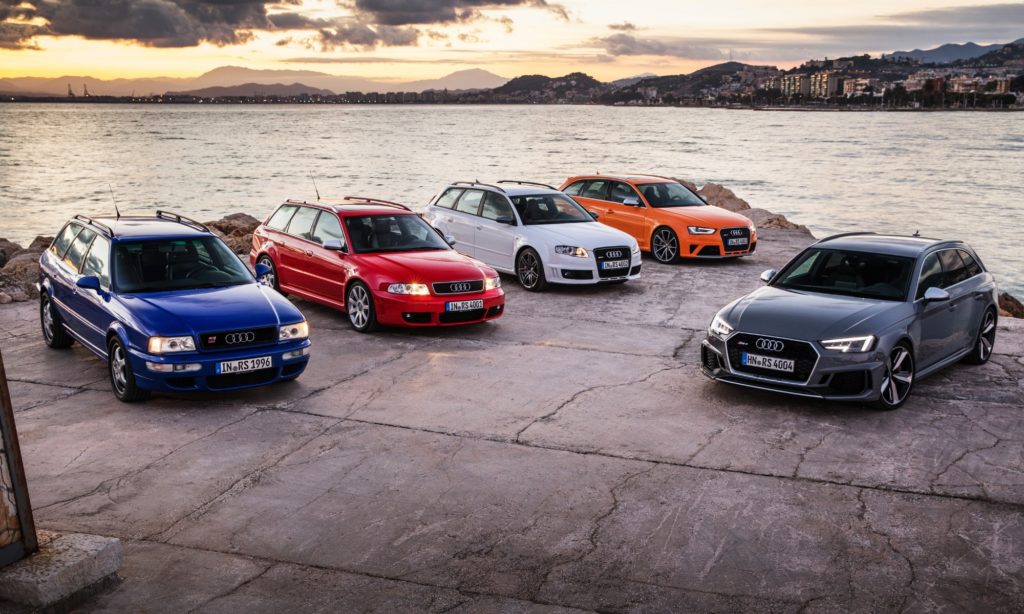 Audi's stake in this specialised sector was claimed when it launched the very first RS2 in 1995. That car was the result of a collaborative effort between Porsche and Audi and it is a wagon that is still desirable to this day. Posters of the signature blue, RS2 adorned the walls of many young petrolheads.
What started out with the RS2 expanded to the RS4. The very first model to wear that badge made its debut twenty years ago. Since then four generations have followed, and it is the latest that we recently reviewed.
Bespoke appearance
Stationwagons may have started out with the intent of moving cargo and/or pets when the need arose, but stylists have ensured that the most recent have elegant, flowing lines. In RS4 guise Audi's styling department was given the opportunity to add several touches that make the performance A4 stand out from its lesser-powered siblings.
Among the unique styling elements of the RS4 are an RS-specific front air intake, in honeycomb design, wider fenders (by 30 mm) that are accentuated like that of a racecar and an RS-specific rear bumper. The latter sports a diffuser insert and fat oval tailpipes. Atop the rear door is a larger lip spoiler and the entire appearance is set off by standard 20-inch alloys and a hunkered-down stance thanks to a lower ride height.
Special inside
It's not just onlookers that get to enjoy the RS4's model-specific touches. The driver is greeted by a flat-bottomed sports steering wheel and stainless steel pedals. Directly ahead is a digital instrument cluster that can be configured to suit. In proper performance-car fashion the rev-counter takes centre stage. Other important pieces of information such as engine oil temp and boost pressure are also displayed. If you can take your eyes off the road for long enough, you can also set the display to show other data such as torque, power (in percent), tyre pressures and G-forces.
RS-specific figure-hugging seats are covered in Nappa leather, and in the test unit, they featured heating and a massage function – NICE! Other standard kit on the RS4 includes multi-zone automatic climate control, MMI Navigation Plus, Audi connect, a Bang & Olufsen audio system and Audi smartphone interface.
Under the hood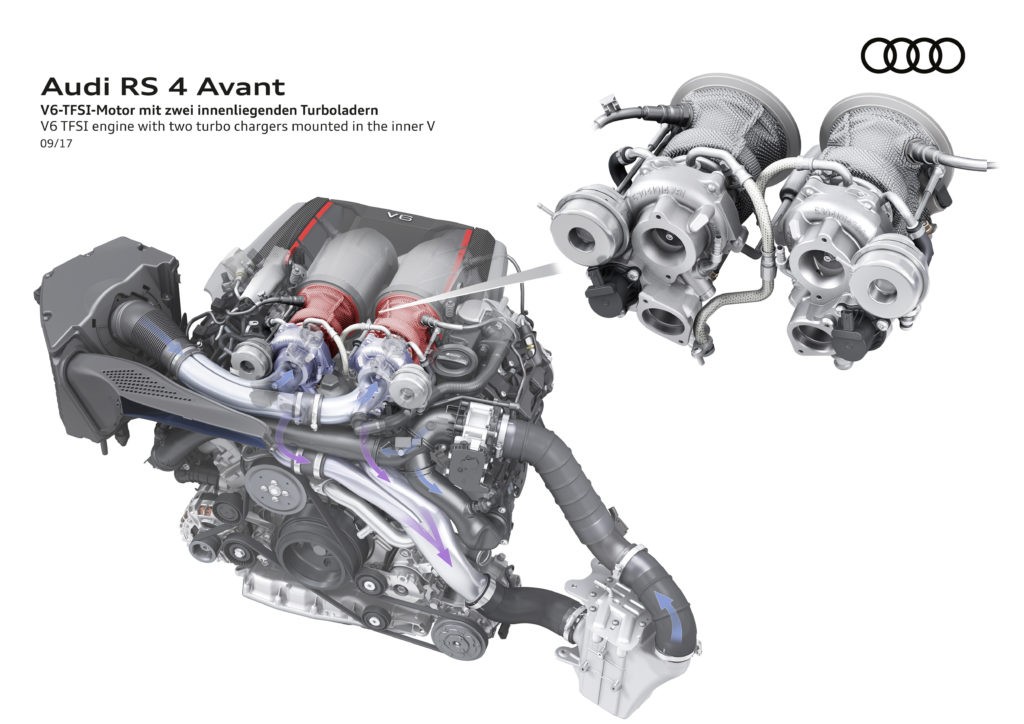 This latest generation RS4 Avant has dropped two cylinders and now features a 2,9-litre V6 engine that is force-fed by two turbochargers mounted withing the Vee of the block. The direct injection motor produces peak power of 331 kW and 600 N.m of torque between 1 900 and 5 000 r/min. That drive is fed to all four wheels via Audi's famed Quattro all-wheel-drive drivetrain after passing through an eight-speed automatic transmission. Audi says the RS4 Avant will sprint from 0-100 km/h in 4,1 seconds and it will top out at 250 km/h. If that isn't quite enough for you then you can have that limit lifted to 280 km/h.
And how does it go?
If I had to choose one word to describe the RS4's road manners it would be: sublime. Part of the standard package includes Audi's drive select dynamic handling system. This means that drivers can choose between various modes to tailor the responses of the suspension, transmission and throttle.
In comfort mode, the car has a ride that is quite superb considering the massive alloys, on low-profile rubber, that it wears. Sure, it is firm, but the quality never deteriorates to crashy, regardless of the road surface. Pootling around the city in the car's least manic setting it could well have any engine under the bonnet.
Of course, this is a performance car so we had to flex its muscles whenever the chance arose. The V6 motor is docile most of the time, hardly making its presences known, except on cold start-up when a flare of revs and occasional burble send a subtle reminder. When the drive selector was turned to 'dynamic' it felt as though we had awakened a sleeping animal.
Mash the throttle at any speed and lower gears are snatched with glee as the car just ramps up its performance several notches. Seriously high numbers can be registered on the electronic speedo in very short distances. More than once we had to really stomp on the brakes after affecting an overtake as we had dialed up a little too much speed.
Grip and go
In the twisty bits, the RS4 Avant really shows why it's such a capable 'sportscar'. The Quattro system allows you to dole out oodles of power without fear of being spat into a kerb or having to deal with eye-widening oversteer. Audi's press blurb states that under normal driving 60 per cent of the torque is sent to the rear wheels. When needed a maximum of 70 per cent can be sent to the front axle and up to 85 per cent to the rear. Not a once did we lose grip on either axle, the car just grips and goes.
If there is any criticism in its dynamic make-up, it's the lack of feel from the steering. The helm can feel quite disconnected from the front wheels, leaving you having to guess at the available grip limit, which is, thankfully quite high. As a whole, the package isn't quite as engaging as say, a Mercedes C63 or BMW M3, but I suspect the vast majority of buyers don't care about such nuance, all they want to do is drive fast.
Summary
In the midst of proper Cape winter, the Audi RS4 Avant really underlined why it's a car for all seasons and reasons. It is comfortable, extremely well-specced and has the benefit of an enlarged load bay, should you ever need it.
The all-wheel-drive system provides surefootedness at all times, and allows one to use a large percentage of the engine's immense power in places and at times when other cars would be scrabbling for grip. As an all-round prospect and a performance car with "point and squirt" ability that is second to none, the Audi RS4 is peerless.
Model: Audi RS4 Avant
Price: R1 211 500
Engine: 2,9-litre V6, twin-turbocharged
Transmission: eight-speed automatic, AWD
Max power: 331 kW
Max torque: 600 N.m
Top speed: 250 km/h
0-100 km/h: 4,1 sec
Fuel consumption: 8,8 L/100 km