Double Apex contributor Ian McLaren gets behind the wheel of the new Toyota Starlet 1,4 Xr and somehow finds this package instantly familiar. The first model to reach our shores born of a collaboration between Toyota and Suzuki, does the Starlet shine?

Follow Double Apex on Instagram and Facebook where we share more car content.

So, what's the deal?
Announced in 2019, a substantially closer working relationship between Toyota and Suzuki saw the former purchasing a 4,94 percent stake in the latter manufacturer, with Suzuki investing $453 million into Toyota Motor Corporation. Destined to remain rivals in the broader sense, the reason behind these closer ties is to promote sustainable growth for both brands.
For Suzuki, it means access to Toyota's well-documented expertise in hybridisation, while Toyota is rightfully keen to harness the Suzuki's brand's strengths when it comes to developing compact vehicles, particularly aimed at developing markets. An additional focus will be the co-development of future autonomous mobility.
While a Suzuki-badged hybrid SUV (called Across), based on the RAV-4 looks destined for European markets, the first collaboration between these two powerhouse brands to reach South African shores comes in the form of the new Toyota Starlet. If its proportions and stance look familiar, that's because behind its grille and badging lies a current-generation Suzuki Baleno.
How Toyota is the Starlet?
Specialists in small cars such as the Swift, Ignis, Jimny and S-Presso, the somewhat larger Baleno nevertheless offers a compelling platform for Toyota to look to replace the likes of ageing (and since discontinued) Etios in our market. The Starlet name is well-known to Toyota as it was worn on Japan-based hatchback offerings from this brand between 1973 and 1999.
Built on the same production line by Maruti Suzuki in India, the Starlet adopts the same K14b engine as the Baleno, meaning 68 kW and 130 N.m of torque is offered in a package weighing less than a ton. At launch, the Toyota is offered with a choice of five-speed manual transmission or four-speed automatic, with a claimed fuel consumption of 5,4 L/100 km for the self-shifter and 5,1 L/100 km for the three-pedal version.
Click here to read our review of the recently launched Toyota Corolla.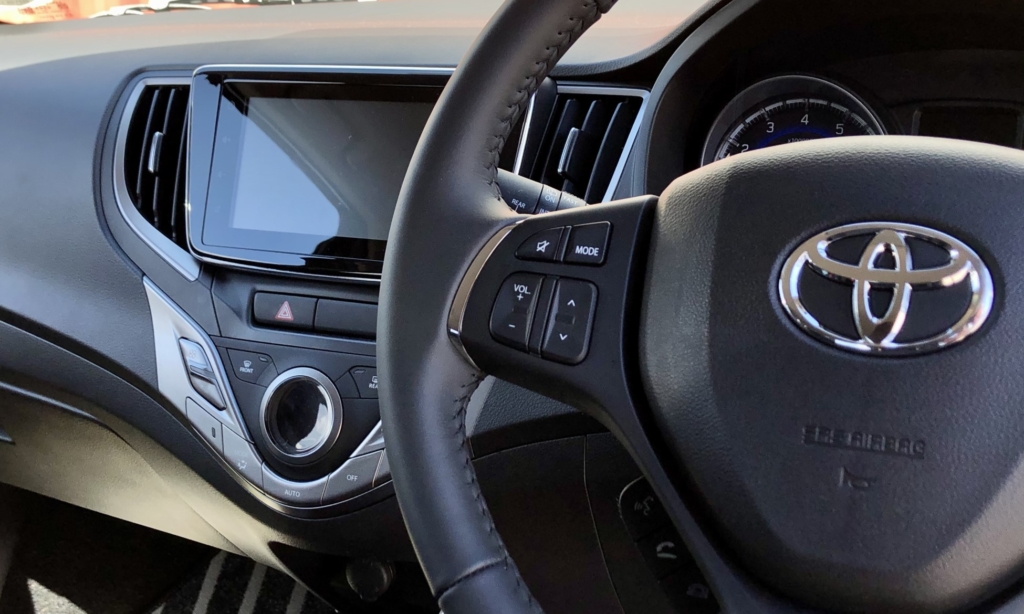 Offered in a choice of five exterior colours, the entry-level Starlet is distinguishable via its 15-inch steel wheels. Two more specification levels, namely Xs and Xr, wear 16-alloy items, with the range-topping latter fitted as standard with chrome door handles, a roof spoiler and LED daytime running lights.
Save for the fresh badge on the steering wheel, the cabin of the new Starlet is borrowed directly from the Baleno. And that's a really good thing as the Suzuki offers a neat, well-laid out and, by all accounts, well-put-together interior. While there's a welcome simplicity to the climate control functions and, in Xr spec, a leather-bound multifunction steering wheel is a boon, many younger owners will be drawn to the smartphone mirroring technology included within a touchscreen-based infotainment system.
In terms of safety, the Starlet range is fitted as standard with ABS-assisted brakes, VSC (stability control), hill-hold assist and Isofix anchor points in the rear.
On the road
As with most cars developed with the Indian market foremost in mind, the Baleno Starlet rides superbly. Helped by generous cushioning on the cloth-upholstered seating, the newest member of the broader Toyota family is also one of its most comfortable to drive in most conditions. Space in the rear is generous, while luggage capacity is class competitive.
Suzuki's 1,4-litre naturally aspirated engine has been around for some time but is therefore also a known quantity in terms of both eagerness and reliability. As ever, potential buyers residing in South African cities above sea level should consider that 68 kW and, more significantly, 130 N.m of torque will be negatively affected in terms of performance at altitude. That said, the manual transmission, in particular, in the Toyota Starlet 1,4 Xr offers a slick, precise shift action that allows for steady momentum in most conditions.
A small bugbear with this package (across both brands) is the lightweight action of the electrically assisted power steering. A boon in terms of both city driving and parking (Xr models feature a reverse camera and park distant control), this setup nevertheless requires a level of concentration – and constant input – on the open road in order to keep this otherwise lightweight vehicle maintaining true course. While this collaboration (lifeless and somewhat vague around its centre) is common throughout this segment, a recent drive of the new Hyundai Grand i10 proved that some level of additional weighing is indeed welcome.
Should I buy the Suzuki or the Toyota, then?
It's an interesting dilemma for Suzuki South Africa, in particular. While it won't enjoy the fact that the Starlet is unapologetically a re-badged Baleno, Suzuki will secretly be grateful that this collaboration targeted one of the least popular models (in terms of monthly sales) in its existing portfolio.
While the favour will no doubt be returned by way of future technology sharing between these brands, for the time being, Toyota should be (and likely is) grateful for such a well-put-together package such as the Baleno on which to update its compact segment offering – with the new Agya set to replace the entry-level Etios before the end of the year.
While current Baleno line-up (ranging from R221 900 to R272 500) is slightly more expensive than the equivalent Starlet range, Suzuki offers a 4-year/60 000 km service plan with its respective purchase. While the potential Toyota owner makes do with a 3-year/45 000 km service plan, the advantage of having 220 dealerships scattered across the country (Suzuki currently has 66) at which to have this work carried out is difficult to ignore.