A few weeks ago the Michael Schumacher display was opened in Cologne, Germany, near his hometown of Kerpen. The mini-museum showcases the career of the seven-time F1 world champion. The exhibit housed at the Motorworld Cologne Rhineland has 12 Formula 1 cars, trophies, helmets and race suits from his two decades at the pinnacle of motorsport.
Michal M, friend and reader of Double Apex visited the display and sent us these images to share with you. Enjoy.
---
Early career
Like most F1 stars Michael's career started with karting and quickly progressed to single seaters. Here is one of his early karts and a Formula Ford.
---
Mercedes backing
You can see from the side of this wings and slicks racecar that even during his early years in the sport Schumacher was a Mercedes-backed driver.
---
Mercedes driver programme
The Mercedes young driver programme helped build the careers of several promising drivers, most of whom made it into F1. Without a Formula One team of its own the breeding ground was the world of sportscar racing. Schumacher shared this car with Karl Wendlinger.
---
F1 debut
F1 debut: Schumacher's F1 career, famously, began at Jordan. The young German impressed on his debut by qualifying 7th, four places ahead of a more experienced teammate at a track he'd never raced on in a car he'd never driven before. Jordan only managed to use his services for one race before Michael was snapped up by Benetton.
---
Two titles
The championship-winners: After a few years with the Italian outfit, Schumacher claimed the driver's title twice, first in 1994, which he then successfully defended in 1995 before moving to Ferrari.
---
Catch some beautiful retro F1 Monaco footage at this link.
---
The Ferrari years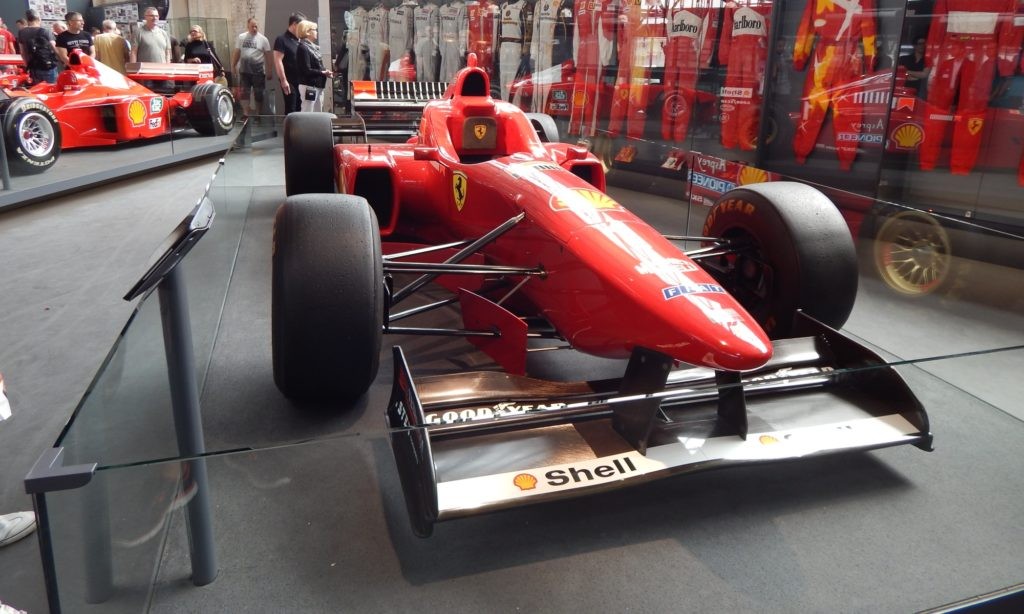 Early Ferrari F1 car
Record-breaking: Schumacher and Ferrari re-wrote the F1 record books when they started winning together, from 1996 already. The floodgates opened in 2000 with Michael claiming five successive titles. There are no fewer than seven Ferraris in the collection. An early car is pictured above and a later model below.
---
A regular winner
The collection features trophies, helmets and these racesuits. We have no doubt that the bulk of these are champagne-soaked from podium celebrations.
---
Back to Mercedes
It seems only fitting that Schumacher ended his F1 career with Mercedes. After a brief sabbatical, the German returned to F1 for a three-year stint. He was not as successful in his return but rather laid the groundwork for Hamilton and Rosberg who have won multiple titles for Mercedes-AMG F1
---