What you are looking at is a Mercedes-Benz. The badge may have been a giveaway, but it looks like no other Merc before, or since its creation. The Mercedes-Benz C111-II was the second iteration of the (you guessed it), Mercedes-Benz C111, and it turns 50 years old this year.
Follow Double Apex on Instagram and Facebook where we share more car content.
A rolling test-bed
The Mercedes-Benz C111 was created as a laboratory on wheels for the development of the Wankel engine and for testing new technologies. The supersports car was introduced 50 years ago at the 40th Geneva Motor Show in March 1970. At just 1 120 mm high, the sleek body covered in eye-catching paint and with gullwing doors the C111-II cut a futuristic shape in 1970. The C111 had not only been penned with a futuristic shape but it is also the world's first vehicle that had been completely designed on a computer.
Click here to read about another iconic Mercedes-Benz that celebrates an anniversary this year.
Wankel powered
The C 111-II was developed on the basis of the C111. The first car had a triple-rotor Wankel engine. The second-gen featured a quadruple-rotor version that produced 257 kW of power. Mercedes tested the quad-rotor versions to a top speed of 300 km/h and accelerated it from standstill to 100 km/h in 4,8 seconds. Later the rotary units made way for a 3,5-litre V8. At the very end of its lifecycle turbodiesel engines we used in a version called the C111-II D (1976). A five-cylinder 3,0-litre diesel from the 300D was fitted with a Garret turbocharger and an intercooler, the production engine's output of 60 kW was boosted to a 140 kW. The diesel C111 completed the sprint from standstill to 100 km/h in just 6,8 seconds.
Check out the Mercedes-Benz AVTR concept car here.
Record-setting
With the increased power and sleek shape of the C111D, Mercedes-Benz felt that they could challenge for several world records. At Nardo test track, after 12 hours of problem-free driving Mercedes-Benz had established nine world records independent of engine type and displacement – achieved with a near-production 3,0-litre diesel engine. At the end of the day, the engine in the record car had consumed just less than 16 L/100 km, incredible given an average speed of over 300 km/h.
The world records established by the diesel-engined C 111-III
100 km 316,484 km/h
100 miles 319,835 km/h
500 km 321,860 km/h
500 miles 320,788 km/h
1000 km 318,308 km/h
1000 miles 319,091 km/h
1 hour 321,843 km/h
6 hours 317,976 km/h
12 hours 314,463 km/h
Another record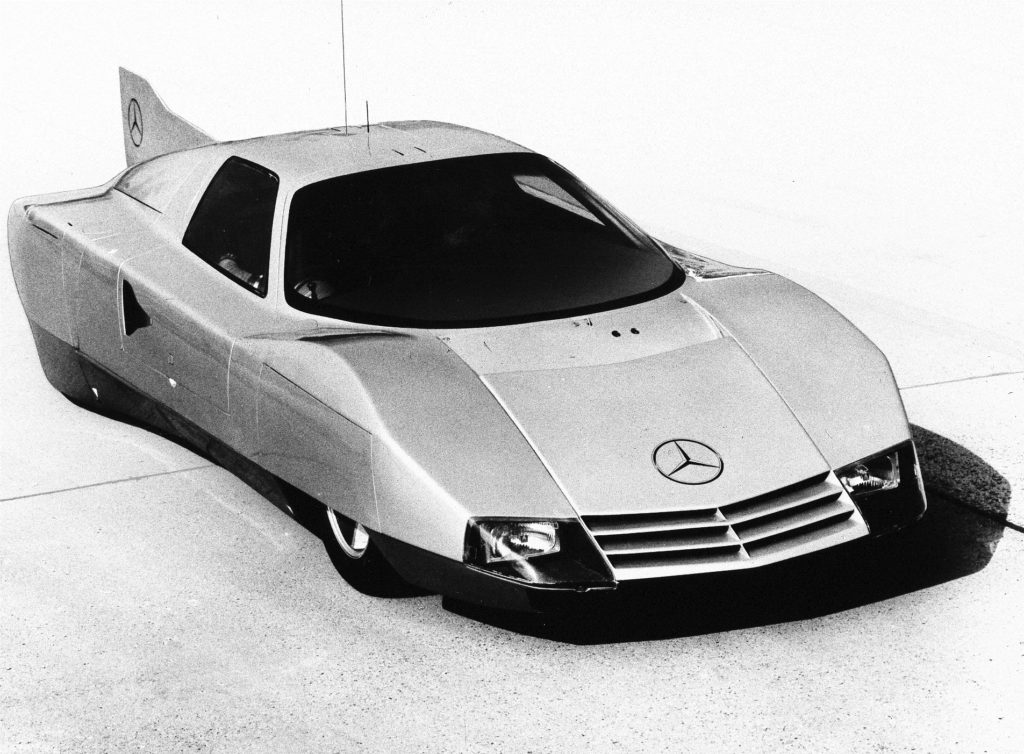 In 1979 Mercedes went after another record, the top-speed set on any circuit. The record stood at 355,854 km/h, set by a 746 kW racing car from the American Can-Am series. Mercedes engineers fitted a 4,5 litre V8 petrol engine from a production car and raised its displacement to 4,8 litres then bolted on two KKK turbochargers. The net result was 368 kW and 600 N.m of torque. A streamlined version of the concept car, called C111-IV set out in Nardo on May 5, 1979 and set a new record of 403,978 km/h.
See the Mercedes-Benz C111-II in action in the video below: