After hundreds of spy images and videos of test mules caught on camera finally, the Mercedes-AMG GT Black Series debuts. Last week we brought you pics of an undisguised model taken inside one of Mercedes' workshops but today we can bring you the full, press kit versions of images of the new head of the AMG family.
Follow us on Instagram and on Facebook for more car content.
Most powerful
The Mercedes-AMG GT Black Series is based on the company's GT sportscar, but it is heavily revised in most regards, even when compared to the previous range-topper, the GT R. Most radical of the changes takes place under the bonnet where the GT Black Series boasts a radically different engine compared to its siblings.
The GT Black Series still displaces 4,0-litres from a V8 fitted with twin turbochargers but it has been given a new internal code M178 LS2. Among the changes are new camshafts and exhaust manifolds and twin scroll exhaust turbochargers with larger compressor wheels Most notable, however is the adoption of a flat-plane crankshaft, which improves engine balance and throttle response, not to mention giving the engine a unique soundtrack. Max engine speed of this new motor has been lifted to 7 200 r/min. Larger intercoolers keep the charge-air temperature as low as possible.
The sum total of these changes is peak power of 537 kW developed between 6 700-6 900 r/min and maximum torque of 800 N.m in a plateau from at 2 000-6 000 r/min. This makes it the most powerful AMG ever to go on sale, a title previously held by the GT 63 S (which we reviewed here) That power is fed to the rear transaxle dual-clutch transmission through a carbon-fibre propshaft. Mercedes says these outputs allow the AMG GT Black Series to sprint from 0 to 100 km/h in 3,2 seconds, and to 200 km/h in under nine seconds. Top speed is 325 km/h (just over 200 mph).
Standard AMG 10-spoke forged wheels in matt black are shod with ultra-high performance Michelin Pilot Sport Cup 2 R MO tyre, specially developed for the AMG GT Black Series. The wheels measure 19x10J with 285/35 rubber (front) and 20x12J with 335/30 ZR tyres (rear). Thankfully Mercedes fits the latest Black Series with a nine-step variable rate traction control system. The wheels cover ceramic high-performance compound brake system with black painted brake calipers.
Racetrack looks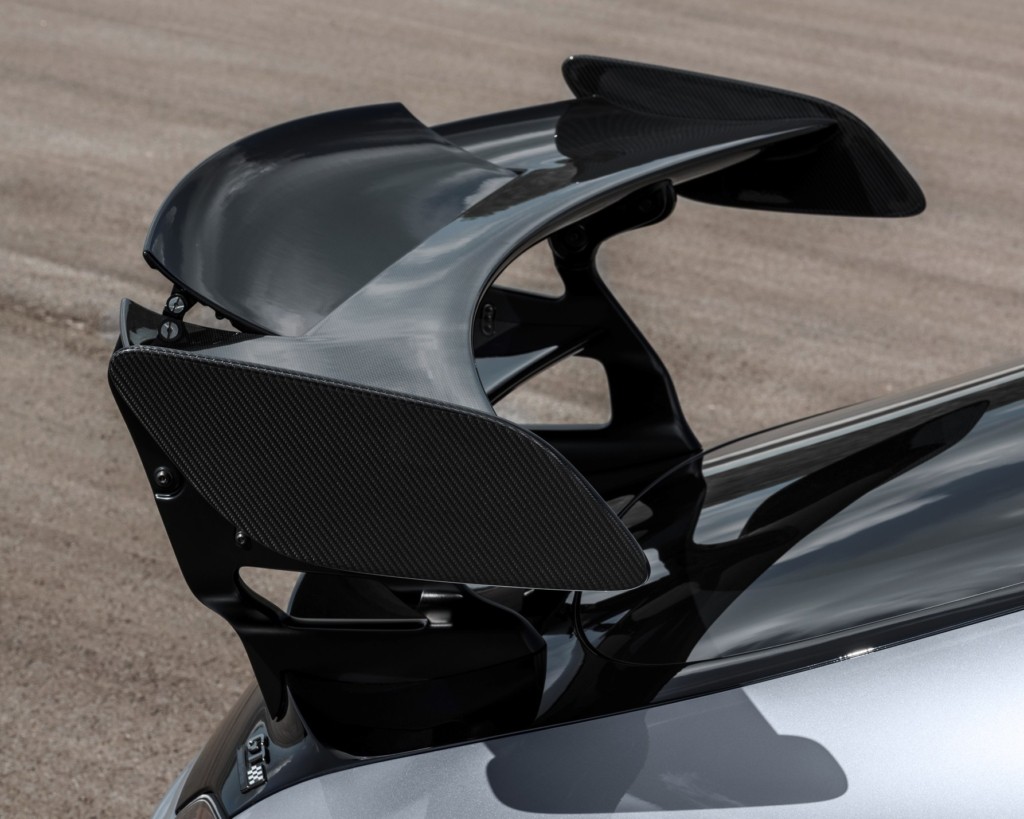 To leave onlookers in no doubt about what they see Mercedes-AMG designers and engineers have given the GT Black Series a completely unique appearance, one reminiscent of the company's GT3 and GT4 racecars. There are loads of styling bits that were created out of necessity. Among the radical revisions are an adjustable front splitter, massive front intake to feed the engine with cool air, vented front fenders, massive air outlets in the carbon-fibre bonnet, newly sculpted side skirts and a nearly flat underside.
Most obvious of the changes is the rear aerofoil. Both blades are made from carbon fibre and can be mechanically adjusted for various conditions. A movable flap in the upper blade is electronically adjusted by 20 degrees. The wing is bolted to a carbon-fibre tailgate by aero-shaped mounted. Yet more aero downforce is provided by the bumper-mounted diffuser. The sum total is 400 kilograms of downward aero pressure generated at 250 km/h.
In his own words
"The new GT Black Series is our latest automotive highlight and continues a tradition established in 2006. The sixth version of its kind is another AMG milestone and impressive proof of the incredible development expertise in Affalterbach. I am proud of the team who have created a unique super sports car, which now represents the absolute peak of our successful GT family. The performance, looks and driving dynamics of the GT Black Series are second to none. This project was a fantastic end to my work at AMG, for which I am truly thankful," says Tobias Moers, chairman of the board at Mercedes-AMG GmbH.