We spent the better part of a week behind the wheel of one of the most distinctive and desirable SUVs on the roads today, the Mercedes-AMG G63, to bring you this review.
When the first production G-Class, or Gelandewagen as it was known back then, made its debut in 1979 few people would have guessed that the utilitarian vehicle would have a 40-year lifespan. More than that, no one would have bet on the X factor and sheer popularity this one-time army machine would garner. The first iteration was revised and honed between introduction and 2018. Mercedes-Benz decided to completely revamp the model for the new millenium. However, while giving the car a complete makeover, the Germans also decided to stick extremely close to the original.
Follow Double Apex on Instagram and Facebook where we share more car content.
Boxy Appearance
The new-generation G-Class has the same squared off appearance as its predecessor. Boxy lines are the order of the day with each element seemingly 'styled' using a ruler, rather than a compass. The slab-sidedness is alleviated by wide wheel arch extensions. In the case of our AMG test unit these help protect large alloys on low profile rubber. Look closer and you will see signs of modernity. The round headlamps are adaptive LED units with circular daylight running lamps (DRLs). These are matched by horizontal LED taillamps, the design of which is one of the biggest external changes between old and new.
Watch our Mercedes-AMG A45S video at this link.
It is not often an SUV attracts the kind of attention that the Mercedes-AMG G63 did. We've driven plenty of SUVs in the last few years and the neck-craning, cellphone pics, staring and point are usually reserved for pukka sportscars. People either all seem to know exactly what a G63 is, or at very least gauge that they have clapped eyes on something special, either way, it is not a car for those who wish to remain undercover.
Luxurious interior
The interior is a completely juxtaposition of the old-look exterior. Inside the latest G-Class is dripping with luxury and has just about every mod-con one can expect. The list includes: satellite navigation, full leather trim, a sunroof, multi-zone climate control, smart-phone integration, etc. It is a far cry from its military roots as one can get. The facia is dominated by a large panel that houses two digital screens. One serves as the instrument cluster and the other as the infotainment interface.
Learn about the most extreme AMG road-car ever made by clicking here.
Shiny carbon-fibre is offset by soft leather upholstery with a quilted design. Incidentally, the electrically adjustable front chairs have heating, cooling and massage functions – NICE! There is space aplenty in the cabin for rear seat passengers (an additional 150 mm over its predecessor according to Mercedes) and in the luggage area. A full size spare wheel is mounted on the outside of the rear door which means the boot is quite deep and tall.
Twin-turbo V8
Jump up into the elevated cabin, prod the starter button and you are met by the unmistakable deep burble of a V8. The range-leading Mercedes-AMG G63 is powered by a 4,0-litre unit that is boosted by twin turbochargers. This engine is similar to that found in other AMG models. In G63 tune it delivers a massive 430 kW and 850 N.m of torque. Drive is sent to all four corners through a nine-speed automatic transmission.
In ideal conditions the G63 will sprint from standstill to 100 km/h in a scant 4,5 seconds, which is frankly ridiculous when you consider its size, shape and 2,5 ton mass. If you mash the throttle at just about any speed, the G63 drops several gears, points its nose skywards and rockets down the road at a rapid rate. It also emits a rorty soundtrack in the process. More than one passenger inadvertently shouted an expletive under full-bore acceleration. Thankfully Mercedes has set a top-speed limiter at 220 km/h, though it can be raised by 20 km/h for those who wish.
Read our review of the Mercedes-AMG GT63S and watch our video here.
On and off the road
Pootling around the city and urban jungle the Mercedes-AMG G63 makes one feel like a captain of industry. You get to look down on all traffic, besides trucks. The V8 lets you rumble along without so much as tickling the loud pedal. Oh, speaking of which, the exhaust features a valve that lets you turn up the volume of the four, side-exit exhaust pipes. When less than full power is needed half the V8s cylinders are shut off to save fuel.
Read up on a rare Mercedes V8-powered stationwagon at this link.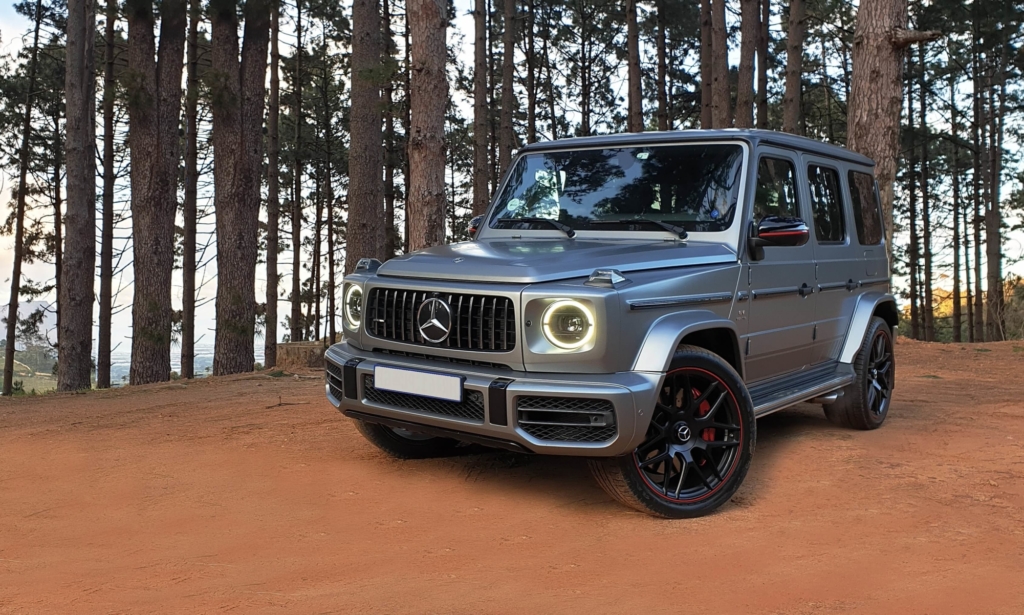 The aforementioned 22-inch alloys do make the ride feel a bit fidgety over pock marks and cats' eyes. The G63 obviously needs firm suspension to keep its mass and height in check. Thankfully the ride does smooth out and on the open road it feels not dissimilar to some luxury sedans. One very cool trick the G63 has is the ability to make even the doziest Capetonian drivers leap out of the way. That alone, may be worth the price of admission.
It may be billed as an AMG but its best to keep cornering speeds in check. The newer, rack and pinion steering system makes the car feel more pointy and precise than the older recirculating ball system used in the previous models. However, one can't overcome the car's mass and height. Over-ambitious cornering is met with squealing rubber and a gentle push into understeer.
We know that the G-Class is a proper off-roader. Each version is subject to arduous off-road testing in Austria before given the production green light. Not many other SUVs have front-, centre- and rear diff' locks. We didn't venture too far off the tar to require that level of help but where we did the G63 didn't seem to notice that we were off-road. It seems to behave and handle all road conditions equally though we doubt few, if any, owners will ever take their G63s off-roading.
Summary
The Mercedes-AMG G63 is one of those rare cars that seems to enjoy universal approval. While some sportscars can be met with derision by onlookers, the large Merc seemed to be appreciated by all; if the thumbs up, give-it-gas motion or dozens of smiles are to be believed. Its larger-than-life persona, indecent pace and luxurious interior make it one of the more feel-good or outright charming cars we've ever driven. At R3,2 million the G63 is the most expensive test car to be loaned to us for evaluation. While it is usually difficult to recommend such an expensive vehicle for someone to buy we know that if we had the means a Mercedes-AMG G63 would definitely be parked in our multi-car garage.
Model: Mercedes-AMG G63
Price:  R3 207 480
Engine: 4,0-litre twin-turbocharged V8
Transmission: nine-speed auto, AWD
Max power: 430 kW
Max torque: 850 N.m
Top speed: 220 km/h (240 km/h with driver's package)
0-100 km/h: 4,5 sec
Fuel consumption: 13,1 L/100 km