Do not adjust your screen. Yes, you are looking at a Lamborghini Espada Rat Rod. Purists of the brand, and classic cars in general, may want to look the other way. The car you see here was built by a French tuning house called Danton Art Kustoms. And yes, it is, err, was a real Lamborghini.
Follow Double Apex on Instagram and Facebook where we share more car content.
History lesson
The Lamborghini Espada was the most successful model for the company in its era. It is said that company founder, Ferruccio Lamborghini, wanted the Espada built as a sort of Italian Rolls-Royce. Over 1 200 units of the Bertone-styled coupe were sold between 1968 and 1978. With seating for four and a large boot, the Espada was a hit with the ultra-wealthy of the time. Its 3,9-litre V12 engine produced between 240 and 260 kW, depending on the year of manufacture. Flat out the Espada would achieve a true 260 km/h, pretty impressive for the time.
Catch more Lamborghini content at this link.
Birthday present
Danton Art Kustoms decided to celebrate the 50th anniversary of the Espada by creating the Lamborghini Espada Rat Rod. It may be quite divorced from the original, but the new car is based on the real deal. Danton teamed up with CHD Editions and Carrosserie Hervé to create an Espada that looks like no other in world.
Almost every bit of the car, bar the metal cockpit and powertrain has been custom fabricated. Exposed wheels, in true hot rod fashion, sit proud of the body. Even the alloys were custom made by Govad Forged Wheels of Canada. Lamborghini Reventon side air intakes have been incorporated into the flanks. The car is a massive 2,5 metres wide at the rear. Of course, the most obvious external highlight is the lack of an engine cover. The original motor, with individual carbs, is completely exposed.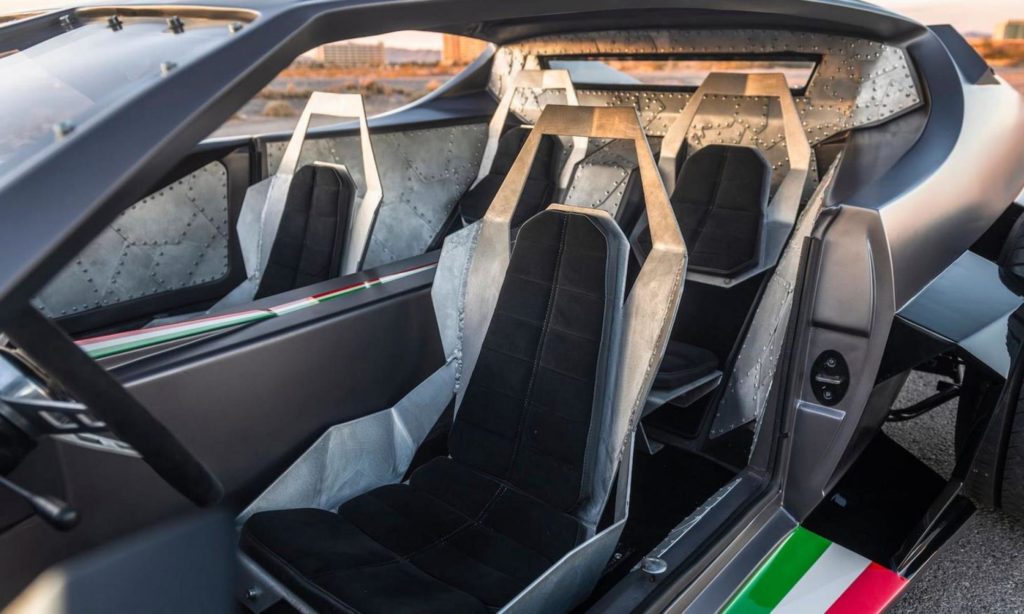 The bespoke treatment continues inside. Four individual seats are custom metal jobbies with padded cushions. A unique dashboard has a large speedometer on the centre of the facia while a 10 000 r/min rev-counter is mounted on the inside of the roof.
Learn more and listen to the Lamborghini Espada Rat Rod in the video below.