Kia South Africa has added to its entry-level Picanto range with the introduction of a small crossover called the Kia Picanto X-Line. Double Apex was invited to learn about and drive the new addition.
Pay attention to the roads on a daily basis and you will notice the shift in the South African motoring arena. Once a hatch-loving nation we've turned our attention to SUVs and crossovers in droves. Not only have we changed our preference of body shapes, but so to of brands.
A few years ago South Africans looked down upon or made fun of vehicles originating from Korea but that's history. Improvements in perceived quality, refinement and appearance have helped gain widespread acceptability in the minds of local buyers. We'll bet you can think of, at very least, one family member or friend who owns a Kia or Hyundai. The Korean twins have made massive in-roads into the SA new car market, not least of all for offering a host of products to suit the prevailing buying trends.
Follow Double Apex on Instagram and Facebook where we share more car content.
Crossover on a budget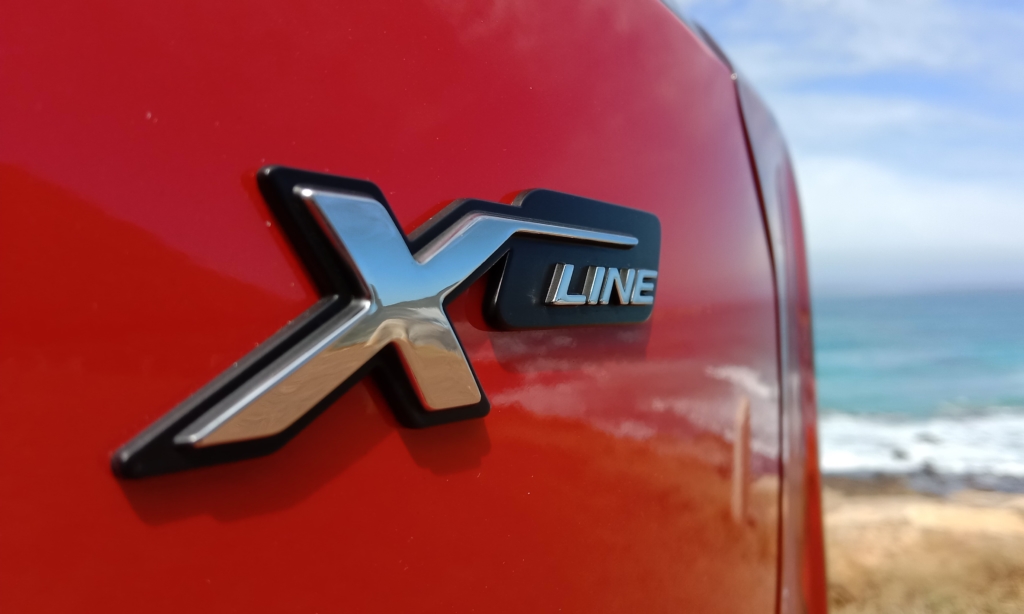 Enter the new Kia Picanto X-Line, the smallest of the Kia crossover products on sale locally. The newcomer is based on the brand's already successful Picanto hatch. To add a degree of spunk to its appearance it features a series of model-specific design cues. Among the changes over a 'regular' hatch are a redesigned radiator grille, a resculpted front bumper and LED headlights. In profile we see a raised ride height along with larger (15-inch) alloys. At the rear, a redesigned bumper completes the car's boy scout looks with faux skid-plate detailing and LED tailights.
Read our launch report on the Kia Seltos SUV by clicking here.
Mod-cons
The Kia Picanto X-Line is the new range-topper of the line-up. As befitting this status it comes as standard with high specification levels. Power steering, electric windows, air-conditioning, two-tone faux leather upholstery and a new eight-inch colour infotainment system are the creature comforts on offer.. The touchscreen interface offers Apple CarPlay or Android Auto connectivity and serves as the monitor for the rear-facing camera, which is standard along with sensors on the rear bumper.
One engine two transmissions
The X-Line derivative is offered with the largest engine of the Picanto range. The 1,25-litre naturally aspirated motor produces 61 kW of power and 122 N.m of torque. This unit can be mated with a a five-speed manual or four-speed automatic transmission.
On the road
Kia South Africa arranged a leisurely drive around the Cape Peninsula for us to try its new baby. It was refreshing to drive a test unit with a manual transmission as most are self-shifters these days. With a single occupant on board the small motor didn't have any issues dealing with the undulating terrain and sometimes slow-moving traffic.
For a brief while I turned off the aircon, rolled down the windows popped open the (optional) sunroof and just enjoyed the breeze and scent of the adjacent ocean. That route has many viewpoints and the Picanto X-Line flattened the meanest gravel so I could enjoy the vistas over the Atlantic.
Summary
The scenic tour along Chapman's Peak drive, Scarborough, Misty Cliffs, etc is the ideal place for such a car with a raised ride height. I foresee many of these little 'SUVs' being rented out by tourists or used by locals to fill up car parks outside trendy cafes and coffee shops. Buyers, more than ever before, have plenty of options when it comes to buying small crossovers. Natural rivals for the X-line include the Ford Figo Freestyle, Renault Sandero Stepway and, to a degree, the Suzuki Ignis. As a counter to these rivals, Kia offers the Picanto X-Line at a competitive price with a high-level of standard specification and peace of mind (see below pricing) for new owners.
Pricing
Kia Picanto 1,2 X-Line: R237 995
Kia Picanto 1,2 X-Line (AT): R251 995
Prices include an unlimited mileage, five-year warranty with roadside assistance and a two-year/30 000km service plan.