Hobby racer and Double Apex fan, Stuart Mack, brings us some of the ups and downs of racing in his first piece titled: Tales from a locked down racing driver. Action images supplied by Paul Bedford
Follow Double Apex on Instagram and Facebook where we share more car content.
The story starts a while back, pre-lockdown and pre 2020, when we were allowed outside to enjoy the country and our hobby of racing, in particular, November 2019 when VW Challenge was one of the curtain raisers at the International Kyalami 9 Hour GT race. Racing at Kyalami is always a treat to drive with its brilliant mix of technical corners, gradient changes and fast, brave sweeps.
You can read about our own racing adventures in the Double Apex MX-5 racecar by clicking this link.
My little team was hoping for a good result, I have always gone well at Kyalami and my car was in good shape. I won't do a full race report, but even though I lucked into a 3rd overall in class, it was not a great race weekend.
2020 plans
After that event we started to consider how to be more competitive. I soon realised that I was in that horrible spiral of doing the same thing every season and hoping for a different outcome; this had to change. Plans were made I set myself the goal of getting the car and driver down to the right mass.
Our class has a minimum limit of 1 050 kg, including driver, at the end of a session. Cars start a race at around 1 058 kg and should finish at around 1 051. My car finished most races around 1069 kg. Almost 20 kg too heavy, this may not sound like much, but when you have to accelerate, stop and corner 20 kg more than your talented rivals, you really are entering an egg and spoon race, with the spoon the wrong way around.
Into the workshop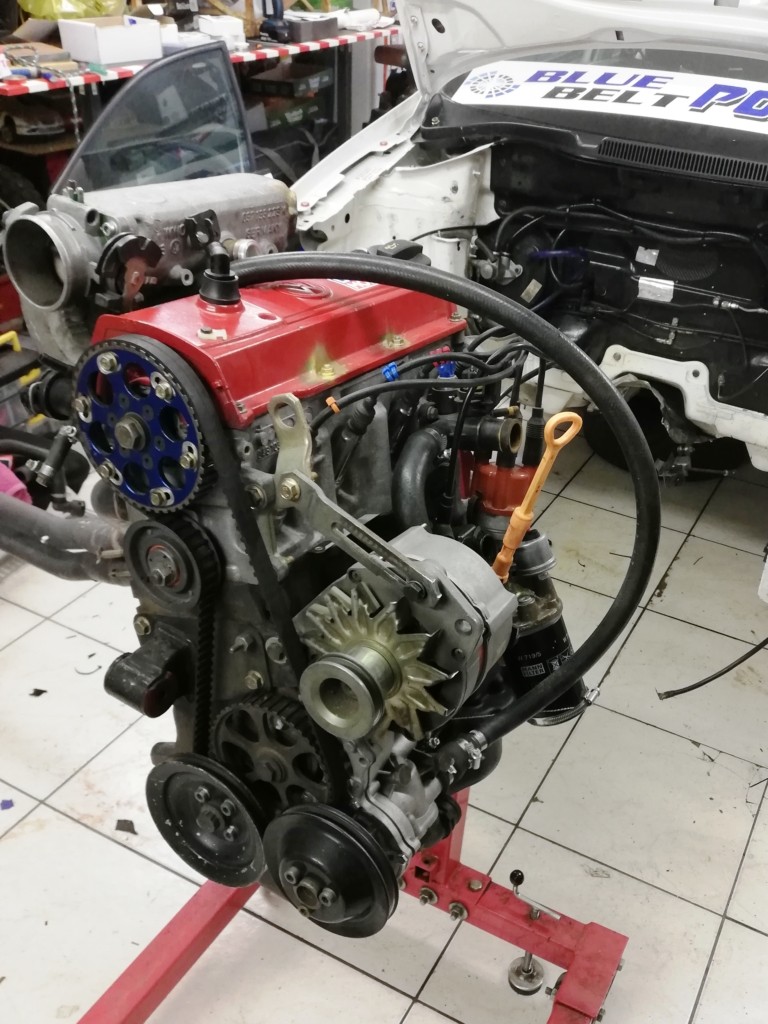 Cue the off season when I drove a perfectly working and trophy-winning car into my home workshop and proceeded to take it apart. I am often the brunt of jokes about how I seem to enjoy creating work for myself. But it's actually the opposite, I am a very lazy person. I would much rather have spent my December evenings lounging on the couch but I do a lot of extra prep work as I cannot afford to have any mechanical issues at the track.
I am usually at the track by myself so I have enough to keep my busy without having to fix a broken or worn out part. Also, I need maximum practice time due the fact the only way I can get remotely on the pace is through practice, practice and more practice. In fact, I don't get nearly enough practice. But I digress. Picture many long hot evenings where a pudgy IT professional argues with a car, takes it apart and then painfully puts it back together.
Ready for action
By January I had a working racecar again with very few leftover nuts and bolts, so I must have put everything back where it needed to be. I then needed to go testing before the season started, but for various reasons, I could not make any of the open practice sessions. Never mind, it's not like I had forgotten how to drive a car.
The first race of the 2020 VW Challenge season was at Red Star Raceway, not a favourite track of mine but with us losing tracks in the Gauteng area I will never slag off a racetrack. Let's see how many people can guess what happened, no… not that.
Lack of pace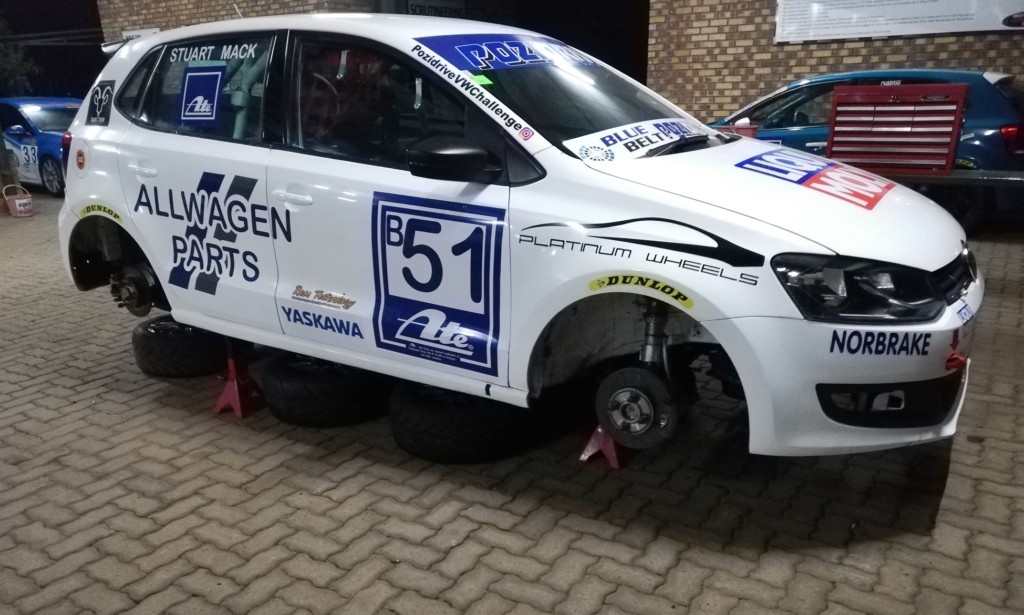 I was off the pace, quiet sharply, and I had an issue with the car that turned out to be the clutch. A clutch that I held in my hands barely a month earlier, which looked perfectly fine, so I chose not to replace it. Racing, it never lets you have anything for free.
I have to thank Ian Smith who helped me that race weekend, as I stated earlier, I am usually Johnny no-mates at the track on a Friday and if I do have any major issues with the car I am, quite frankly, buggered. But on that weekend I had the luxury of having a race engineer, mechanic and friend helping me out. The end result: we got the clutched swapped out quickly enough that I missed only one practice session and we could even spend time trying to get to the bottom of the pace issues.
Good result
Thanks to a mix of good fortune, other competitors' misfortune and a reliable car I nabbed 2nd place in heat one and 5th place in heat two and was 2nd overall in the class championship. Yes, it was only after one event but if you had told me, while I was trying to heave the gearbox back into the car on Friday afternoon that by Saturday evening I would be second in the points, I would have bought you a beer.
Back to the drawing board
After race one, I realised that more needed to be done, the mechanical issues I could sort but the lack of pace I could not fathom. The plan was to prep the car again and test the weekend before the next race, with new tyres, I might add. While doing the final prep on the car on Saturday, for a Sunday test session, I found an issue that meant I could not test. Yep disappointed I could not test, but more relieved to have found an issue before the race weekend. Easy enough fix on Monday morning and we were all set.
Much-needed dosh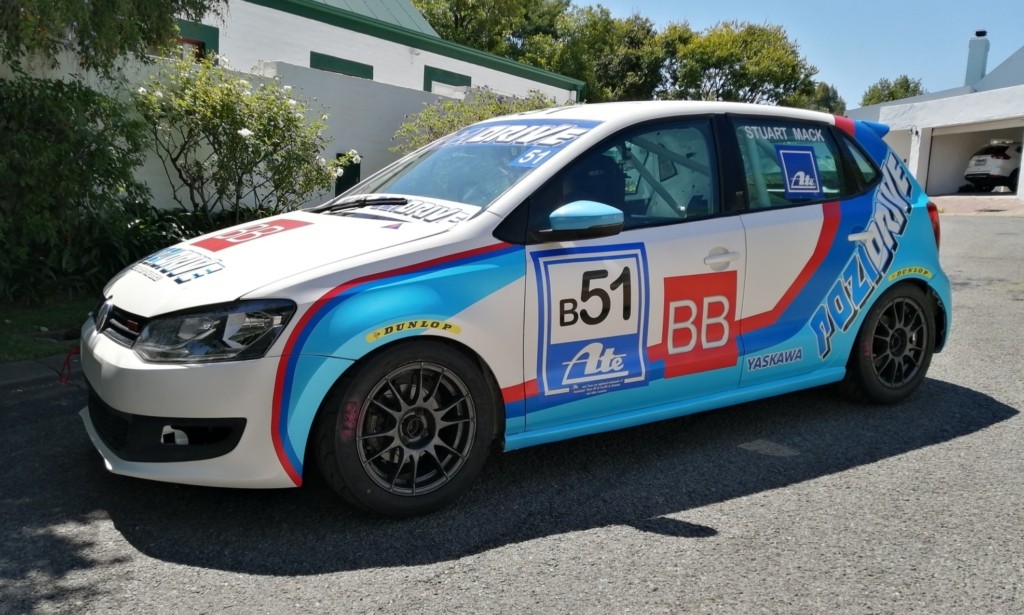 I need to diverge a little bit. Between the first two races, I had managed to secure some sponsorship – score. Totally out of the blue and very much appreciated. Along with generous financial support came a new look for the car. Now she looked like a racecar again and less like a rental. Back to our main storyline.
Race two
We trundled off to the second race of the season, at the home of Gauteng regional track racing: Zwartkops. I will go into a bit of a race report here. Even though the track was damp in session one, thanks to overnight rain, I could immediately feel that this was not the same car I raced earlier. She was back and she was quick. 3rd quickest, are you kidding me; 3rd? I may even have cracked a smile in the pits afterwards. The track dried before session two and I had made a few tweaks to see how the car reacted.
Feedback loop
Sorry, I need to off the story-line again and talk about pace or lap speed as it's sometimes referred to. When a car has proper pace it is something quite remarkable. Everything just seems to work a little better; the motor pulls a little stronger, the brakes have better bite and even though you arrive at corners quicker you can brake later. The handling just comes alive, she changes direction quicker, grips harder and longer, does not wheel spin and just begs you to lean on the chassis harder and each time you do, you go quicker.
It's a very positive cyclical relationship, the car encourages you to push harder and as you do you get rewarded with better pace, which then encourages you to push even harder, which the car responds to and gives you more confidence. It really is one of the great moments in racing for me. It makes the whole thing feel almost organic. Ok now back to reality after that offshoot into the land of feelings.
Quick times
On my first flying lap I knocked 2/10ths of a second off my personal best lap time. 0,2s doesn't sound like much, but trust me it's a significant amount. Lap speed we definitely had. I did a cool-down lap to get some space on track and then started to push again. The predictive lap time was another 0,4s quicker than my previous personal best; this was going to be a quick lap. And then…
You know in my previous paragraph – where I was all starry-eyed about this quick car and how I could push it even harder and brake even later. Well, it appears not that late. Trying to eke out another few metres at the brake marker at Turn 5, I snatched the rear brakes, which turned the car hard left and lined up with the Armco barrier.
Horrible sounds
When a car crashes the noise is like no other, it is a painful combination of metal hitting metal, glass shattering, tyres screeching and swearing. And when you pitch a car sideways at over 120 km/h the accident seems to take a while. The net result was that I had ripped most of the front of the car off, bumper, lights, radiator, etc all ripped off. The nice fancy wrapping on the fenders and bonnet was ruined the panels were quite badly damaged. Oh, and the driver had one badly bruised ego.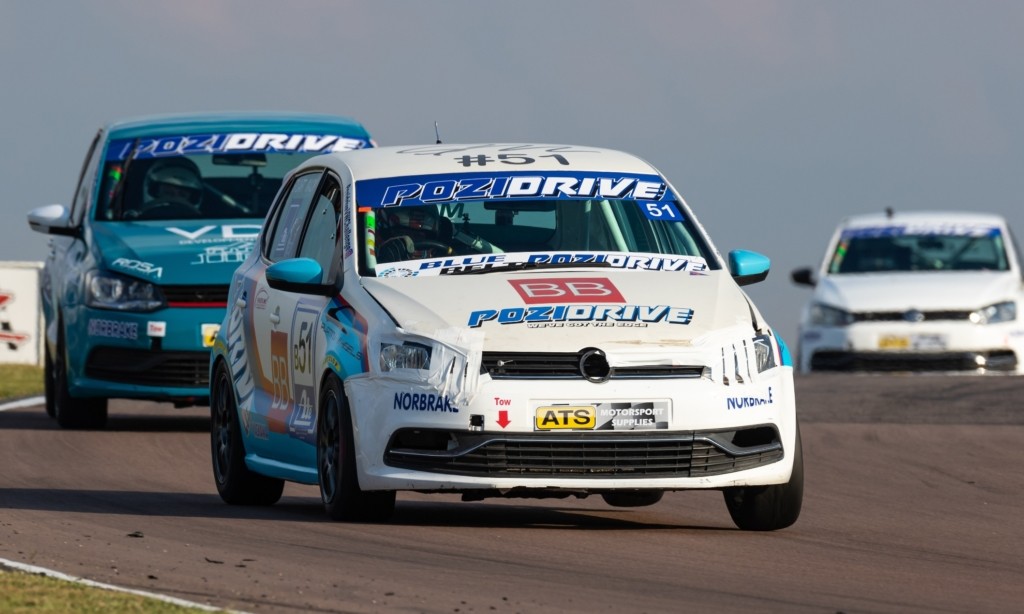 Back in the pits, I had to answer the slew of "what happened" questions and assure everyone that I was ok. I had a look at the results for that practice session. Lo and behold 3rd quickest again. And even more shocking, if I had finished that lap I was on, instead of throwing the car into the scenery, I would have been quickest. Well if that is not a perfect example of the highs and lows of racing, then I do not know what is.
I did, however, discover the reason for the off. In a desperate attempt to reduce the amount of rear brake bias I had trimmed the rear brake pads, which worked a treat… until it didn't. The friction material completely ripped off one of the pads causing the metal backing of the pad to lock solid onto the brake disc causing the brake to lock causing the horrible crashing noises.
Quick repairs
With the help of my wife (who delivered parts to the track), long time race mate Chris Davison, a hammer, some swearing and a LOT of duct tape, come race day I had a racecar again. Let's hope I didn't knock the pace out of her when I smacked the barrier. Ok, this is turning into a race report, time to start summarising before I lose the two of you who have read this far. During qualifying, the car developed a misfire. The result put me solidly in the midfield, 8th. Misfire cured and heat one lasted two laps. While running 6th or so the gear linkage came apart. Why do I spend so much time prepping the car to ward off such failures if they keep happening?
Time to quit?
At this point I am pretty sick of racing, it's kicked me in the teeth, in the wallet, and in the b***s. This is supposed to be a relaxing, enjoyable hobby, not this hard work. With one heat left for the day, starting dead last, I went out to enjoy it… but still pressed on. 16th to 6th in 10 laps and only 0,3s off the pace, with brakes I still don't trust. A smile returned. What a result. Battered and beat up and not looking her best, she still delivered a result. A result when it was needed, right when I had had enough of this racing crap.
And that brings us up to the current state of affairs, my car is in lockdown at the panel beaters could not finish her in time. I moved the whole nose 50 cm to the left, so it needed some chassis straightening as well as tidying up. There is not much I can do about racing at the moment, or is there?
Virtual racing
I dusted off the old sim rig and loaded up some games and got into some online racing. There are no long nights in the workshop if you cock it up on track, just press reset. Heck – I even entered an online race with 100 other guys, you might have heard about the Solidarity E-race (read our story here). I didn't shape very well, but it was a hoot nonetheless.
Slimming down, or not
Oh, one last thing, Do you recall the paragraph about minimum car mass and pudgy racecar drivers been linked to a lack of pace. Well, I have been busy trying to sort that issue out since the Kyalami race in December, and of the 19 kg that needed to be trimmed, 15 of them have been shed by the driver already – being in lockdown has made weight loss twice as difficult as it usually is but at least I can do something to help the racing, while the country is at a standstill.
Click here for car care tips you need to exercise while on lockdown.
I do hope all of you are managing through these uncertain times, there is not much we can do about the situation but there is a lot we can do about how we respond to the situation, yes, it's different and yes, it's strange. But putting a positive outlook on it will help you through this. I hope to see you all on, or at a racetrack soon.
Stuart
#FatManRacing
#B51