We make no secret of the fact that we love racecars. One of our favourite saloon racecars of all time is the Mercedes-Benz 190E. It was a car that we watched battle other brands, such as BMW and Alfa Romeo, hammer and tongs in the crazy days of the DTM series. When we saw this restored Mercedes 190E racecar we just had to share it. Click on the pics above to enlarge.
Click here to watch highlights from Mercedes' 125 Motorsport Anniversary party.

A long trip
This DTM racer was originally prepared by the racing outfit called RSM Marko. The team was owned by Helmut Marko, now Red Bull Racing F1 advisor. In 1986 the car was sent to Australia and raced at the famous Bathurst 1000. It was raced by former F1 world champion Denny Hulme and Olympic skiing gold medallist, Austrian Franz Klammer. The unlikely duo managed to finish an impressive 9th overall.
After a brief stint of racing in a domestic series in Australia, the car was shipped to the US and seemed to disappear for a few years. When it resurfaced in 2012 it was bought by former racing driver Andrew Miedecke and returned to Australia. Miedecke raced an identical car at Bathurst in 1986.
Full resto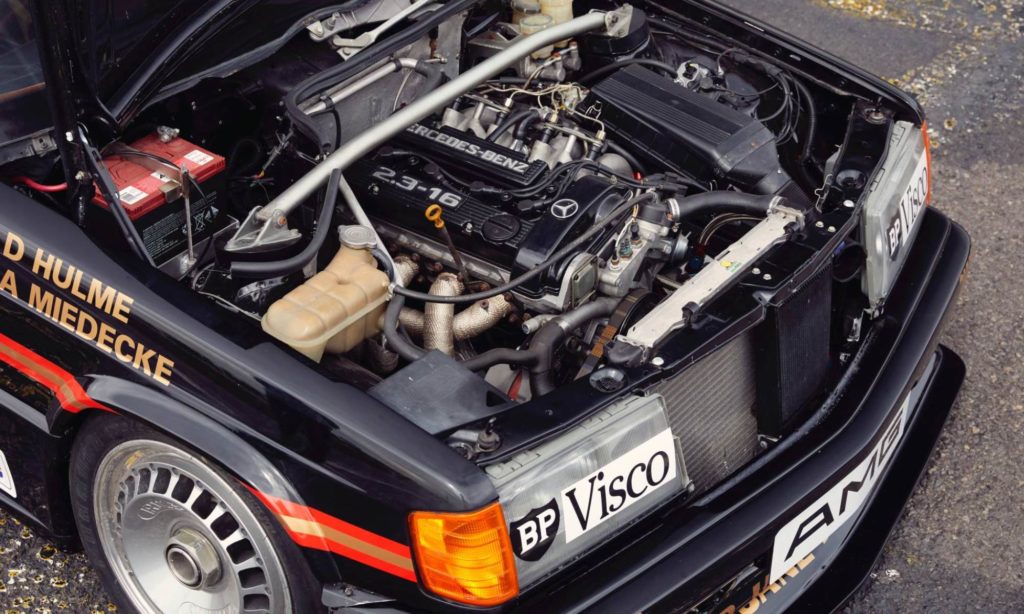 Miedecke had the car restored to near period-perfect. The distinctive black, gold and red livery it wore in 1986 at Mount Panorama was revived. The engine was also restored to the same specification as it was in 1986, that is to say it has a 2,3-litre 16 valve motor that was fettled by Cosworth.
Incidentally, the Mercedes-Benz 190E was also used in a once-off one-make race that featured some of the best drivers in the world in 1984. The race included an up and coming driver by the name of Ayrton Senna da Silva. Catch all the race action in the video at the bottom of this post
In his own words
"I really bought the car back because I had fond memories. Bathurst 1986 was my first ever touring car race, and my first drive at Bathurst having raced only single-seaters," says Miedecke. "It was dynamite across the top of the mountain and down through The Esses, and quite good fun. It would eat anything else under brakes into the corners, and it was noticeably more stable. It was terrific," the Aussie recalls. Amazing how things come full circle sometimes, isn't it?
You can see original race footage at of the restored Mercedes 190E racecar below: