We were recently handed the keys to a Mercedes-Benz CLA200 to sample for a few days. We share our thoughts on the smallest Mercedes-Benz sedan here.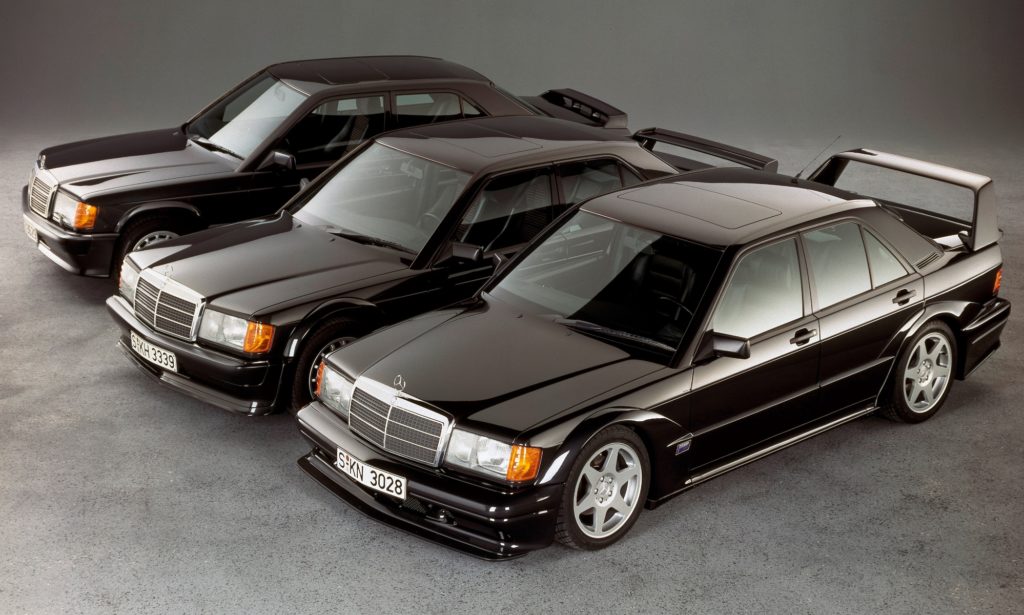 Remember when Mercedes-Benz produced cars for old men? We do. When we first started to take an interest in four-wheel things, we noted the stately saloons were driven by school principals and businessmen. There was nothing sporty or attractive about the brand to anyone under 50. Then came the 190E (pictured right). This was Mercedes' first foray into the small sedan segment. The 190E (code: W201) was a more stylish prospect, smaller in stature and aimed directly at a younger demographic.
The brand also injected much-needed excitement into the product range by pursuing an aggressive touring car campaign that resulted in multiple championships. Those racing activities created an unhealthy obsession with saloon car racing in many youngsters (this writer included), and laid the foundation for a rivalry with BMW that exists until today.
Follow Double Apex on Instagram and Facebook where we share more car content.
Small sedan evolution
The 190E evolved into the very first (W202) C-Class. The latter has grown to a point that it is no longer a small car and now occupying the position once held by the E-Class range. When the previous generation (C117) CLA debuted in 2013 it could've been considered a spiritual successor to the 190E. The sales charts certainly showed that there was demand for a small Mercedes as approximately three quarters of a million units were sold worldwide. In most cases, those buyers were new to the brand and much younger than the typical Mercedes owner.
Early in 2019 the second-gen (C118) CLA broke cover on the world stage. The model was eventually introduced to SA late in 2019. This is our very first encounter of the CLA, though we did drive its hatchback sibling the A250, and you can read our report here.
Styling
Like the A-Class, the CLA's styling is a quantum leap over its predecessor. The CLA stays true to its four-door coupe roots. However, the new car appears more stylish and modern in appearance than its forebear. Flat headlamps, a domed bonnet and the diamond radiator grille create a purposeful, menacing front end. The arching roofline terminates in a short bootlid. Its exterior treatment makes the new CLA look like a scaled-down CLS, itself a handsome prospect. Every comment we received on the car's appearance was positive.
Step into the cabin and the new CLA is equally easy on the eye. All materials feel of a very high quality, even the faux-leather upholstery. Mercedes twin-screen treatment is applied here to give the facia a thoroughly modern appearance. Five air vents feature a sporty turbine-look and also light up at night. A widescreen central display stands proud of the dashboard. This touchscreen unit is driven by Mercedes latest-gen MBUX operating system. MBUX features voice command activation as well as Andriod Auto and Apple CarPlay integration. A digital instrument cluster, which is configurable, is sited directly ahead of the driver. Variable hue ambient lighting allows occupants to tailor the cabin to suit one's mood – cool!
Space
The overall dimensions have grown a touch when compared to its predecessor, though the lines and overhangs trick one's eye into not really noticing the added size. These increases have created a roomier cabin. Occupants, particularly in front, don't feel as cramped as was previously the case. The sloping roof line means you'll have to dip your head to access the rear seats. There is enough knee-room for most adults, though we wouldn't shoehorn anyone tall in there for too long, the rear seat is best used for kids. The boot volume came as something of a surprise as it easily swallowed a large flat-screen television (don't ask) laid flat.
On the road
The Mercedes-Benz CLA200 is powered by a 1,3-litre turbocharged inline four cylinder engine. We know, the badge vs engine size can get a bit confusing. This small unit produces 120 kW and a healthy 250 N.m of torque. Drive is delivered solely to the front wheels via a seven-speed dual-clutch transmission. With relatively meagre power on tap, the CLA200 so is not quite the rip-snorter as the A45 or CLA45.
Drive it like a car aimed at a young professional, who bought it for its appearance rather than performance, and the CLA200 fills its role perfectly. It emits a rather anodyne engine note that never really inspires, even in 'sport' mode. The transmission shuffles seamlessly between ratios and even the steering wheel-mounted paddle shifters seem unnecessary in a car with no sporting pretentions. Don't expect fireworks and you won't be disappointed. Mercedes quotes a fuel consumption figure of sub-6 litres/100 km, but we didn't dip below that mark though we did get close.
Ride quality through the newly tuned suspension set-up is a massive improvement over the older car. First-gen CLAs felt wooden and crashy. This new car's bump absorption and ability to deal with road imperfections is a major improvement, an aspect we noted when we drove the A-Class as well. Kudos to Mercedes for taking the initial criticism to heart and fixing the problem.
Summary
It's easy to see why the CLA has proven so popular. Buyers who want a premium product from a premium brand don't always want to buy into a large sedan or SUV. That's where cars such as the A-Class and CLA come in. The first generation of both versions were decent as a first attempt but they weren't without flaw. The C118 generation CLA is a major step-up from the previous CLA. A stylish package that is chock-full of tech and premium materials and wears the Three-pointed Star on its nose the Mercedes-Benz CLA200 is an attractive proposition for anyone looking for a small sedan.
Model: Mercedes-Benz CLA200
Price: R620 000
Engine: 1,3-litre turbocharged, inline four
Transmission: seven-speed auto, FWD
Max power: 120 kW
Max torque: 250 N.m
Top speed: 229 km/h
0-100 km/h: 8,2 sec
Fuel consumption: 5,4 L/100 km