Towards the very end of 2020 Hyundai South Africa added the second generation Creta SUV to its portfolio. We were double-booked and could not attend the launch event but we recently got behind the wheel of the range-leading Hyundai Creta 1.4 TGDI Executive DCT for a few days.
Hyundai SA (and its sister brand Kia) have been taking huge chunks of the SA new car market for many years now. By offering the kinds of vehicles that local buyers are keen to step into, the Korean twins have usurped many more established brands in the local context.
Follow Double Apex on Instagram and Facebook where we share more car content.
Crossover vehicles such as the Kona, Venue and Creta are just some of the offerings that have tempted buyers into Hyundai ownership. The latter was introduced locally in 2017, somewhat later than its international debut, which is why the second generation Creta seems to have followed so soon. At any rate it was a sales success with almost 15 000 units finding homes in SA.
Polarising appearance
Hyundai's new design language is nothing if not bold. The new Tucson is a case in point. This Creta is a complete departure from the model it replaces. The newer car's bold lines and bulbous nature is a far cry from the boxy and squared lines of its predecessor. 
Were it not for the badge one would be hard-pressed for anyone to draw an easy link between the two. The newer Creta is certainly unique in its appearance and we'll let you decide how you feel about its looks. Not only has its appearance been totally revamped but it has also grown somewhat, boasting larger dimensions than its forebearer. 
Interior treatment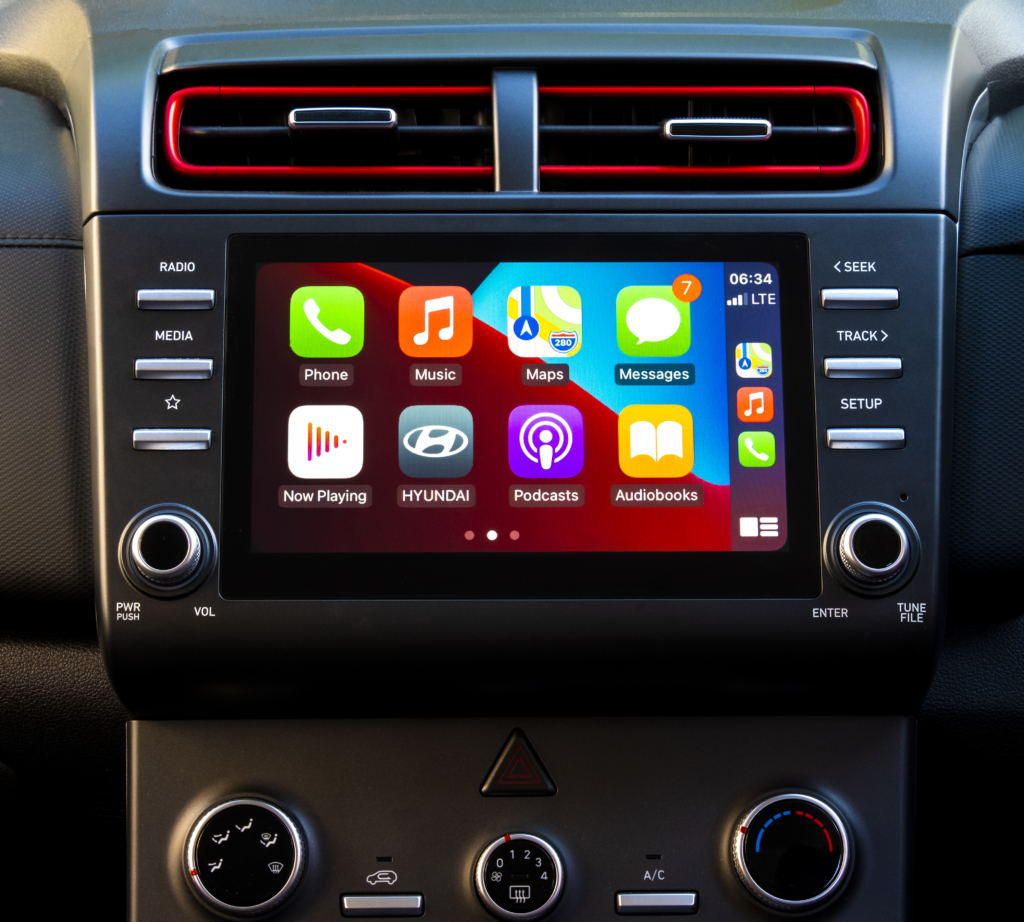 Inside the Hyundai Creta 1.4 TGDI Executive is clean and fuss free. It has an almost minimalist, Volvo-esque treatment. There is plenty of room in the cabin for occupants of all sizes in both the front and rear seats and even the boot capacity is voluminous. 
There are very few switches, knobs or dials on the facia, bar the climate controls. In Premium guise, as with our test unit, the interior also features black leather seat trim with red accents. The latter match the red highlights on the air vents, which worked well on our red-coloured test car.
A large touchscreen interface takes centre stage on the dashboard. The full-colour unit features full connectivity (USB, Apple CarPlay and Android Auto) and can be controlled via steering wheel-mounted  buttons or through voice commands – neat. The screen also serves as the display for the rear-facing camera. The camera and rear sensors are very helpful in a car this large
Multiple options
The new Creta comes with three engine options: a 1,5-litre naturally aspirated petrol engine, a 1,5-litre turbodiesel engine and a 1,4 turbocharged petrol. Our test car features the latter engine that is coupled solely with a dual-clutch automatic transmission. Hill-start Assist Control holds the car for a few seconds on an incline to pull away without fear of rolling back into traffic.
This engine delivers 103 kW of power and 242 N.m of peak torque available in a plateau from 1 500 to 3 200 r/min. The combination of several ratios from the dual-clutch transmission and the wide torque curve make for a relaxing drive. There is always torque on tap and a gear to suit when you are required to make a speedy overtake or merge onto a motorway (are you taking note Capetonians?).
Smooth sailing
The Hyundai Creta 1.4 TGDI Executive engine is a smooth unit but it is the ride quality that is even more impressive. This range-leading variant rides on 17-inch alloys, the largest in the range, but these are shod with high-profile tyres. These plump sidewalls help absorb road imperfections with ease. A quick-acting steering, with light feel and the supple suspension make for fuss-free motoring. Though we didn't venture more than a few 100 km in the Creta, we suspect it'll make an extremely capable long-distance companion.
Summary
Hyundai has, through attractive product line-ups and (initially) extremely competitive pricing, stolen a march on many automakers here in SA. In more recent terms the company has offered products with modern-tech and (now) a full-suite of engine/transmission options.
The Hyundai Creta 1.4 Executive offers all the hallmarks (styling aside) that make the current portfolio such good sellers. It has, quite possibly, the best ride quality of any product in its segment and is competitively priced. All Cretas are sold with a seven-year/200 000 km manufacturer's warranty, four-year/60 000 km service plan and roadside assistance for seven years or 150 000 km, all of which makes it an extremely compelling option.
Model: Hyundai Creta 1.4 TGDI Executive DCT
Price: R484 900
Engine: 1,4-litre turbocharged, inline four
Transmission: seven-speed DCT, FWD
Max power: 103 kW
Max torque: 242 N.m
Top speed: 185 km/h
0-100 km/h: 9,7 sec
Fuel consumption: 7,2 L/100 km