The recent, action-packed Formula One race in Russia is outlined by our regular contributor Nick van der Meulen in his report F1 Review Sochi 2021.
The Russian Grand Prix was run at Sochi, a summer beach resort and host to the 2014 Winter Olympics. The Russian race will be moving to St. Petersberg in the near future, as the venue is not very popular with the drivers (except the Mercedes chargers Lewis Hamilton and Valtteri Bottas). The circuit is wide, yet unforgiving and the person in pole position is generally at risk of losing his lead, as there is generally much jostling and slipstreaming through Turn 1 in the run to Turn 2. Mercedes have won all seven races hosted at Sochi, with Lewis Hamilton winning four of them. 
Follow Double Apex on Instagram and Facebook where we share more car content.
---
Order from our online store and take advantage of free delivery in South Africa on orders over R349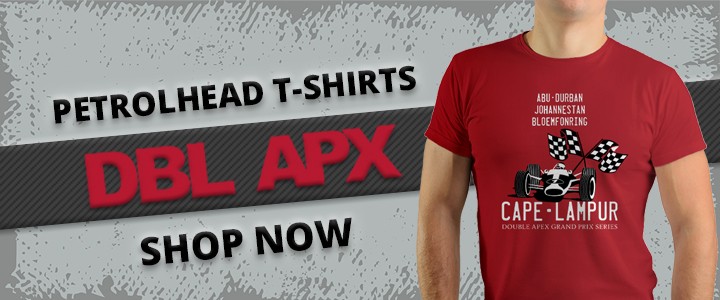 ---
Lottery
Qualifying turned out to be a bit of a lottery, with interchangeable weather conditions, resulting in Lando Norris (McLaren-Mercedes) claiming his maiden pole position, while former teammate Carlos Sainz (Ferrari) started the race from his first ever front-row grid position. Leading into this race, Norris had led only one lap in his Formula 1 career, Sainz only four.
George Russell (Williams-Mercedes) qualified third fastest, making it the first time these three teams qualified at the front of the gird since 2004. Bottas, Antonio Giovinazzi (Alfa Romeo), Nicolas Latifi (Williams-Mercedes), Charles Leclerc (Ferrari) and Max Verstappen (Red Bull Racing-Honda) all had to start from the back of the grid due to receiving penalties for replacing power units.
Weather forecasts predicted a deluge on Sunday, however, the rain stayed away on race day – until Lap 46 of the 53-lap race, after which chaos ensued.
Red leader
Sainz took the lead at the start and led for the first 13 laps, before pitting early on Lap 15. Norris took over the lead and led for the next 13 laps before his pit stop. The Englishman retook the lead on Lap 38 and fought valiantly to keep a charging Hamilton at bay, even posting the fastest lap of the race. Norris and Hamilton stayed out on a slippery circuit for as long as possible, with Norris running very wide on a slippery track on Laps 47 and 48.
Mercedes management insisted on Hamilton pitting, which the world champion reluctantly did and it paid dividends. The heavens opened and poor Norris was left stranded on a wet circuit on slick tyres, which put him out of contention and allowed Hamilton to splash to his 100th race victory – the first driver in Formula 1 history to do so.
Surprise podium
Verstappen capitalised on some luck, good strategy and solid driving to minimize points lost to Hamilton to finish second ahead of Sainz. Monza race winner Daniel Ricciardo (McLaren-Mercedes) claimed fourth position ahead of Bottas, with the evergreen Fernando Alonso (Alpine) finishing sixth. Norris had to be content with seventh position (and an extra point for fastest lap), passing Kimi Raikkonen (Alfa Romeo) for the position on the final lap, while Sergio Perez (Red Bull Racing-Honda) and Russell claimed the final two points-scoring positions on offer.
Back in front
Hamilton retakes the world championship lead from Verstappen, the two still locked in battle for championship honours, with the Englishman a mere two points clear of the Dutchman. Bottas is a further 93.5 points adrift.
Said the seven-time champion after his historic win: "Wow… 100! It's taken a long time and I wasn't even sure the 100th would come! Going to bed last night I wasn't the happiest with the job I did yesterday. I watched the replay over and over again; they were subtle mistakes but I was so determined to put things right when I woke up this morning.
"Today was tough – I lost a lot of ground at the start, just trying to stay out of trouble. I was patient and at the end, when the rain came, I didn't want to let Lando go by boxing. Of course I didn't know what the rain was doing, it was just my feeling but I'm incredibly grateful to the strategy team for the job they did today. Getting anywhere near 100 victories wouldn't be possible without the hard work of the men and women here and back at the factory, I'm so grateful to them – it just feels so special.
"Lando did an amazing job today, he had incredible pace and he's doing such a great job for McLaren. It was bittersweet to see my old team ahead, they're doing so well powered by Mercedes and it's good to see them united again. Max did a good job to come up from second to last, the battle continues and we know we need to be on top form over the remaining races."
The next round of the F1 world championship will take place from 8 to 10 October at Istanbul Park, Turkey. This is a challenging circuit and is regarded as a modern classic: one of the better Herman Tilke-penned circuits. The gloves will be off between Mercedes and Red Bull Racing and one can expect a fiery duel in Turkey…