The recent rain-soaked race at Spa is outlined by our regular contributor Nick van der Meulen in his report F1 Review Belgium 2021.
Spa Franchorchamps, Belgium, is a street/road circuit that is steeped in motorsport history. With its first race held in 1925, it is regarded as one of the last, and most demanding, "old school" circuits, legendary for its undulations (the highest and lowest points of the circuit are 102 metres apart).
Follow Double Apex on Instagram and Facebook where we share more car content.
---
Order from our online store and take advantage of free delivery in South Africa on orders over R349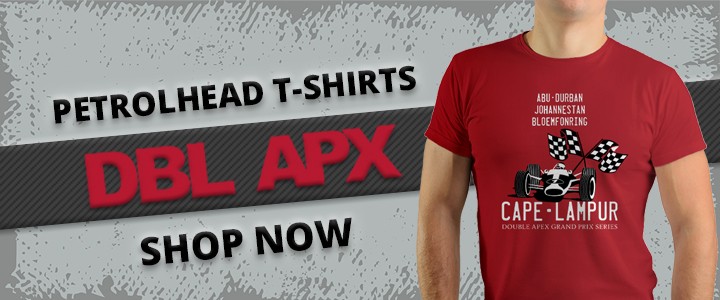 ---
Action-packed
The first corner, La Source, is taken at a mere 40 km/h, before accelerating downhill towards, arguably, the most intimidating switchback in motorsport lore: Eau Rouge/Radillion. It twists uphill and drivers strive to take the corner sequence flat out…which resulted in Jacques Villeneuve and teammate Ricardo Zonta famously destroying their BAR-Supertec machines in qualifying in 1999, after Villeneuve dared Zonta to take the complex flat out.
Since then, there have been numerous accidents at Eau Rouge/Radillion, particularly that of Antoine Hubert in 2019, where the young Frenchman lost his life. There have been three large accidents at this area on track in 2021 alone; in the Spa 24 Hour GT World Challenge event, the W-series event curtain raiser this weekend… and Lando Norris's frightening off in Q3 in the pouring rain, resulting in a destroyed car and a shaken Englishman.
Check out the W Series crash here.
Rain-soaked
Spa is well known for its changeable weather conditions and a few Grands Prix were run in torrential rain. Jackie Stewart led a drivers boycott in 1969, due to the circuit's poor safety at the time (he had a huge accident at Spa in the rain in 1966, when he aquaplaned off the circuit, went through a woodcutter's hut and hit a telephone pole), which resulted in the race being cancelled.
More recently, Michael Schumacher cannoned his Ferrari into the back of David Coulthard's touring McLaren in the teeming rain in 1998, resulting in the German being held back as he attempted to come to blows with the Scot. This, after the race was initially stopped after 13 cars were involved in an accident due to the torrential rain.
Gloomy
Race day loomed and the weather was miserable and the circuit drenched. Sergio Perez pitched his Red Bull-Honda into the tyre barriers on the sighting lap, with the team working feverishly to repair the damage to his mount. They did not finish the car in time and the Spaniard was not allowed to take the grid, even though the race start was delayed. The team management put in a request after 4 pm for the Mexican to take the start, which was eventually approved.
Anniversaries
McLaren's Daniel Ricciardo celebrated his 200th Grand Prix start, while teammate Norris celebrated his 50th, however, there wasn't really a race to celebrate. Three hours and twenty minutes after the race was due to start, the field lined up behind the safety car and proceedings began. The grid circulated behind the Safety Car for two laps before the red flag was shown. These two laps constituted a shortened race and half points were awarded.
Right move?
One can understand that the circuit conditions were far too dangerous for the race to begin but, as a fan, I feel for those who paid hundreds of Euros, braved the weather all weekend, just to witness the procession and will not be refunded their money.
F1 continued this farce to pacify the sponsors and, what is worse, a driver is awarded a win (Max Verstappen) and others a podium (George Russell's maiden podium next to countryman Lewis Hamilton) without having to race for it. It will show in the record books as such. The teams are celebrating and a podium ceremony takes place – why? In this fan's view, a race did not take place.
Fans will have the opportunity to see some racing next weekend, as the F1 circus moves to Zandvoort, the Netherlands, for the next Grand Prix. This is Max Verstappen's stomping ground and there will be a sea of orange fans to show their Dutch hero support.