Nick van der Meulen, our resident Formula One writer, shares his thoughts on the second of two races that took place in Austria in this piece F1 review Austria 2021, covering the ninth round of the current F1 season.
Hero of the Day: Lando Norris
Zero of the Day: Sergio Perez
Austria became the first country in history to host two Grands Prix at the same venue in one season in 2020. The same applied in 2021 with the Austrian Grand Prix following immediately after the Styrian Grand Prix the previous weekend. Another landmark at the Austrian round was Sergio Perez celebrating his 200th Formula 1 Grand Prix start, with the team leading him to believe it was tradition to wear Lederhosen to the track on race day (sucker).
Follow Double Apex on Instagram and Facebook where we share more car content.
What about the F1 app for iPhone and Android appearing to be hacked on Saturday evening? Many fans complained of receiving unusual notifications ("Hmmmm…I should check my security :-)"), however, Formula 1 remains silent on the matter. Fans returned to spectate at the circuit in force, with thousands cheering their drivers on – a sight for sore eyes.
---
Order from our online store and take advantage of free delivery in South Africa on orders over R349.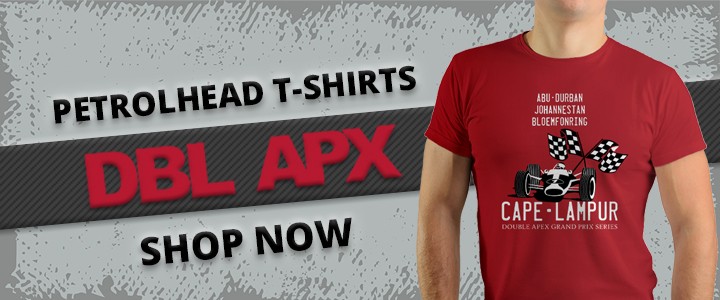 ---
Surprise result
Qualifying provided action that could have provided an interesting start on race day. Lando Norris (McLaren-Mercedes) produced his finest qualifying performance by qualifying on the front row (second place) for the first time in his career. Fernando Alonso (Alpine) was furious at being blocked by Sebastian Vettel (Aston Martin-Mercedes) in Qualifying 2, after running in the top four all weekend (he started 14th). Vettel was penalised three positions for his indiscretion, which promoted George Russell (Williams-Mercedes) to eighth on the grid. As it transpired, the start was relatively uneventful.
An intentional blunder… yeah right
Ferrari, apparently, "strategically" aimed not to make it into Qualifying 3, with their two drivers, Carlos Sainz and Charles Leclerc, starting 11th and 12th, respectively. The Spaniard must have worked out this strategy to the finest precision, as he missed out on Q3 by a mere six thousandths of a second. Ferrari missed out on staying ahead of Perez in the race, as they pitted Leclerc one lap too late, thereby, undoing all of the Monegasque's hard work in keeping the Mexican behind him.
They pitted Sainz on Lap 50, ensuring that the Spaniard emerged from the pits still running in the points. Putting the fresher rubber to good effect, he quickly passed his teammate and worked hard to chase down Daniel Ricciardo – a feat he managed on the final lap. Despite questions raised with regard to this bizarre qualifying strategy, Sainz finished fifth, while Leclerc finished eighth.
Ocon'ed
The safety car appeared on the first lap, after Esteban Ocon (Alpine) was sandwiched between Mick Schumacher (Haas-Ferrari) and Antonio Giovinazzi (Alfa Romeo-Ferrari), with the Italian's left rear wheel making contact with the Alpine's front right wheel and breaking its wishbone. To add insult to injury, Giovinazzi was slapped with a five-second penalty for overtaking under safety car conditions. The restart saw Max Verstappen (Red Bull-Honda) blast away from his rivals, while Norris robustly defended his position against Perez, which saw the Mexican take to the dirt and lose seven places.
The Englishman was punished with a five-second penalty for his action. Perez dished out his own medicine by pushing Leclerc off the track on Lap 41 – a move far more blatant than that of Norris. He, too, was punished with a five-second penalty. Perez remained robust in his defense, making contact with Leclerc again on Lap 47. He was penalised a further five seconds and the team must surely have a word with him about his aggressive defending.
In the meantime, his illustrious teammate Max Verstappen took pole position and dominated proceedings from the front. He took the chequered flag at a canter, after having posted the fastest lap of the race. The Dutchman now leads the world championship by 32 points.
Merc woes continue
Mercedes suffered a tough weekend, by their standards, with the team having its worst qualifying session in the dry since 2017. While the team looked solid during the race, they enforced team orders when Lewis Hamilton ran into rear grip issues on Lap 48, however, Bottas was released to fight the Englishman three laps later with Norris looming behind them. The English world champion was forced to pit for a second time with 17 laps to go. Bottas charged to second position, while Hamilton struggled to a fourth-place finish.
Mega-Lando
McLaren will be well pleased with their two drivers. Norris initially lost out to the two Mercedes, however, he maintained contact and managed to pounce and take advantage of Hamilton's misfortune, finishing a fine third. Teammate Daniel Ricciardo worked hard from the mid-field to run in the top six until the final lap, the Australian claiming points for seventh place.
Other drivers worthy of mention include Pierre Gasly (ninth after running a two-stop strategy) and George Russell, who agonisingly lost his 10th place to Fernando Alonso with three laps remaining. A strange incident between ex-teammates, and close friends, Raikkonen and Vettel resulted in both careening off the circuit with a few corners remaining. While Lando Norris won the Driver of the Day award, if there were a Raspberry Award for poorest performance, then Perez would probably have walked away with it, despite being classified sixth after his time penalties were applied.
Penalties aplenty
It appears that the stewards were trying to break the record for number of penalties dished out on race day. Other than the penalties mentioned above, Lance Stroll was penalised for speeding in the pit lane, Yuki Tsunoda was penalised twice for crossing the white line at pit entry, while warning flags were issued to Kimi Raikkonen (Alfa Romeo-Ferrari) and Nikita Mazepin (Haas-Ferrari).
The F1 circus moves to Silverstone for the British Grand Prix, the next round of the world championship. This is Lewis Hamilton's home, although Red Bull Racing, Mercedes, McLaren, Aston Martin and Williams can say so too. The reigning world champion will want to win in front of his home fans, but his Dutch arch-rival has the bit between his teeth and will be gunning for another victory at a circuit that will suit his mount…