The final race of the 2020 Formula One season is covered here by our F1 correspondent Nick van der Meulen in his report F1 Review Abu Dhabi 2020.
The Abu Dhabi Grand Prix has not been known for providing scintillating racing and has been generally regarded as an anticlimactic way to end the season. The last race of the 2020 season, sadly, was no different. You know things aren't going well when the director shows a titanic battle…for 11th place.
Follow Double Apex on Instagram and Facebook where we share more car content.
---
Order from our online store and take advantage of free delivery in South Africa on orders over R349.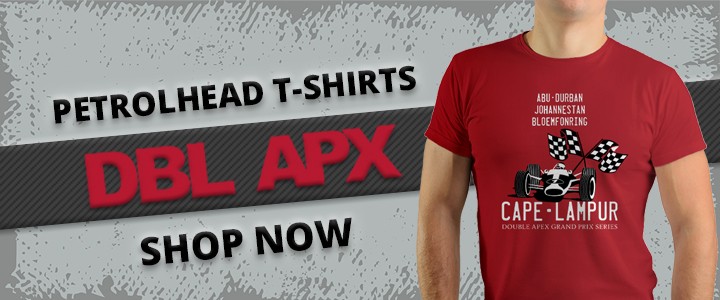 ---
Saying goodbye
Two drivers saying farewell to their respective teams had to start from the back of the grid, as they had exceeded the number of engines used for the season, namely, Serio Perez (Racing Point-Mercedes) and Kevin Magnussen (Haas-Ferrari). Perez's race lasted all of nine laps when his replacement engine let go, bringing out the safety car and ensuring most drivers pitted for hard rubber for their one-stop strategy…
Winning ways
Max Verstappen (Red Bull Racing-Honda) ended his season on a high by blasting away from pole position and systematically pulling away from the Mercedes duo, Valtteri Bottas and Lewis Hamilton, the world champion feeling a bit delicate upon his return race after testing positive for Covid-19 two weeks ago. The Dutchman finished over 10 seconds clear of the Mercedes teammates, who finished five seconds apart. Alexander Albon made it a Red Bull and Mercedes lockout by finishing a not-so-distant fourth, snapping at Hamilton's heels at the fall of the chequered flag.
Daniel Ricciardo (Renault) drove well on his hard rubber, running in fifth position for much of the race ahead of the McLaren-Renault duo of Lando Norris and Carlos Sainz. The Australian's late pit stop dropped him behind both McLarens and he signed off from his tenure at Renault with seventh place. Pierre Gasly (Alpha Tauri-Honda) had a strong end to the season with a feisty drive to eighth place ahead of Lance Stroll (Racing Point-Mercedes) and Esteban Ocon (Renault).
A season to forget
Ferrari was off the pace on race weekend (again), but Sebastian Vettel was determined to end his season on a high note. He did not qualify as well as teammate Charles Leclerc, but he powered past him and into the top ten when the virtual safety car came out for Perez's retirement. Leclerc, on old medium rubber, went backwards and out of contention before half distance. Vettel stayed stoically in the top ten until lap 37 of 55, before he had his singular pit stop, dropping him behind his teammate, the two drivers finishing their season with a whimper.
Now that the season has ended, we bid farewell to Kevin Magnussen and Romain Grosjean and, possibly, Daniil Kyvat – despite his strong performance in the second half of the season. This big question on everyone's lips is does the F1 paddock also bid "adieu" to Perez or Albon, as both are being considered for the second Red Bull seat?
A record seventh
Hamilton wins the 2020 F1 title from Bottas, Verstappen, Perez and Ricciardo. Mercedes wins the constructors title ahead of Red Bull Racing, McLaren, Racing Point and Renault. Interestingly, there was a 99-point gap between Alpha Tauri and Alfa Romeo in seventh and eighth place.
There will be some changes that fans have to get used to in 2021. McLaren will use Mercedes power next season and bring in Ricciardo to partner Norris. Sainz moves to Ferrari to replace Vettel, while Vettel moves to Racing Point as it is renamed Aston Martin. Renault welcomes Fernando Alonso back to the fold and the Spanish legend gets to sample the machine before the end of the year. Haas welcomes Mick Schumacher (son of seven-time champion Michael), the new Formula 2 champion, although there is speculation with regard to the team's second signing Nikita Mazepin after a social media scandal earlier in the week.
Credit to the organisers for ensuring 17 rounds of Formula 1 racing could take place in a year, which will always be remembered for the Covid-19 pandemic. We hope fervently to be able to witness racing in person in 2021.