Tim Lajambe is a huge fan of DTM racing, particularly of the 1990s. The American petrolhead actually owns a Mercedes-Benz 190E Evo 1 that he wanted to convert to an Evo II. And the result is this V8TT Mercedes 190E Evo streetcar.
Follow Double Apex on Instagram and Facebook where we share more car content.
History lesson
In 1992, the Mercedes 190E Evo II won 16 of 24 German Touring Car (DTM) races beating out the BMW M3. This giant-killing performance cemented its legendary status. Mercedes built just 502 road-going examples of the winning 190E Evo II, making it one of the rarest Mercedes of the decade.
Check out a 300SL Gullwing clone at this link.
Design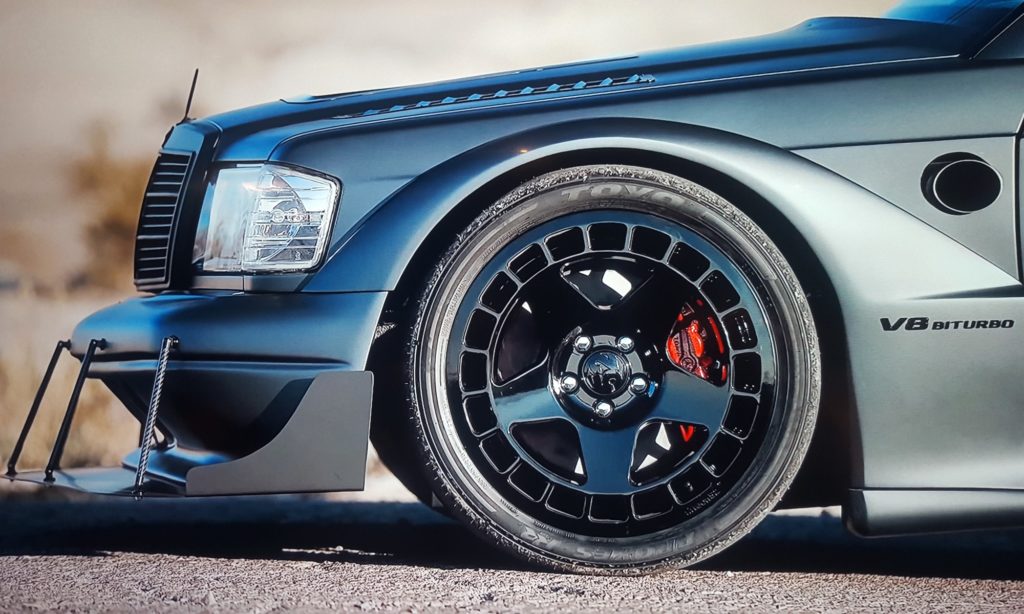 Tim's Evo 1 was not harmed in the making of this car. Project "Evil Evo" is based on a standard Mercedes 190E which has received a body kit in Evo II style. The flared wheel arches are filled by Fifteen52 Turbomac alloy wheels which are shod with Toyo R888R semi-slick tyres. The one-piece rear windows were the first item that Tim bought for the build. The front is adorned with a huge splitter and clear-glass headlights. The car also wears a massive fixed rear wing and rear diffuser. The radiator is mounted in the boot.
The V8TT Mercedes 190E Evo cabin is covered in red leather. It's even got an audio system and a sunroof. There is a racing shifter for the manual transmission and a floor-mounted pedal box. A fully exposed roll cage is installed. The "Evil Evo" also gets a handmade sports exhaust system (exiting through the front fenders), a huge brake system and a fully adjustable sports suspension.
Tim Lajambe together with his team from F7LTHY Fabrications built the show car in just seven weeks for the 2019 SEMA Show. (Click here to see more cars from SEMA 2019) Mercedes purists may not approve but the car is powered by a GM-sourced LS3 engine fitted with two turbochargers. The car has the potential to deliver o almost 1 200 kW.
Learn more about the V8TT Mercedes 190E Evo from its owner/builder as he speaks to auto photographer Larry Chen.