At the start of 2021 we compiled a list of the most exciting hot hatches that would be introduced into the SA market. The Toyota GR Yaris was included among the newcomers, and it is probably the car we were most looking forward to driving, and now we have. Does it live up to the hype… we find out.
Follow Double Apex on Facebook and Instagram, where we share more car content. 
Rally rep for the road
The Toyota GR Yaris has been one of the most hyped cars since it made its international debut at the very start of 2020. Its creation is grounded in the fast-paced world of the World Rally Championship (WRC). This little car was developed as the official homologation basis for the next-gen Yaris WRC car. It is also the second global Gazoo Racing (GR) model following the GR Supra.
Read our GR Supra driving review at this link.
Small package
A small package was the obvious choice for the tight and tricky confines of WRC stages. Inside the four-square stance of the Toyota GR Yaris we find a car that has been engineered for competition. When compared to a 'regular' Yaris the GR version has more weld points and additional bonding to make the superstructure stiffer. Under the tightly stretched metal skin is an all-new platform with independent suspension at all four corners, lightweight construction and an aero-optimised shape; the roofline is a full 45 mm lower than any other Yaris.
Centre stage of the rally rep's make up is the powertrain. A 1,6-litre turbocharged engine (code G16E-GTS) drives an all-wheel-drive system through a six-speed manual transmission. With 198 kW of power and 360 N.m of torque, the three cylinder motor is the most powerful production version of its kind. According to Toyota its new pocket rocket can sprint from 0-100 km/h in 5,5 seconds and has an electronically limited top speed of 230 km/h.
---
Order from our online store and take advantage of free delivery in South Africa on orders over R349.

---
Don't miss the point
But to look purely at those stats, which aren't headlining by modern hot hatch standards, is to miss the point of the Toyota GR Yaris entirely. And that point is the way it actually goes around corners. At the national ride and drive event Toyota SA laid on a number of dynamic exercises at two racetracks for us to experience its new baby in extremis and safely.
Tight and twisty
The Formula K facility just outside Benoni is, as the name hints, a karting circuit. The multi-configurable track is tight and very twisty ie unsuited to a passenger car… except for the GR Yaris. With its short wheelbase and quick rack steering action we could fling the little hatch through the corners of the short circuit, once we worked out the track layout, with complete confidence. 
Usually trying to press on with a road car on a short track can highlight a tendency for understeer, but not in this case. The GR Yaris has a dogged determination to hold a chosen line. This sensation is particularly evident in the 'Rally' derivative. We'll get back to the dynamic repertoire in a bit.

Click here to read our driving review of the Yaris GRMN.
Two types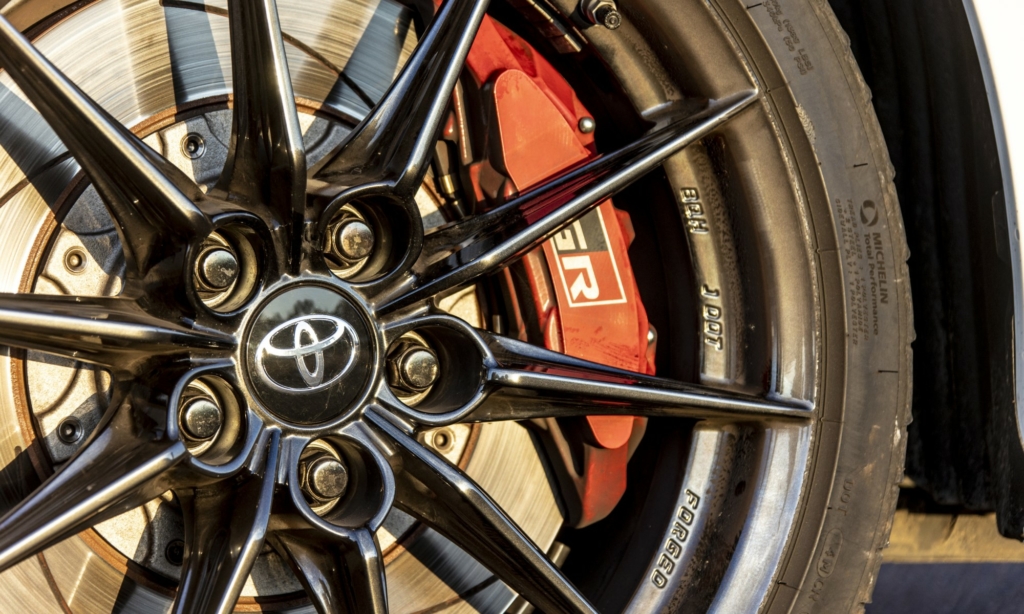 Toyota SA offers the GR Yaris in two variants: 'regular' and Rally. The latter has a few choice upgrades, especially for those who plan to attack their local track. Rally versions have Torsen limited-slip differentials on both the front and rear axles, performance-tuned suspension, revised power-steering calibration and 18-inch BBS forged alloy wheels shod with Michelin Pilot Sport 4S tyres. 
Regular versions also have multi-spoke alloys of the same size but are fitted with Dunlop SP Sport MAXX footwear. Power ratings on the two cars are identical, as are the braking systems. Speaking of which, at 356 mm the slotted and vented two-piece front discs on this hatch are even larger than those fitted to the GR Supra.
Digging in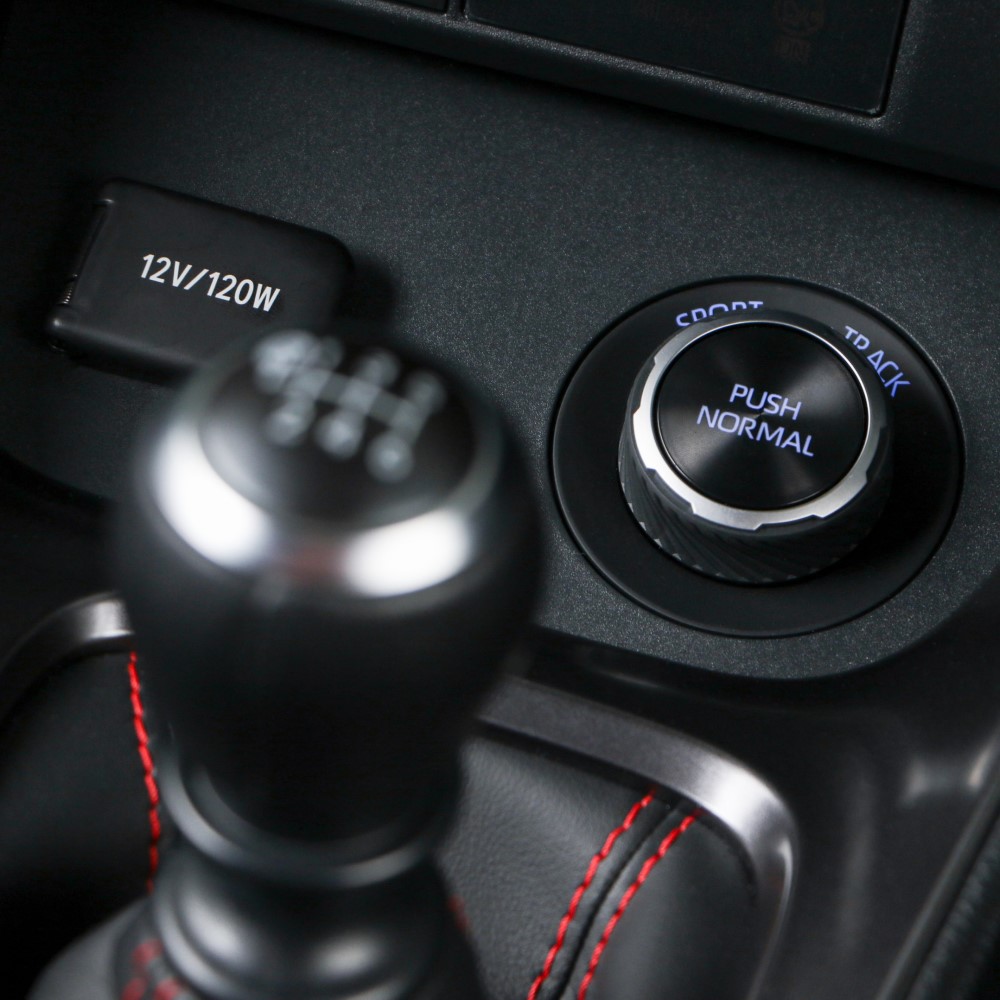 Driving the two versions of GR Yaris on track one can feel the difference between the car with and without the LSDs and the stickier rubber. Don't get me wrong, both are extremely impressive and you can get on the gas earlier than expected. However, in the Rally you can really feel the wheels digging in when you smack open the throttle. It's a great sensation, though unlikely to ever be experienced except on a track.
In both versions front to rear torque split can be adjusted by the driver via a rotary dial ahead of the gear lever. In normal mode the distribution is 60:40; in Sport mode 70 per cent of available drive is sent to the rear axle and in Track mode the base setting is 50:50. We found Sport to be the most entertaining as it provides a bit of a RWD sensation as you exit corners. We also found that the GR Yaris rewards a bit of trail braking, helping to rotate the car towards an apex before you hoof the loud pedal. 
Track two
Later in the day I got to drive the GR Yaris at Red Star Raceway. At this, full-size, venue we got to dial up the pace a bit more than at the short karting facility. Though small in size the three-cylinder motor provides an impressive level of shove and it has a good appetite for revs, willfully singing its off-beat tune to 7 000 r/min. I just wish that it was more vocal, perhaps with a bit of wastegate whoosh or whistle to really underline its rally roots.
Flicking up and down the 'box reveals that the six-speed manual shifter has a mechanical feel and a precise gate, so one never misses a shift even when you hurry the action. Toyota's engineers have also paid close attention to pedal placement for smooth heel-toe movements on downshifts – NICE!. For those who aren't as dexterous with their footwork there is also an auto blip function, thankfully it can be deactivated.
Summary
Have you ever seen that YouTube clip of the Jack Russell that scares the lion cubs? It shows a little dog that fends off much larger, more powerful animals that should, theoretically, smack the pooch into oblivion, but they don't because the doggo has bravery and a lot of heart. That Jack Russell is a perfect metaphor for the Toyota GR Yaris. We are always keen to drive a new car, even if it arrives with much fanfare, to decide for ourselves how good it really is. To answer the question at the start of this piece, the GR Yaris lives up to the hype. 
Pricing
Toyota GR Yaris R606 600
Toyota GR Yaris Rally R715 600
All GR Yaris models are sold with a nine-services/90 000 km service plan (service intervals set at 10 000 km) and three-year/100 000 km warranty.