The fifth member of Volkswagen's SUV family has finally arrived in SA. Double Apex contributor Ian McLaren gets behind the wheel of the all-new VW T-Roc to find out where it fits in on the family tree.

In profile
With monthly sales of the compact T-Cross continuing to impress, Volkswagen's newest SUV slots in (quite neatly, in fact) above its smallest sibling and below the evergreen Tiguan twins (standard and Allspace). Built on the brand's MQB A1 platform, the T-Roc's exterior dimensions are closer to those of the Golf than any of its raised ride height siblings. In fact, viewed in profile, the car's relatively low roof line and conservative 158 mm worth of ground clearance add further credence to the fact that the T-Roc could easily be a bumped-up Golf, as opposed to an SUV, in the traditional sense.
Follow Double Apex on Instagram and Facebook where we share more car content.
Preempting how the conclusion to this driving impression might read, the T-Roc has also been engineered with more dynamic ability than the average SUV might hope to replicate. Led by ex-Porsche GT man (and he who signed-off the GTI Clubsport S) Karsten Schebsdat, the newest member of VW's 'T' family is aimed at customers who enjoy the sense of presence and raised driving position associated with an SUV, yet aren't ready to forsake on-road poise and handling prowess for the cause.
Click here to read our VW T-Cross review.
So, it's a bumped-up Golf?
Essentially, yes, but with an important caveat that I'll address later. With SUVs forecast to account for 50 per cent of Volkswagen's annual global sales by 2025, it makes sense that the brand would look to how best to merge one the most successful hatchback offerings to date with the inevitable trend towards raised ride height versatility.
And it's a good thing, too, with the T-Roc's inherently imposing stance compared with a traditional hatchback, together with contemporary styling and a broad colour palette (with 20 colour combinations offered, including four roof finishes), the new model offers arguably more character from the outset than a modern (non GTI or R) Golf package.
Hasn't the VW T-Roc been available overseas for the past three years already?
Launched globally in 2017, it's taken Volkswagen South Africa this long to both establish and find approval for the optimal powertrain combinations to suit our market conditions (including fuel quality), as well as to fulfill its plans towards introducing the T-Roc only once the smaller T-Cross had found its feet.
While its relatively late introduction here means there's likely a facelift coming within the next two years, for now, the T-Roc looks suitably fresh and modern. Available in two exterior finishes (Design and R-Line), unlike with the Tiguan, I like that it's not too obvious which model is wearing which package. That said, all models feature distinct LED daytime running lights and the brand's latest grille application. A selection of 17- to 19-inch alloy wheels is offered.
For the time being our market won't get either the T-Roc R or (thankfully) the T-Roc Cabriolet available elsewhere.
No diesel variants, either?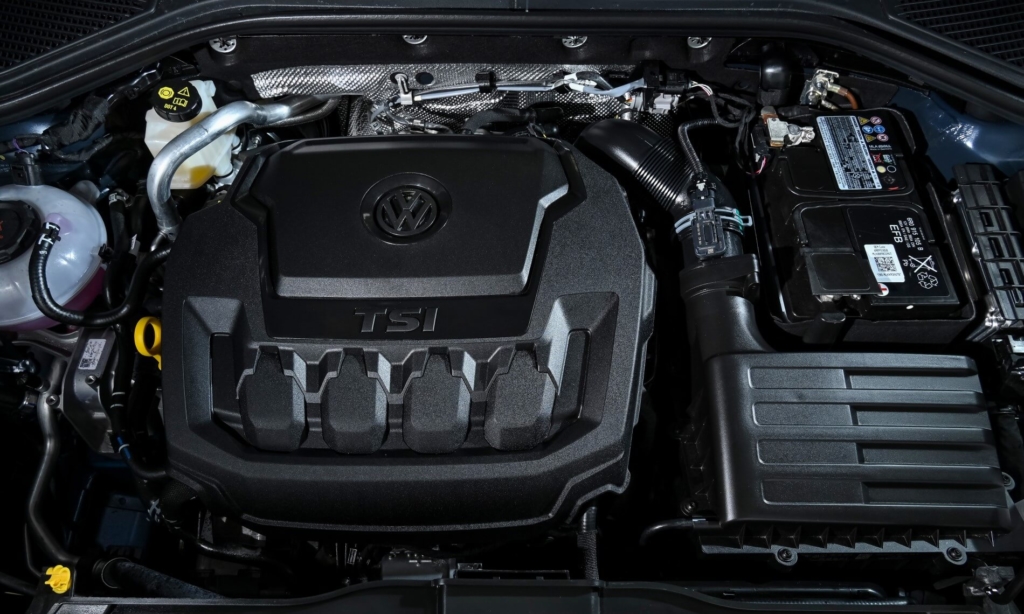 Not for the time being, anyway. With research suggesting the uptake on diesel power in this segment isn't significant, VWSA has launched the T-Roc with a choice of two turbopetrol drivetrains. The first is the brand's excellent 1,4-litre TSI motor delivering 110 kW and 250 N.m to the front wheels via an eight-speed Tiptronic (automatic) transmission. Nestled within a relatively lightweight package (1,5-tons), this nicely refined, proven unit arguably offers all the performance you might need, with the added benefit of relatively impressive efficiency.
The top-of-the-range VW T-Roc is powered by a re-engineered version of the brand's 2,0-litre TSI engine. Here 140 kW and 320 N.m of torque is distributed between the front and rear axles via a standard 4Motion all-wheel-drive system and a seven-speed DSG (dual-clutch) gearbox.
About that caveat…
Curiously, despite the VW T-Roc's bloated exterior lines and Golf-mimicking dimensions, rear passenger legroom is nowhere near as generous in the new SUV as it is in its benchmark hatchback relation.  While the all-wheel-drive 2,0-litre T-Roc offers 392-litres worth of luggage space, the 1,4 TSI package gains an additional 49-litres worth of packing space (with the rear backrests in place).
On the inside
A fan of the T-Roc's exuberant exterior lines, I like that the interior isn't simply a copy/paste job from other modern Volkswagen models. Not jarring in execution, there's enough here to make you feel like your money has been well spent. While it's a pity that the likes of a virtual instrument cluster is only standard on the R-Line model (option in Design spec), it's nice to see an eight-inch infotainment display included as standard (Nav forms part of a Discover Media upgrade). A generally well put-together cabin, the front seats (offering in dual-tone, leather) are notably comfortable.
On road
As it suggests on the tin, the VW T-Roc makes the most of its SUV/bumped-up hatch ingredients to offer just enough raised ride height versatility without notably compromising on on-road poise. Though in these tamer guises not obviously a vehicle you'd take for a Sunday morning joy ride, it's nice to know you could potentially take a slight detour either to the office or weekend destination in a package that doesn't shy away from, nor will it easily be embarrassed by twisty sections of road. That said, why I hope I never drive the Cabriolet (nothing personal, VW, I simply don't see the point of roofless SUVs), based on this first drive, the T-Roc R could be good fun.
Generally, there's a price to pay in terms of ride quality in opting for larger wheel sizes. In the VW T-Roc package, especially, the difference between the impressive compliant 17-inch wheel/tyre combination and the 19-inch setup on the R-Line variant is a notable one.
Final thoughts
It'll come as little surprise to note Volkswagen South Africa will launch Golf 8 here in 2021 with the hugely popular GTI. The range-topping R will likely follow suit ahead of an "entry-level" 1,5-litre derivative. As it stands, our market isn't scheduled to receive the 1,0-litre model.
While I still fancy the GTI (over the R, but that's a story for another day), I'd opt for a 1,4 TSI T-Roc over any of the forthcoming Golf derivatives. Granted, and somewhat ironically, you forego some rear passenger comfort in the SUV, but the Roc simply offers more than the undoubtedly silky Golf 8 package can.
Distinct, standout styling, a raising driving position and dynamics that will likely rival a standard Golf, it's the entry-level T-Roc that's my new favourite modern Volkswagen.