The 24 Hours of Lemons is a budget racing series in the US that doesn't take itself too seriously. Series organisers aim to blend circuit racing with a great deal of fun. Key to the series is a U$500 cap to build a racecar. Prime examples include this wonky looking budget MX-5 as well as this PT Cruiser Escudon't, the most unlikely PT Cruiser you're ever likely to see. You can read more on this novel series on their homepage.
Follow Double Apex on Instagram and Facebook where we share more car content.
---
Order from our online store and take advantage of free delivery in South Africa on orders over R349.

---
Nod to Pikes Peak
Brothers Josh and Mark Fuller decided to enter the 24 hours of Lemons race at Pittsburgh International Racing Complex. They chose the PT Cruiser as it allowed them to spend the $500 to build a wild and crazy parody car. They purchased a completely standard Chrysler PT Cruiser, the most unlikely racecar, earlier this year. It took them just two months to turn it into the creation you see here. You can see more pics and following their racing adventures on the car's Instagram page by clicking here.
Josh explained to Double Apex: "We were sitting around, browsing classified ads for a car to build for the Lemons race. We came across this manual shift PT Cruiser and said, Wouldn't it be funny if we made this pile of junk look like the Pikes Peak Escudo? Apparently, so did the world."
The name, Escudon't, was chosen as a nod to a well-known racecar called the Suzuki Escudo Pikes Peak. The bespoke machine was created to compete at the famous US hillclimb. It had almost 750 kW delivered by a 3,5-litre twin-turbocharged V6 (see it in action in the video at the bottom of the post).
On a budget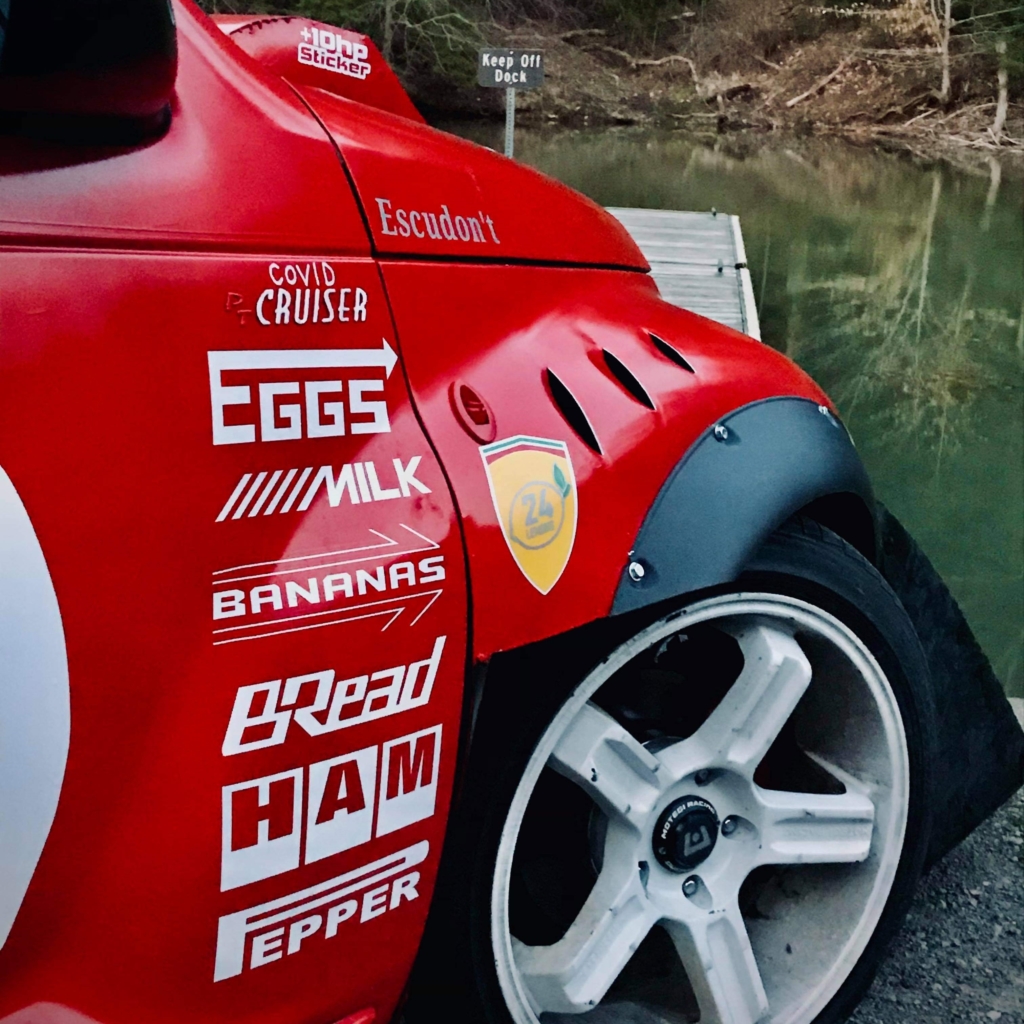 Most of the parts on the PT Cruiser Escudon't were either sourced on the cheap or made by the Fuller brothers. The steering wheel and quick release are modified from an ebay no name unit and coupled to an adapter fabricated hub from the factory steering wheel. Aftermarket gauges keeping tabs on the motor were bought from a swap meet. Most notable the front and rear spoilers were made by Josh. The car rides on second-hand springs that cost $35.
Under the vented bonnet (all hand-cut and beaten) is a standard 2,4-litre inline four pot that produces just under 120 kW. The plan is to upgrade that at a later stage. Potential ideas include turbocharging the motor with a BMW turbocharger that was given to the Fullers. Another option is to drop a Honda Goldwing 1500 flat-six bike drivetrain in as a mid-engine rear-drive conversion and to turbo that.
No compromise
There is no budget cap on safety equipment so the car has a full roll cage built by Roger Gestner who is also one of the car's race drivers. There is an on-board fire suppression system. Drivers sit in a Kirkey 65 series seat and held in place by a six-point harness. The most expensive parts on the car are the Hawk Blue road racing brake pads and R1 Concepts slotted brake discs.