We all know that models such as the Cayenne and Macan are top-sellers for Porsche. Well, it seems that vehicles such as the Mercedes-Benz GLE Coupe and BMW X6 must be making serious inroads into the SUV segment as the all-new Porsche Cayenne Coupe was launched earlier today.
Please click here to read our Porsche Cayenne driving review.
A surprise attack
Usually, there is some indication of an impending model, spy pics or the like, but the Porsche Cayenne Coupe launch seemed to surprise most (us included). The Coupe was launched at an event in Dubai on Thursday evening. The all-new model increases Porsche's SUV line-up to three.
"The Coupé includes all the technical highlights of the current Cayenne, but has an even more dynamic design and new technical details that position it as more progressive, athletic, and emotional," says Oliver Blume, chairman of the executive board of Porsche AG.
Distinct looks
The new Cayenne offering includes sharper lines with a unique rear section, an adaptive rear spoiler, a rear cabin with two individual seats, or a traditional bench seat. The Porsche Cayenne Coupe offers two different roof options, either panoramic fixed glass fitted as standard or an optional carbon roof. The front windscreen and A-pillar are shallower than in the Cayenne, thanks to a lower, by 20 mm, roof edge.
"The significantly more steep roofline that falls away to the rear makes the Cayenne Coupé appear even more dynamic, and positions it as the sportiest-looking model in the segment," says Michael Mauer, vice president style Porsche.
Two engine options
Porsche will offer this new model with two engines initially. The Cayenne Coupe features a 3,0-litre six-cylinder turbocharged engine with 250 kW and maximum torque of 450 N.m. With the optional Sport Chrono Package fitted it can sprint from 0-100 km/h in 6,0 seconds; top speed is 243 km/h.
Leading the sloped-roof Cayenne family is the Turbo Coupe. This version has a 4,0-litre twin-turbocharged V8 that develops 404 kW and 770 N.m of torque. The Cayenne Turbo Coupé accelerates from a standstill to 100 km/h in 3,9 seconds and has a top speed of 286 km/h.
Check out the official Porsche video, which was shot right here in the Cape Town CBD:
---
Porsche Cayenne Turbo Coupe info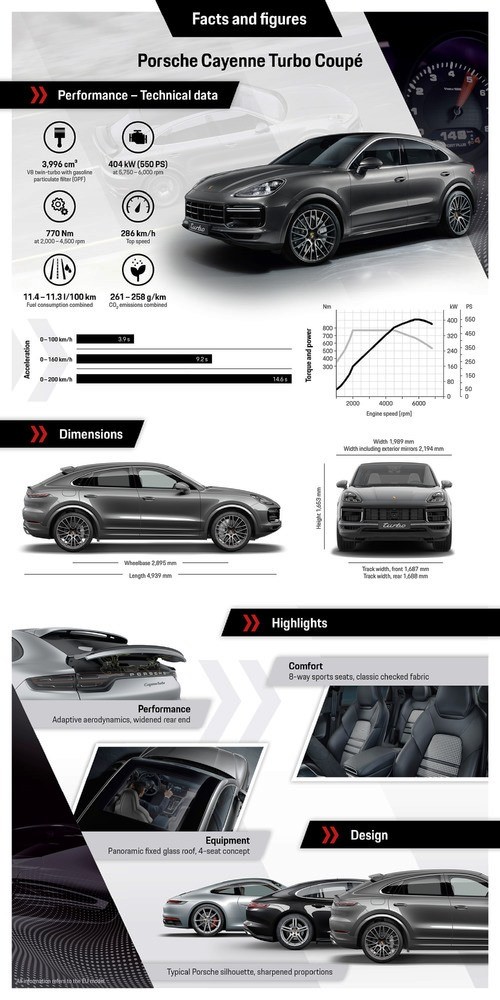 ---
Porsche Cayenne Coupe info