Our resident F1 fundi, Nick van der Meulen, shares his F1 review Azerbaijan 2021, covering the sixth round of the 2021 Formula season.
The Azerbaijan Grand Prix is the second race in succession to be held on the streets of a city, in this case, Baku. Baku is an ancient city that lies 28 metres below sea level and its street circuit layout includes a long one-kilometre straight and many tight and twisty turns.
Follow Double Apex on Instagram and Facebook where we share more car content.
---
Order from our online store and take advantage of free delivery in South Africa on orders over R349.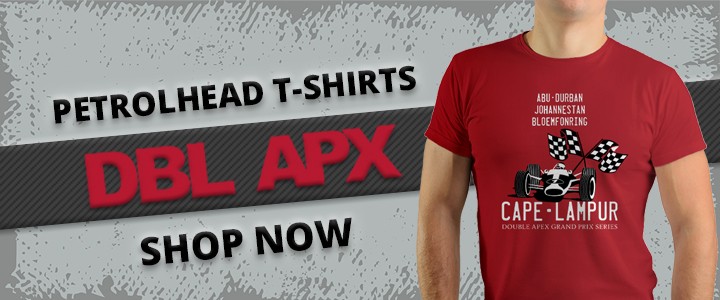 ---
Unforgiving
The circuit can bite hard, as Charles Leclerc found out in 2019, when he crashed his Ferrari into the wall in qualifying, after having dominated the weekend up to that point. This is the first event held here in two years, as it was cancelled last season due to the pandemic and resultant restrictions.
The circuit bared its fangs during qualifying, where there were no fewer than five accidents: Lance Stroll (Aston Martin-Mercedes), Antonio Giovinazzi (Alfa Romeo-Ferrari), Daniel Ricciardo (McLaren-Mercedes), Yuki Tsunoda (Alpha Tauri-Honda) and Carlos Sainz (Ferrari – who had to take avoiding action when Tsunoda hit the wall in front of him).
Rampant Bulls
Red Bull Racing-Honda dominated the event on race day, although the drivers had to wait until Lewis Hamilton (Mercedes) had his pit stop. The Englishman had to wait to let Pierre Gasly (Alpha Tauri-Honda) trundle down pit lane and this released Max Verstappen and Sergio Perez, who did an excellent job carving his way through the field from his sixth grid position.
The two Red Bulls were untroubled for the remainder of the race, despite Hamilton's best intentions, and they were gunning for their first 1-2 finish since Malaysia 2016 until disaster struck with five laps to go. Verstappen, looking comfortable for victory, suffered a left rear tyre lamination, pitching the Dutchman into the wall and into retirement.
Understandably, Verstappen was quite upset and kicked his left rear wheel in frustration after climbing out of his machine unscathed. The race was red-flagged soon afterwards and, inexplicably, the result not declared! With three laps remaining, the race could have, and should have, been called. Instead, the race was restarted with a two-lap sprint…
Sergio's second
Sergio Perez emerged from the fiasco as the winner, his first victory for the team, and second of his career. The Red Bull cars' controversial rear wings will probably be a hot topic following this domineering performance, however, the rule change will take place soon and it will be interesting to see how this will affect performance of all teams in future.
The big loser of this race was Lewis Hamilton. Taking over second place at the red flag, the Englishman battled with Perez at the restart charging towards the first corner, locked his brakes and careened down the escape road – losing any opportunity of scoring points and closing the points gap to Verstappen. Both Mercedes drivers struggled with balance all weekend and Hamilton somehow managed to qualify near the front and try to run with the Red Bulls. All his hard work was undone at the restart. Valtteri Bottas had another disastrous weekend and struggled to finish a lowly 12th and drop to sixth in the drivers' championship standings.
Perilous Pirellis
Stroll, having started from the back of the field, ran on hard rubber from the start and had his left rear tyre delaminate on Lap 31. It pitched him into the wall, bringing out the safety car. Teammate Sebastian Vettel had a brilliant race, storming to an eventual second position and claiming his first podium finish for the Aston Martin team. The German was the only driver to have a fresh set of soft rubber in stock and used it well at the restart. He deservedly won the "Driver of the Day' award.
Alpha Tauri-Honda had their strongest weekend of the season to date, with both Gasly and Tsunoda performing strongly. Gasly had to overcome a strong challenge from close friend Charles Leclerc in the final two laps to claim third place, while his Japanese teammate finished a fine seventh.
Opportunity lost
Ferrari will be rueing lost opportunities. Charles Leclerc surged to pole position, but both he and Carlos Sainz lacked speed on race day. The Monegasque struggled to finish fourth, in spite of his best efforts in the final two laps, while his Spanish teammate managed to grab eighth place, despite running down the escape road just after his pit stop early in the race.
Both McLaren drivers managed to score points after a hard weekend. Lando Norris was penalised three grid positions after failing to take to pit lane after a red flag in qualifying, but still performed strongly in the race to charge to fifth position. Teammate Daniel Ricciardo was comfortably outperforming Norris until qualifying, where he lost his way and crashed to boot. The Australian was fortunate to claim a points-scoring finish in ninth place, despite being punted heavily up the exhaust by Antonio Giovinazzi shortly after the restart.
Honourable mentions go to Fernando Alonso, aggressively carved his way to sixth place after a strong restart, and Kimi Raikkonen (Alfa Romeo) for scoring a point.
The seventh round of the world championship takes place at Circuit Paul Ricard, Le Castellet, France, on 18 to 20 June 2021. It is a fast, flowing circuit, however, still a challenge to overtake at. Let's hope it will provide scintillating racing.