The year was 2000 (it seems hard to believe that it was 21 years ago already) and Nic Cage relaunched the Mustang as an object of desire to a whole new set of fans in the automotive world. Few petrolheads of the era didn't lust after the Shelby Mustang, dubbed Eleanor, from Gone in 60 Seconds. Not long after that car's rise into popular culture a company called Classic Recreations was given the rights to produce Eleanor replicas. Now the firm has gone one step further and developed a full carbon-fibre Mustang GT500CR.
Follow Double Apex on Instagram and Facebook where we share more car content.
---
If you are keen to own a unique restomod contact Creative Carversions custom car builders via their Facebook page or email the address below.

---
Classic Recreations is licensed by Shelby to produce modern-day versions of classic Mustangs. This week the company pulled the covers of its latest creation, a full carbon-fibre Mustang GT500CR in classic fastback body style. This major undertaking was announced in 2020 and the new car took over a year to build, almost entirely done by hand.
Click here to read about the Top 5 restomods that featured on our site in 2020.
Classic Recreations enlisted the services of SpeedKore (the chaps responsible for this carbon fibre-bodied Charger) to help create the body from the lightweight material. Adopting CF for the body has helped the muscle car shed over 270 kg from the original's mass. The company hasn't covered the woven fibre with paint but a pair of body-length red stripes add some aggro, as if this car needed any more of that.
Click here to read about another carbon-fibre Mustang, but with an electric powertrain.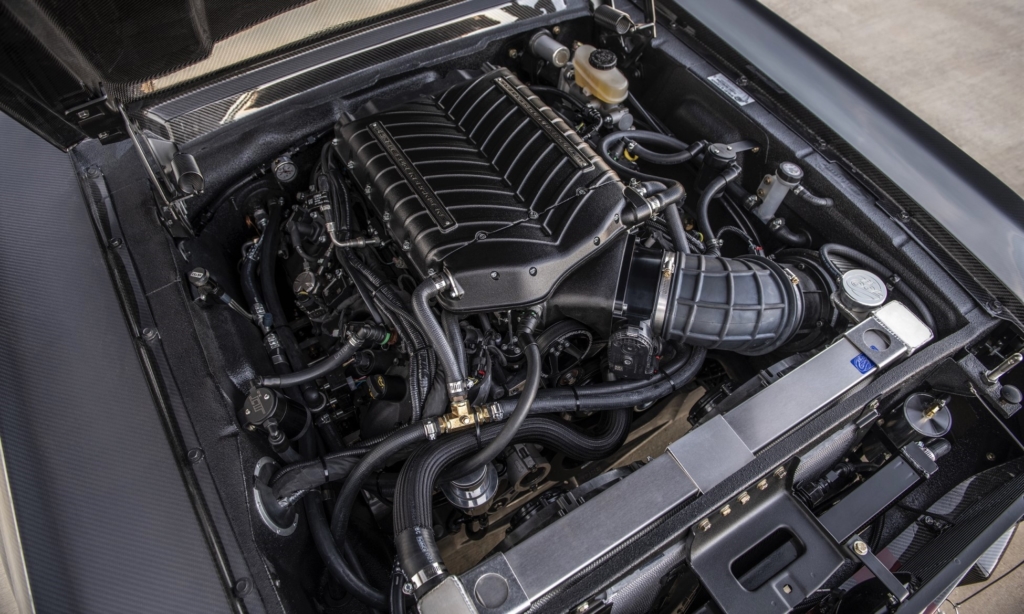 To take full advantage of the lower mass Classic Recreations drops in a Ford-sourced 5,2-litre V8 motor that is fitted with a supercharger. The engine is said to be good for just over 600 kW and 813 N.m of torque. All that power is sent to the massive rear tyres (just look at them, they're HUGE) through a 10-speed automatic transmission. Gear shifting duties can also be driver controlled thanks to paddles behind the steering wheel. Other modern niceties include an adjustable suspension and a large format braking system from Wilwood with multi-piston calipers front and rear.
New tech
Modernisation doesn't only take place under the skin. Occupants in the cabin have access to a touchscreen infotainment system, including navigation (presumably to tell you where the nearest fuel station is). There is also a bespoke, punchy audio system, though it'd have to be pretty loud to drown out the V8.
The price for this brilliant mash-up of old looks and new tech does not come cheap. The full carbon-fibre Mustang GT500CR prices start at around the equivalent of R4m (U$265 000) and that's before considering any taxes or import duties to land one in SA. Factor in a build period of around 12-18 months and you have to be quite well off and patient if you want to own one of these bad boys.